Smart Cities Market Expected to Reach $1.03 Trillion by 2028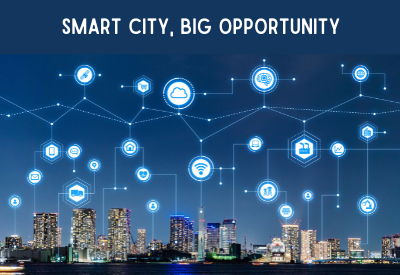 February 6, 2022
While the development of smart cities in the U.S. pales in comparison to the tech advancements already implemented in Singapore, Seoul, Helsinki, Zurich, Oslo, Shanghai, and other major cities overseas, there will be even more pressure to catch up as the market size of smart cities on a global scale is expected to reach USD 1.03 trillion by 2028 and a CAGR (compound annual growth rate) of 14.4% from 2021-2028, according to a new study conducted by Polaris Market Research.
This smart city growth will be bolstered by proactive government smart city programs as well the trend for increased urbanization, and a growing consumer demand for higher-quality living. The increased usage of more sophisticated technologies such as fog, cloud, and edge computing, AI (artificial intelligence), and big data analytics will further propel growth and adoption. On the municipal and city level, concerns over reducing air pollution and traffic congestion plus the implementation of parking management systems will also aid in speeding development.
Key Highlights
Based on application, smart transportation emerged as the promising application segment and generated a higher revenue share.
Growing traffic congestion issues as a result of rapid urbanization, coupled with the necessity to modernize public transportation infrastructure, are fueling market expansion in both developing and developed countries around the world.
In terms of smart governance, the city surveillance segment accounted for a majority of the market share. Growing public safety and security concerns are encouraging the usage of video management systems and IP cameras around the world, which will push the city surveillance market forward.
With smart utilities, the energy management segment led the major growth for the global smart cities market. Analysis of energy consumption data, identification of energy-saving potential, and tracking the progress and continuous grid improvements are all key features cited by the majority of energy management solutions.
As part of continuing 5G trials, Vodafone Idea (VIL) and Larsen & Toubro's Smart World & Communication division have teamed for a pilot project to evaluate 5G-based smart city solutions. Using L&T's Smart City platform, the firms will collaborate to develop and evaluate 5G use cases based on IoT and Video AI technologies.
According to the report, the number of collaborations between governments and companies to create and implement pilot projects is increasing in the industry. Leading players are also working together to create and deploy customized smart city solutions in areas such as city surveillance, smart transportation, energy management, and smart utilities. Among the companies participating in the growth of the market are: AGT Group GmbH; ABB Ltd.; AVEVA Group plc; Ericsson; Cisco Systems, Inc.; General Electric; Huawei Technologies Co., Ltd.; Honeywell International Inc.; International Business Machines Corp.; KAPSCH Group, Itron Inc.; Microsoft, Oracle Corp.; Siemens AG; SAP SE; Siemens AG; Schneider Electric SE; Verizon; Telensa; and Vodafone Group plc.
See the full research summary here