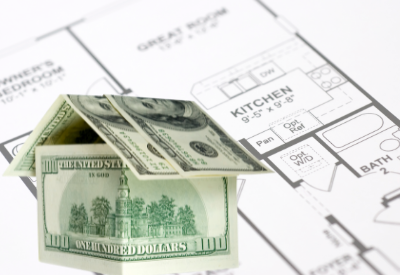 December 30, 2021
The term "health and wellness" is used a lot in consumer marketing — and for good reason. Not only is it a topic of great interest among nearly everyone living today, but it is also big business. First associated with the beauty and fitness category, the term has expanded to include interior design, the build environment, and real estate.
Lighting factors into the health and wellness movement with circadian lighting research conducted by scientists worldwide – including the newly formed Light and Health Research Center at the legendary Mount Sinai hospital in New York City – as well as product development by various lighting manufacturers for residential as well as institutional use (i.e. hospitals, senior living communities, boutique hotels, wellness resorts).
The nonprofit research firm Global Wellness Institute (GWI) recently released data for just the wellness real estate market alone that reveals significant growth. According to GWI, the global market grew 22 percent on average annually between 2017 and 2020, increasing from $148 billion in 2017 to $225 billion in 2019, and reaching $275 billion in 2020. In those three years, wellness residential projects skyrocketed from 740 in 2017 to more than 2,300 in 2020 — and that's with the pandemic slowing construction down to a trickle.
In fact, the pandemic has had a positive impact on those wellness real estate numbers. The market was already booming in the two years before the pandemic (2017-2019) with wellness real estate growing 23 percent each year compared with 5.4 percent growth for construction overall. However, from 2019 to 2020, wellness real estate continued to grow by over 22 percent, even as overall construction shrank by -2.5 percent.
"Just three years ago, wellness real estate was a concept not well-understood by consumers, builders, developers, or investors, but we predicted demand would soon hit like a tsunami. That moment has arrived," said Ophelia Yeung, GWI senior research fellow. "The pandemic has driven the idea of 'building for human health' into the mainstream consumer consciousness, and the recent market growth far exceeded our predictions, as well as general economic growth trends."
To clarify, GWI defines wellness real estate as the construction of residential and commercial/institutional properties – including office, hospital, mixed-use/multifamily, medical and leisure – that incorporate intentional wellness elements in their design, materials and building, as well as their amenities, services and/or programming.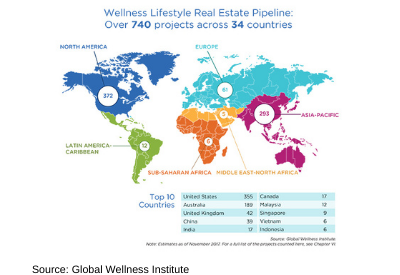 One of the leaders in the wellness space is the International WELL Building Institute (IWBI), a global framework for scaling health across buildings, organizations, and communities. The WELL Building Standard (WELL) was developed more than 10 years ago as a roadmap for "creating and certifying spaces that advance human health and well-being" across 10 categories: Air, Water, Nourishment, Light, Movement, Thermal Comfort, Sound, Materials, Mind, and Community. It sets rigorous performance standards for design, with operational protocols and company-wide practices verified by a third party. WELL is not just for large projects; it can be applied in any scale, from a single interior space to an entire organization.
In December 2021, IWBI announced that it had surpassed the three billion square-foot mark of spaces enrolled in WELL. "In the past year, the building area applying WELL offerings has tripled from one billion square feet to more than three billion, so that today WELL strategies support the health and well-being of an estimated 13.6 million people in more than 33,000 locations in nearly 100 countries," read a statement released by IWBI.
IWBI President & CEO Rachel Hodgdon, noted, "As the world continues to grapple with our current public health crisis, it's no coincidence we are seeing enormous demand for WELL's holistic approach to applying the science of how physical and social environments can affect human health, well-being and performance."
Major companies and brands that are engaging with WELL include ARM, Brookfield Asset Management, Carrier, Centene, Charter Hall, Citigroup, Cushman & Wakefield, Herman Miller, Honeywell, Investa, JLL, JPMorgan Chase, Lendlease APPF, New York Yankees, Simon Property Group, T-Mobile, and Uber Technologies.
"The tailwinds behind WELL are strong and growing exponentially," Hodgdon remarked. "We're currently enrolling nearly 5.7 million square feet of space every day, and we're working with organizations and professionals in every industry to help scale up impact so that people-first places are accessible to everyone, everywhere."
Bottom Line
To stay ahead of the demand curve as well as from a profitability standpoint, it would behoove interior designers, remodelers, contractors, and lighting professionals to explore the educational opportunities and product developments available in the health and wellness field.