New American Lighting Rep Organization Launches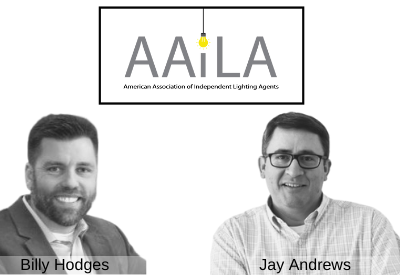 December 20, 2021
The saying, "Great minds think alike" could easily apply to two veteran commercial lighting reps who recently joined forces to create an organization serving their segment of the industry. The American Association of Independent Lighting Agents (AAIILA) officially launched last week after more than one year of planning.
Co-founders Billy Hodges and Jay Andrews, who each operate their own businesses – Hodges' Digital Filaments in Pennsylvania and Andrews' Next Generation Lighting in Georgia – both started their agencies at the same time 10 years ago. While aware of each other's firms over the years, they hadn't met, attended a rep council, or exchanged a phone call or email until 2020.
"When a mutual friend in the industry heard that both of us had an interest in an organization for lighting reps, we were introduced 16 months ago," explains Billy Hodges. "We started meeting regularly and thinking about what it could be. Jay found an organization called Virtual Inc. that helps professional industry organizations get off the ground. With their help, we were able to put together a road map that included round-table focus groups (with agents and manufacturers separately) to determine if there was interest and if we were on the right track. We got excellent feedback from those groups and that helped us to fine-tune what we've been able to present to the industry."
What the duo has been able to present with their 501c6 non-profit AAILA (pronounced ā˗lă) is an opportunity that offers a deeper, beneficial partnership between independent lighting and controls agencies and the manufacturers of lighting and controls who partner with agents.
"We found a void in the industry and began filling it," Hodges continues. "For specifiers, there are lots of groups creating content such as IES, IALD, DLF, and AIA. Manufacturers have NEMA and contractors and distributors have the likes of NECA an NAED. but in lighting, we have the ALA (which is focused on the residential sector and showroom community) and NEMRA (which centers around commodity lighting and electrical). We were unaware of any USA/Canada scale organizations that address the relationship between independent lighting agent and lighting manufacturers."
What was paramount for Hodges and Andrews was envisioning a "big tent" community. "We hope every lighting agent and manufacturer gets on board. For the dues, everyone can get some good value out of this. We've focused on creating valuable educational content and networking opportunities for lighting salespeople and principals alike," Hodges states.
Something for Everyone
CM Buck & Associates, an independent lighting agency in Indiana, and Ascenti Lighting a custom manufacturer in California were the first agent and manufacturer members respectively to join AAILA — and both companies are planning to be active leaders in the organization.
Adds Clark Simpson, Principal, CM Buck & Associates, "The industry has needed something like this for a long time. I want my agency to be a member so that we can take advantage of all the content that AAILA is developing. I believe in what this organization is creating, and I want to help AAILA to grow."
According to Hodges, the organization is open to all independent lighting and lighting controls reps. "To us, an 'independent lighting agent,' implies that your company represents many different manufacturers in some part of the lighting space; whether that's commercial lighting, horticultural lighting, or heavy industrial lighting doesn't matter. If your agency is independent from the companies that it represents – and professionalism is important – this may be the organization for you," he says.
Regarding manufacturer membership, "We're looking for manufacturers that work with lighting agents. We're not looking for the direct imports or direct-to-consumer companies that go to market without lighting agents," Hodges affirms.
Agent dues are paid per company and are scaled to different agency sizes. While all manufacturers pay the same price, a conglomerate may choose to be a member with multiple brands. Industry-specific sponsors (i.e. specialized sales software, lighting website and line card maintenance) that specifically want to address the lighting agents and manufacturers should find a more targeted audience with AAILA.
Upcoming Events
As of this writing, AAILA is actively planning two events in 2022 (subject to change in the ever-evolving pandemic environment): The First Annual AAILA Principals Meeting for leaders of member agencies and manufacturers on March 14 at LEDucation in New York City; and a full membership networking event in Las Vegas on June 20 before the LightFair trade show kicks off.
In addition to the events and creating an industry standard agency agreement for members, AAILA's 2022 online training modules will include current lighting industry topics presented from a non-proprietary, but sales-oriented, perspective such as "Selling Dark Skies" as well as a "Lighting Agent 101" series for people new to the industry.
The mission of AAILA is to consistently produce content and connection opportunities that increase the knowledge, strength, community, and professionalism of the commercial lighting sales channel.
Agents and Manufacturers who become early-adopters by joining AAILA as Founding Members before the end of 2021 (use promo code EARLY) will enjoy discounted dues through 2023.