LightFair 2022's Must-See Products

June 13, 2022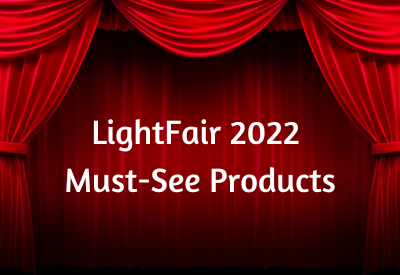 LightFair 2022 opens the doors to its exhibit floor next week on June 21. We've highlighted some of the most interesting products that will debut at the show. Check back often as we will be adding new products daily.
Pure Edge / Booth #2350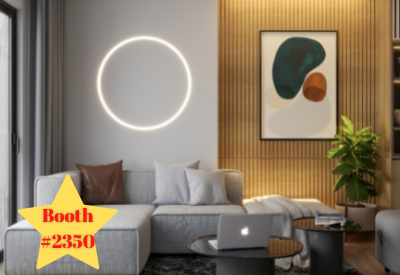 TruCirque is a 5/8-inch recessed plaster-in drywall architectural lighting system from Pure Edge Lighting that installs easily with no joist modification required. The patent-pending TruCirque gives designers a flawlessly illuminated circle of light on wall or ceiling. It is offered in an array of color temperatures including RGB, RGBW, Tunable White, and Endless Color 2000K-65000K (RGB+TW). TruCirque can be adjusted from a cool 6500K to a warm 2000K, then transition to Red, Green, or Blue light to change the ambiance of the room.
American Lighting / Booth #1829
American Lighting will be featuring its LED Canvas Sheets in a very unique application, transforming an ordinary accent wall into a dynamic RGBW color-changing light show. The LED Canvas Sheet is ideal for underlighting and backlighting anything from countertops to architectural features with white light, tunable white, or RGBW. The 120-sq.-ft. installation of RGBW LED Canvas Sheets is sure to draw a crowd.
Modern Forms / Booth #3043
The suspended Equilibrium linear pendant from Modern Forms is comprised of an elegant rectangle of light that radiates from an artisan-crafted, cloudy acrylic center panel illuminated by an uplight. In addition, the modern 48-inch luminaire provides downward illumination.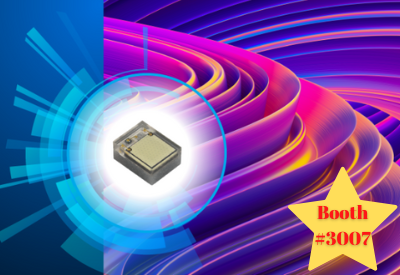 Cree LED / Booth #3007
The XLamp® Element G LEDs from Cree LED are the latest in Cree LED's broad portfolio of lighting solutions enabling maximum light output and optical performance with new levels of precision and control.
The XLamp Element G LEDs provide next-level performance in color mixing applications:
New performance class delivering nearly 3x the light output of the XQ-E and 9x the lumen density of XP-E2
Broadest range of color options available in the industry
No-compromise package design with minimal LED chip-to-edge spacing featuring a large, electrically isolated thermal pad and ESD protection
The XLamp Element G LEDs are optimized for multicolor directional lighting products for indoor and outdoor directional, architectural and entertainment applications.
"We continue to lead the industry by challenging assumptions about what's possible with LED technology. Our XLamp Element G LEDs deliver a new standard," said Cree LED President, Claude Demby. "Customers have been asking for the next flagship color platform and we've delivered ‒ providing more color options and better control than ever before. XE-G LEDs deliver an innovative building block approach to lighting system design, providing an entirely new performance standard for this category. We are eager to see our customers implement the XLamp Element G LEDs in their next generation products."
USAI / Booth #2143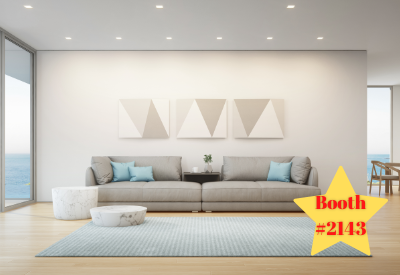 TrueZero360 is USAI's newest quiet product providing 360°comfort from every viewing angle. Designed with the company's new recessed lighting aesthetic and delivered with a 4-part patented optical system (Quiet Comfort Optics), this new product family has more than 2,000 glare-free delivered lumens, providing a balance of performance and comfort from a seamless ceiling.
USAI's unique and patented reflector and lens system keep the beam focused and framed while preventing unwanted brightness from the light bouncing back into the room. The light source and fixture interior nearly disappear while maintaining a subtle luminance on the lens. TrueZero360 Trims offer two quiet aesthetics – Truly Zero Trimless 00" Regress and Truly Subtle 3/8" Regress – in various finish combinations.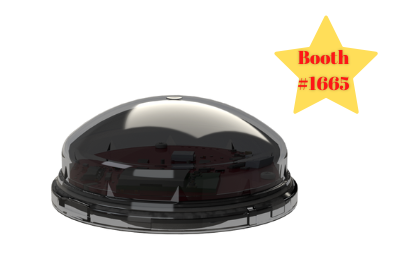 Synapse Wireless / Booth #1665
The Digital Zhaga Controller is a D4i-certified controller compatible with the SimplySnap lighting management solution from Synapse. It provides an easy-to-install method of adding controls to a luminaire in a small, non-obtrusive form factor.
Utilizing a Zhaga Book 18 receptacle, the four-pin Zhaga twist lock can be installed in the field or on the luminaire manufacturer's production line. The small size and low cost make the DC-powered wireless controller versatile enough to be connected to nearly any wattage LED Luminaire.
Pairing the ZHA-S1 with a SimplySNAP Site Controller makes it easy to comply with DALI-2, ASHRAE, Title 24, DLC NLC Indoor/Outdoor, and other energy requirements. The controller supports basic dimming and on/off capabilities plus more advanced energy-savings strategies. The integrated photocell also enables the controller to be used outdoors.
The biggest advantage of the Zhaga Digital controller is the future-proof design. The D4i certification and Zhaga Book 18 mechanical design of the ZHA-S1 Digital Zhaga Controller provide a unique combination that will support broader adoption of intelligent controls in key outdoor and industrial indoor markets. D4i provides the ability to have low-cost and accurate power monitoring from compatible D4i LED Drivers and the ability to identify the manufacturer of the LED driver. Plus, D4i takes lighting controls to a new level of capability by providing standardized commands, controls and asset data that has only been available via customized digital designs and was not available from traditional 0-10V interfaces.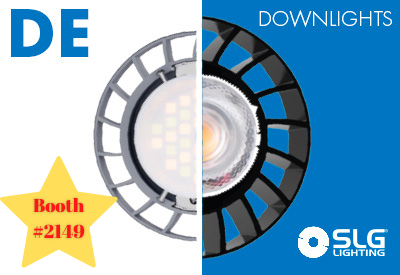 SLG Lighting /Booth #2149
The DE-Commercial Downlight Series from SLG Lighting offers lumen/CCT field-selectable downlights with very narrow to wide distribution options. The series is easy to stock, install, and ready to ship. See the whole series at our booth 2149 and get your hands on the industry breaking twist adjustable optics.
Come by the booth for an exclusive poker chip along with a preview of our brand new 110,000-sq.-ft. U.S. warehouse and learn how we're providing solutions for every aspect of the LED landscape.
Energy Focus / Booth #2055
EnFocus™ is a patented LED circadian lighting control system from Energy Focus. Unlike wireless control systems that incorporate transmitters and receivers in both controls and light sources, or systems utilizing dedicated control wiring to send messages back and forth, the EnFocus™ system uses power line control technology to send control signals across existing supply wires. This dramatically reduces cost and improves reliability and security.
Pharos Architectural Controls / Booth #1235
Pharos invites LightFair attendees to participate in demos of the new features within its Designer 2 software and Pharos Cloud remote management platform. The company will be showcasing its designer product range as well as some ground-breaking new features in Cloud, such as Portals and Multi-Sites.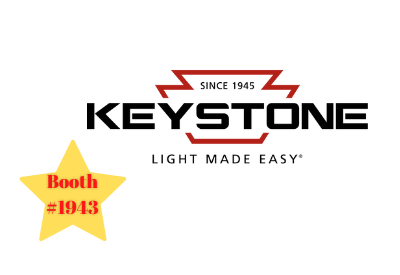 Keystone Technologies / Booth #1943
LightFair is your opportunity to get hands-on with industry-first products like Keystone Technology's USB-C programmable driver, fully integrated emergency downlight solution, pre-installed kitted area lights, and high bays that add wireless controls with a simple screw-in sensor. You'll even get the scoop on what Keystone is working on for launch later this year. And since we're in Vegas, you'll have a chance to drive away in an amazing prize!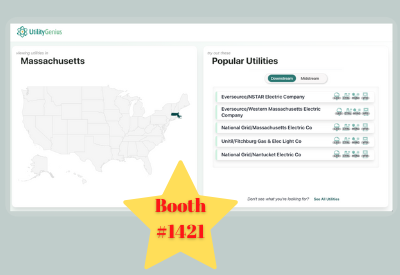 Encentiv Energy / Booth #1421
Utility rebate specialists Encentiv Energy developed the Encentivizer technology, which is powered by a database of qualified products, utility programs, and incentive calculations across North America. With UtilityGenius you can instantly get rebate estimates and utility program information for every utility in North America in three clicks or less. Try it out at the booth.
TE Connectivity / Booth #3333
The company will be showcasing its new LUMAWISE Motion sensor, an interoperable, plug-and-play solution for efficient, motion-activated street and area lighting. There are also additions to the LUMAWISE Endurance N+ control bases and covers and LUMAWISE power input terminal block product families.