James Bar Brightens Its Vibe
February 11, 2022
If you live in – or visit – Missoula, Montana, chances are you've tasted the exceptional drinks and bar food at the James Bar. Opened in 2007 by Vicky and Seamus Hammond, James Bar has received rave reviews for the culinary creativity of Executive Chef Noel Mills, a graduate of the Western Culinary Institute in Portland. Now, thanks to a recent renovation, those customer raves include praise for the ambiance that the revamped architectural design and lighting provide.
Andy Moore, PE, LC, MIES, founder of the Bozeman, Montana-based architectural lighting and electrical engineering firm Beartooth Lighting Design, worked alongside the team from Missoula-based Paradigm V2 Architects on the new look.
"A big part of the lighting concept for the space that we discussed with both the architect and owner was to open up the space psychologically and visually," Moore states. "There were original wood trusses that many long-time patrons and users of the space never knew were present, due to the pendant downlights that were there previously."
To visually expand the space and create a warm, welcoming aesthetic, Moore discovered LED Inspirations (LEDI) tape light to be the ideal easy-to-install, durable, and maintenance-free solution for highlighting the natural wood planks on the ceiling.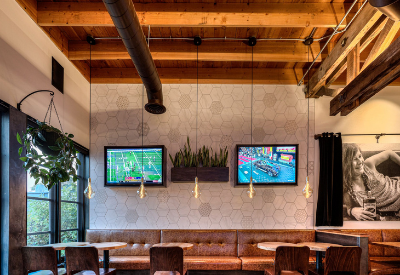 "Through a series of mock-ups with Scariano Construction, we were able to hide the tape light above the bottom chord of the truss to provide invisible uplighting throughout the remodeled area," Moore explains.
The finished result has earned high praise from guests. "From our end, we think the final lighting design accomplished the goals we had at the concept stage and helped the owner reinvigorate their space into a hotspot for downtown Missoula," Moore comments. "It helps bring a brighter and higher energy environment indoors to help balance out some of Missoula's moody weather outdoors."