Aquarium Lighting Goes High-Tech
The luxury cars inside a dealership are always shown in the best light — and the same could be said about another expensive purchase: saltwater and freshwater aquariums and their inhabitants.
Louisiana-based CoralVue Inc., a manufacturer and exclusive distributor of the finest freshwater and reef aquarium product categories, needed a large indoor aquarium filled with sea life as a premier showcase at its headquarters in Slidell. Fortunately, they knew who to call.
Sam Slobusky, President and founder of WET WORK, Inc., was selected to mastermind the project's design as the lighting installation had to meet multiple requirements: it had to function in humid temperatures, be color-tunable to support a marine environment, and support product video filming.
Slobusky, whose company specializes in aquarium system design, has a unique skillset. Having studied at the Mississippi State School of Architecture and later forming his own furniture company (The Flat Earth) in the late 1990s, he had always wanted to combine his love for design with his true passion – Marine Biology – and, by extension, saltwater aquariums and reefkeeping.
"After Katrina, I helped a local shop reopen to assist in the dismantling or rehabbing of dozens of aquariums lost during the storm," Slobusky explains. "The owner had a rather questionable business model — sell people grossly inadequate systems, then profit off of their failures. They would return repeatedly to buy new fish and corals or various fixes — equipment, snake oil, etc. — then eventually give up and leave the hobby. I founded WET WORK, Inc. in 2007 to provide a more personal and thorough approach to system design and installation that would set clients up for sure success, helping them as much as required to ensure that success."
For the CoralVue showroom, Slobusky's goal was to design a space that was highly functional for the required tasks and also incorporated the beauty of architectural lighting. He found what he was looking for with PureEdge Lighting's Flex Neon, an indoor/outdoor lighting system. Since the lighting had to be outdoor-rated and corrosive-resistant due to the aquarium's humid environment, Flex Neon was the perfect choice to fill the showcase with ample lumens. It provides more than enough light for task lighting and offered a unique aesthetic without having to install utilitarian lighting systems. Flex Neon was recessed and plastered into the drywall for a clean finish. If any of the LED strips need to be replaced, they are simply removed from the channel to keep maintenance costs low.
Slobusky's inspiration was to replicate the sunlight that streams down onto a coral reef in the sea. Getting the color just right was imperative. "Color temperature is often overlooked in design, but in my world it's critical," he remarks.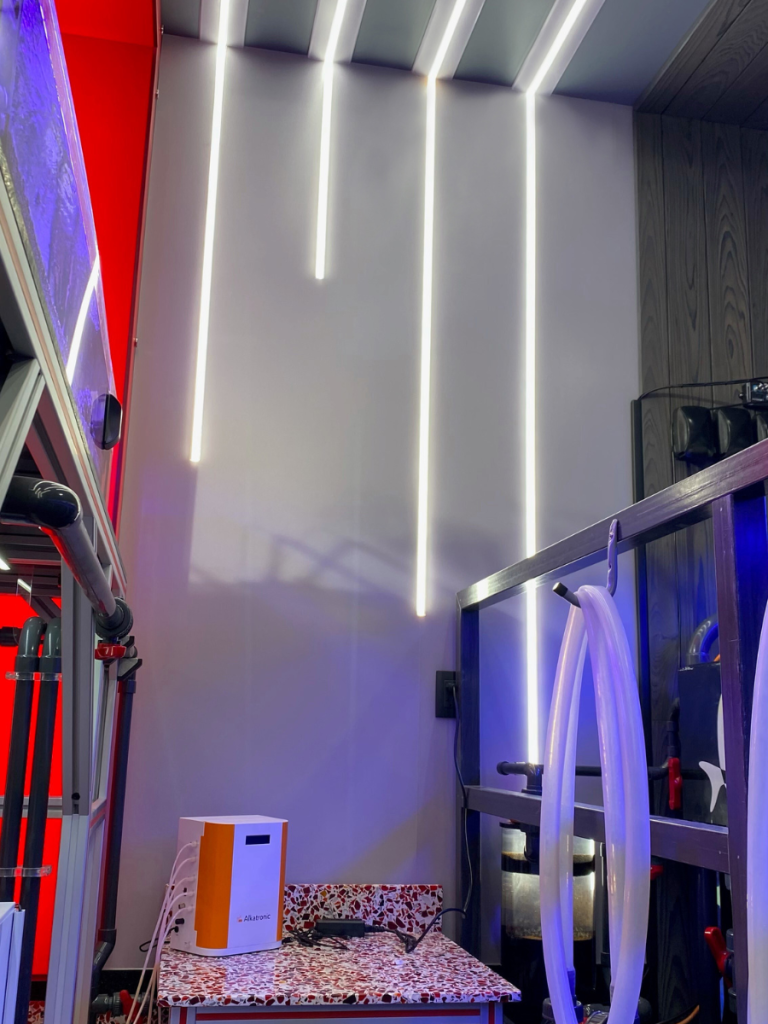 For this project especially, tunable white was necessary. Aquarium lights are very "blue." If RGB+W was used, the resulting light would look orange. There was also the challenge of reflected light from the aquarium tanks. Tunable white technology ensured that the lighting could ramp up to 6500K if desired, but with the versatility of a range between 2700K to 6500K. CoralVue wanted to have a pleasant lighting aesthetic when the aquarium lights were off, and then the ability to tune to a brighter white when the aquarium lights were on.
Lighting technology has made design work easier, but also more challenging. According to Slobusky, earlier LED versions of aquarium lighting weren't very attractive. " September 2011 is when the most popular and effective programmable, multi-channel LED was first released," he explains. "Ecotech Marine, which previously broke new ground with their magnetically coupled Vortech propeller pump used for internal circulation, was brilliant at marketing their products, so its release was highly anticipated — but it was ugly. Orphek, an Israeli company, produced both effective and beautiful LED panels, although theirs weren't fully programmable until 2013. Before LED, it was either metal halide bulbs (with an operating temperature of over 600°F, requiring energy-hungry fluid chillers to prevent cooking the fish and corals) typically combined with T12 Actinic (long wave UV) bulbs. Color temperatures for halides ranged from Ushio 6500K up to Radium 20000K. All were effective, and "control" was switching out lower Kelvin for higher Kelvin every 3 to 6 months (growth/color/growth/etc) and raising or lowering the reflectors. We didn't have accurate PAR meters back then that were affordable (we use Apogee now), so if corals started to bleach, distance from the water was adjusted. In my opinion, nothing beats halide for producing the fastest growth and best colors in small-polyped stony corals (Acropora family) but they're far too impractical. The other option was T5 fluorescent bulbs. These were very popular in the European reefing community. They did run cooler, of course, but had to be replaced every six months due to spectral shift. ATI and Giesemann were the major players at the time in the T5 game. Programmable LED has been a game changer. Many people left the hobby because a reef tank would increase their electric bills four or five times. LEDs coupled with 24-volt DC pumps have nearly no impact on a household electric bill."
An additional requirement was that the setting look good on camera, as CoralVue creates videos of its product line that highlight the brand's quality. "We needed lighting in the room that wouldn't look orange with the 12 extremely blue-leaning Philips CoralCare fixtures over the display tank," Slobusky states. "Even 3000K would have looked horrible, but if the lighting solution was only, say 6500K, it wouldn't be ideal for shooting marketing videos. The primary objective of the 'fish room' was to create a space to promote the products that CoralVue builds, develops and/or distributes (as they represent numerous brands). My objective was to create an elegant, modern space that didn't sacrifice functionality for beauty."
Creating a perfectly illuminated environment for the "fish room" showcase is easier said than done. "It's an extremely complex system, but it doesn't appear to be when you walk in the room," Slobusky remarks. "The PureEdge LED strips proved to be the best solution since they could be tuned up to 6500K, which blends perfectly with the lights over the tank but can be reduced to a warmer color temperature more suited to shooting a marketing video. As you can see in the photos, the LED strips have been mounted in both the walls and ceilings. This produces more than enough lumens for the task lighting necessary in what is essentially a laboratory — it just doesn't look like one. Wall and ceiling lights are controlled by separate touch panels that dim from 0-100% and color-adjust from 3000K to 65000K."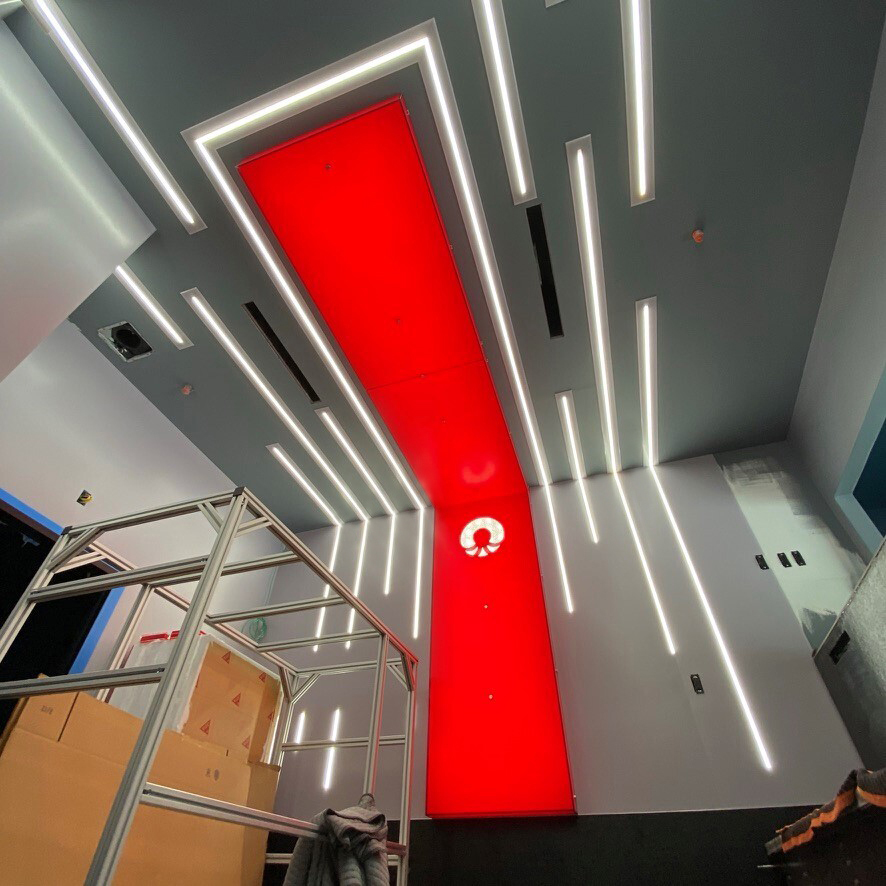 Adding visual distinction to the showcase is a vivid red lightbox manufactured by architectural products company 3form following Slobusky's design and specs for the project. "I then used the PureEdge LED strips in a perimeter pattern to soften the red glow from the lightbox, which is fully dimmable via a slide switch," he notes.
The finished project met CoralVue's expectations for an outstanding visual display that is beautiful to look at, promotes a healthy environment for the aquatic community living within it, and creates a film-worthy backdrop to showcase the company's products.