MaxLite's C-Max Brings Future-Proofing to the Next Level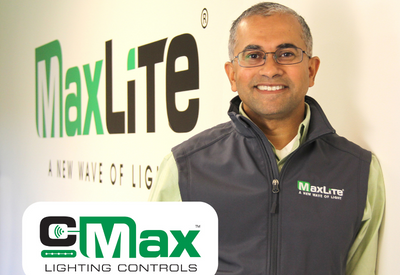 September 26, 2022
The pandemic demonstrated that we don't know what the future will bring, but we've learned to adapt. For example, office spaces changed from rows of individual cubicles occupied on a daily basis to a hybrid layout of shared work desks that accommodates a rotation of employees coming in for a day or two. Just as the spatial needs of many offices changed after the pandemic, so did their lighting needs and energy goals.
The typical office lighting scenario consists of a wall switch for turning lights on and off with energy savings derived primarily from the lamp choice. Incorporating newer technology – such as dimming, occupancy sensors, or daylight harvesting – would require removing all ceiling luminaires and buying new ones with those control features. However, lighting technology has been developing incredibly fast. What if the new fixtures' control features become outdated in two years? Replacing the luminaires again would be costly.
Umesh Baheti, Senior VP/Product Management, Engineering & Supplier Relations at New Jersey-based MaxLite, believes the company has the ideal solution with its recently released c-Max™ product line of "controls-ready" luminaires. "You don't have to plan out your space ahead of time," he explains. The c-Max™ system allows controls to be added before or after the fixtures have been installed.
There are two versions of c-Max™ available to suit various project needs and budgets. C-Max™ Basic is a stand-alone solution. "Every fixture has a control node; you program the sensor, and it will behave according to those settings," Baheti explains. The wireless version, c-Max™ Network Controls, is a DLC® Qualified Networked Lighting Controls Product similar to the c-Max™ Basic in its goal of saving energy, improving occupancy comfort, and meeting code compliance by adding Luminaire Level Lighting Controls (LLLC); however, the c-Max™ Network Controls nodes can be commissioned without a gateway or internet access by using the c-Max™ app.
What makes c-Max™ stand out is its patented design: the USB-C receptacle is embedded into the luminaires. As a result, it is very easy to add controls – via nodes – at the last minute. "Or, if you are not ready for controls today, but might be six months from now, you can go ahead and add the nodes then," Baheti states. "These controls-ready luminaires are already pre-wired, which creates a significant amount of cost savings when it comes to electrical labor."
All of MaxLite's luminaires now come c-Max™-ready at no cost to make adding controls in the future that much easier for contractors, project managers, and end-users. "This whole premise of having controls-ready products – and the future-ready aspect – is already working for us because we sold controls-ready c-Max™ luminaires last year to customers and they've come back this year asking for controls. We've put these sockets out there in the marketplace and now our customers can go back and sell controls to their own customers," Baheti comments.
The ability to retrofit the control modes also comes in handy for businesses wanting to take advantage of any upcoming utility rebates for controls. "You don't have to go back and change the luminaires, so there's no cap-ex cost to bear," he explains. "You're not asking them to wire anything; you're giving them a plug-and-play solution for those controls-ready luminaires. I think it's a very unique offering in the marketplace. The interface does not change. You can decide how smart of a technology you want to add. We are able to provide different price points, benefits, and features based on your requirements and budget."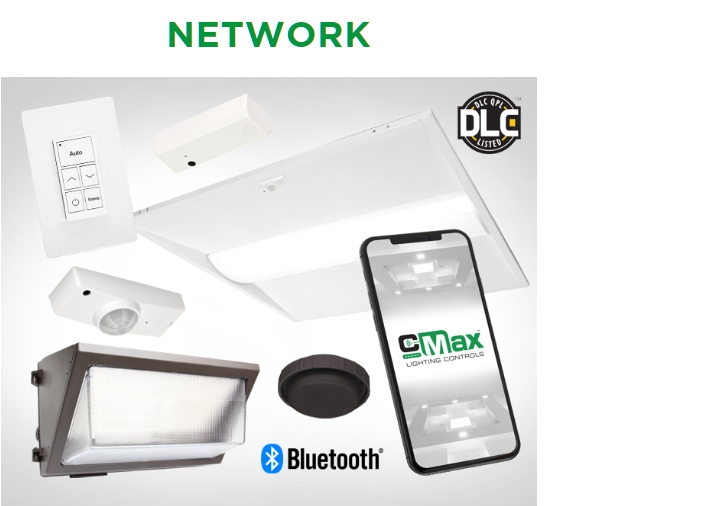 Looking Even Further Ahead
"My vision for the company is beyond lighting," Baheti says. "When we say 'future-ready' that's exactly what we mean. It's not future-ready in the sense of, 'Will this luminaire work for me five years from now if I add controls to it?' Yes, it will, so it's future-ready from that standpoint. Today we are talking about basic lighting strategies (dimming, scheduling lights to turn on/off, motion sensing, etc.), but what if we were to add more technology? Bluetooth is a great wireless technology – which is what c-Max™ is based on – but right now it's a low bandwidth technology. As Bluetooth evolves, there might be a future where your internet might come through your sensors; for example, if you are underneath the luminaire and want to access the internet, you can actually do that through the light," he states.
"I see a roadmap beyond lighting. The beauty of c-Max™ is that if you said to me, 'Umesh, I manage a museum and I want to create a solution where I have an app for my museum and I want the patrons to be able to look at exhibit information on their mobile device.' We can give you a solution in the future where you can buy our c-Max™ nodes and they can perform as lights, or they can perform tracking, informing patrons, 'You are at this exhibit and it is Monet' — these kinds of things become very easy to do," he affirms.
Another advantage is that the customer does not have to buy a separate solution from a different manufacturer or provider. "We can integrate these technologies. What if your smoke alarm operated off of these sensors? What if we were to give you a node that complements CO2 monitoring and it will beep when those gases are surrounding the sensor? That sensor now becomes more intelligent and you're able to do more things with it," Baheti explains. "So the idea of 'future-ready' becomes quite broad, and not just speaking to traditional controls. The future could be significantly different from simply lighting."
Making Life Easier for Electrical Contractors
What the c-Max™ products do is eliminate a lot of the guesswork and labor. "The first thing to determine is what do you want to do with the controls," Baheti states. "Am I dimming, am I scheduling lights to turn on/off, or do I need to change the setting on the lights because I have an exhibit or changing floorplan? The second thing to consider is how simple is it to install and commission — and on those two fronts, c-Max™ is a home run. The feedback from our customers is that we've taken away the issue of adding wiring for controls. We have taken on the burden of adding it to our luminaires in order to provide contractors with easy savings on labor. That is a huge value proposition."
What customers find most attractive, according to Baheti, is that they don't have to plan their space upfront. "If you were to buy controls from another manufacturer, you probably would have to know where you are going to put, say, that motion sensor in the ceiling. With c-Max™, you don't have to worry about that since you are literally putting the luminaire into the ceiling. On the very last day, you could say, 'Wait a minute, that wall is going to change and I have to put in a partition. With a different system, that motion sensor or control wouldn't work for that space configuration and would have to be removed and relocated, which involves both cost and time. With c-Max™ you can replace that node or swap it with something else. You don't have to worry from a project management standpoint when it comes to construction activity. Late-stage decision-making can actually be enabled by c-Max, and that is a huge value for the end-user and architect. As c-Max™ has been evolving, we've created a very rich portfolio of sensor options and nodes to serve those different applications," he explains.