Sunna Design Awarded $45 Million Contract for Solar Street Lighting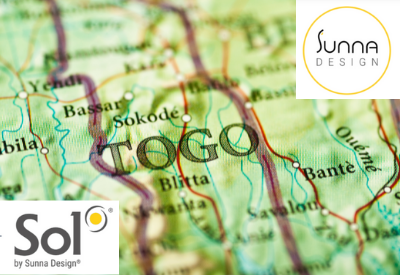 December 6, 2021
One of the smallest countries in Africa, Togo is also rural and undeveloped. To that end, French manufacturer Sunna Design (SOL of North America's parent company) has signed a $45-million-dollar contract with the Government of Togo for the supply and installation of 50,000 smart solar street lamps over a 24-month period.
The contract, funded by the General Directorate of the French Treasury, is part of a larger project called CIZO ("switch on the light" in mina language). The goal is to electrify 500,000 rural households, benefiting approximately 1.5 million inhabitants in 1,000 villages. A pillar of Togo's NDP (National Development Plan) deployed by the Togolese presidency, CIZO aims to speed up the modernization of the country, including ensuring universal access to electricity by 2030.
Public lighting grids have an impact on rural communities' life conditions and strengthening of the economy by facilitating passenger and goods transport, pedestrian traffic, night work, as well as drastically reducing road accident rates and improving security.
Solar street lights are autonomous and resilient energy sources, and the only relevant technical-economic solution to bring appropriate public lighting and connection services to off-grid areas. In Togo – where only 8% of the 8.3 million residents are connected to the grid – access to energy is a key factor for economic development. The challenge is also to promote geographical balance in response to an urbanization phenomenon in Sub-Saharan Africa through a planned deployment of sustainable, decentralized, and smart infrastructures.
Mila Aziable, Minister Delegate to the President for Energy and Mines, said, "This partnership reflects the Head of State's will to make energy accessible to rural populations using sustainable solutions. Having Sunna Design by our side, and benefiting from its expertise in the field of solar lighting, shows the importance of renewable energies in our national development policies and sets the tone of the large-scale electrification project CIZO."
Solar lighting will be rolled out in priority areas that were identified and investigated beforehand via a census study of rural infrastructures to ensure a measurable economic and social impact of each lighting point on people.
The iSSL+ solutions by Sunna Design are all-in-one connected street lights with batteries designed to resist high temperatures and produced at the manufacturer's factory in the Bordeaux region of France. The company's expertise extends beyond lighting to integrate an ecosystem of IoT applications powered by its intelligent solar batteries.
This innovative application has already been successfully implemented and tested by Sunna Design in Togo, in the frame of a pilot project operational since 2020, financed by the FASEP fund of the General Directorate of the Treasury. This project will allow the continuation of these experiments in targeted areas, as well as improvement on the "WiFi Grid" to offer Internet access to villages through the solar street lamps.
"This project will combine decentralized energy and broadband connectivity to provide both public lighting and Internet access to the populations. Thus, it complements our vision towards accelerating the convergence between energy and digital technology, which we will initiate by deploying optical fiber on the electric network," says Cina Lawson, Togolese Minister of Digital Economy and Technological Innovation.