LEDucation 2022 Concludes on a High Note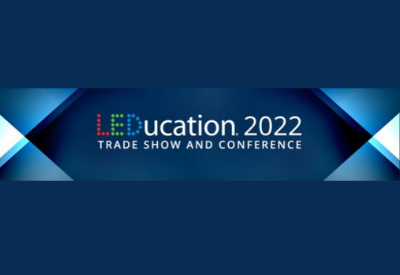 March 23, 2022
LEDucation returned to the New York Hilton Midtown for its first post-pandemic trade show and conference March 15-16 and welcomed 4000+ attendees, exhibitors, and presenters.
Committee Co-Chairs Burt Grant, of Metro Area Sales, and Caroline Rinker, of O'Blaney Rinker Associates commented, "It was refreshing to see the positive energy and excitement at the show. It is a testament to the resilience of the lighting community and eagerness to get back in action after the two-year hiatus."
The expanded trade show floor provided plentiful opportunities to demo lighting products and to develop new business. "Specifiers commented to me that seeing products in their intended applications, instead of on a Zoom call, was extremely satisfying," said Megan Carroll, Specification Sales Manager at Illuminations, Inc.
Many remarked on the success of the show and return to "normal." "That was by far the best show I've attended in the history of attending every LEDucation NYC—even the virtual ones," commented Asher Schoenberg, Sales Representative, Architectural Lighting & Controls at Stan Deutsch Associates. "Great to see everyone back in action!"
Industry luminaries presented 26 educational sessions addressing today's trends and issues and targeting the future of the industry. Rafal Han, CEO of Silvair, led a virtual workshop covering Bluetooth mesh lighting controls and sustainability.
The in-person circadian health presentation by Mariana Figueiro, Professor and Center Director of the Light and Health Research Center at Mount Sinai, was popular among the several workshops that addressed the topic. Shoshanna Segal, Principal of Luminous Flux, presented a panel discussion on the importance of controls intents and sequences in lighting design.
Presentations Co-Chairs Wendy Kaplan, of Feelux Lighting, and Craig Fox, of ETC, expressed gratitude to all the LEDucation speakers: "This year's outstanding presenters brought their in-depth knowledge and expertise. But the passion and truly aspirational guidance they shared are what will help position specifiers for success in a marketplace that is changing at lightning speed."
For those who could not attend in person, educational content from all the sessions will be posted on the LEDucation website in coming weeks.
"LEDucation 2022 was forward-looking (as it usually is), showcasing products and concepts at the forefront of the lighting industry," said Billy Hodges, President of Digital Filaments and Founding Member of the newly established American Association of Independent Lighting Agents. "At LEDucation I've discovered new products, made industry connections, and introduced my new team members to the lighting industry…. LEDucation is intimate, intense, educational, and inclusive. I can't wait for next year!"
Next year's 2023 LEDucation Trade Show and Conference will take place March 7-8 at the New York Hilton Midtown. Exhibitors are encouraged to reserve their space for 2023, and a call for speakers will be issued in a few months.