Talking Trends With AJ Hetzke of IlluminFx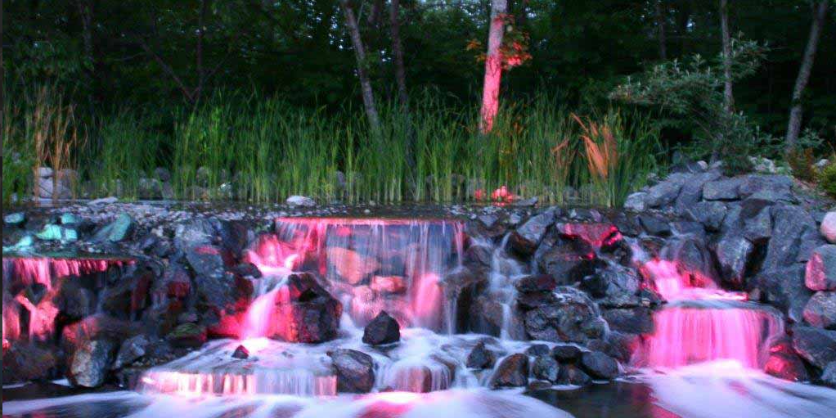 Fiber optic lighting was everywhere in the 1990s, but became less prominent when the expansion of LEDs' capabilities grabbed the lion's share of attention. Despite that, IlluminFx founder AJ Hetzke states that interest in the fiber optic portion of his IlluminFx business remains steady, along with the strong demand for LED retrofits offered by parent company Unitrac Energy Management, which he founded in 1986. Both companies are headquartered in Rochester, New York.
"I got involved with fiber in the early '90s. And fiber led me to outdoor landscape lighting, which led to opportunities in the pond and water feature industry. I started the IlluminFx division 23 years ago, making fiber optic lighting kits for backyard ponds and waterfalls," explains Hetzke, who has a background in the lighting industry and is currently a district chairperson for the IES and the chair on the Lighting Upgrades Committee.
"There was an opportunity back then. Fiber was already an established solution for pools and spas, but no one was making anything for natural-looking water features — and that was a growing industry. I came up with a kit that a contractor could easily install on-site," he states.
Over the same time period, LED technology kept evolving. "When white light LEDs became commercially viable, they started to be used in niche areas like landscape lighting," Hetzke comments. "It became more feasible to put LEDs in landscape lighting before putting them in an office." Not only was color consistency a problem in early LEDs, but the cost was high. In landscape applications, however, color didn't need to be as exact and, from a cost standpoint, LEDs could be adapted in smaller, niche areas like water features. As LEDs became more affordable, more applications opened up.
That said, fiber is not the answer for every outdoor situation. "The greatest advantage of fiber optic in a wet environment is the absence of electricity [in the water]. It is perfectly safe in a water feature, swimming pool, or spa. All of the other lighting solutions have electricity [at some level], even if it's pool- or spa-rated," Hetzke says, adding, "There are advantages and disadvantages to almost any technology."
The Basics
At its headquarters in New York, IlluminFx manufactures some items and assembles others. "Our fiber optic systems are fabricated and assembled here — we don't actually make the fiber, but we put everything together and make some of the fittings. We also put together our control panels for LED here," Hetzke states.
IlluminFx products are sold via a network of independent reps who call on irrigation, fountain and landscape supply companies. And while Hetzke attends LEDucation and Lightfair to stay on top of trends and products, the company prefers to exhibit at landscape-oriented trade shows such as GIE+Expo.
"I would like to get more into what I would call traditional lighting distribution – such as electrical distributors – but the way we started with fiber in the [landscape] market, we would need to tool up for the traditional lighting market," Hetzke says.
On the Horizon
"There is a desire, in the residential market, for simple app control. People don't even know the features that they want; they just know they want to be able to control their lights from their phones. They don't necessarily understand what that means, but it's up to us to create and offer solutions to people and educate them," he states. "And on the commercial side, there's a push from the Department of Energy (DOE), DesignLights Consortium (DLC), and those who drive the industry for networked lighting controls. What I'm struggling with is, if a business owner has a 50,000- or 80,000-sq.-ft. office and warehouse, what's going to convince him to invest in networked lighting controls when it's easy today to buy a new fixture that has a sensor on it that is somewhat autonomous (i.e. if no one is under the fixture, it dims to 30%). They don't need all of their employees to control the lighting with their phones. Why should they invest in those controls?"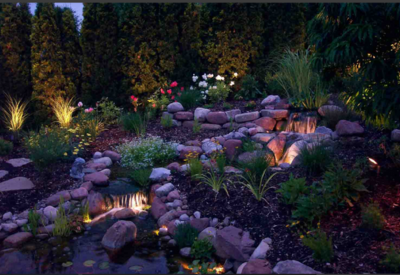 Hetzke clarifies, "I buy into the concept that it's the next opportunity for a market and offers significant energy savings. I have been convinced by the scientists that there is a good chunk of energy to be saved, but how do we, as an industry, educate the commercial property owners – whether it's a property management company, real estate investor, or owner-operator – and convince them that it's worthwhile?" And, by the way, IlluminFX offers fixtures with those integral sensors. "Almost every fixture we install in production, office, and warehouse applications has luminaire-level lighting control," he remarks.
Areas of Growth
"I think controls will play a big part [of growth], but so will flexible LED systems (those that resemble neon) and flexible strips. I think we're just scratching the surface in that industry," Hetzke says. "One of the really interesting things that I see with LED is the almost unlimited creativity [it provides] to turn lighting design on its head. You don't have to do the typical 2×4 grid anymore. As the whole human-centric lighting topic becomes more mainstream, I think it will be a gamechanger for the world. As more data comes out to prove that the right lighting, at the right dosage, at the right time, can help our health…well, what if health insurance companies take note and maybe start offering lower premiums for a facility that has that type of lighting? Who knows how that's going to manifest. There are also all those things that LEDs do – such as vertical and horizontal illuminance – and all of the various forms they can take that can create new ways of illuminating spaces that we haven't really thought about yet."
Living near the Lighting Research Center (part of Rensselaer Polytechnic Institute) has its benefits. Hetzke often attends seminars at the facility and stays abreast of emerging technology. "It's important to me that we offer the right solution. If there's something we are going to offer and suggest that it will be beneficial, I want to make sure that's actually true and not just make a claim with nothing behind it."
Another area that Hetzke has his eye on involves the changing needs in office space. "I'm of the belief that, as human beings, we are social and have a need for social interaction and being physically together," he explains. "So while I understand the desire for remote work – from both the workers' perspective as well as that of an employer who could be leasing a lot less space – I think it's going to come full circle to an extent. The company that has one million square feet in 2019 might not need that much space today or in three years, but they might still want to retain 70% or 60% of that for a hybrid-type operation. Maybe this means there is more shared space. How do we change that bland cubicle – where in 2019 you had pictures of your family and trinkets on your desk – and now you might be occupying that space only 3x a week, and maybe not even the same space each time. How do we create an environment for employees where they walk in and feel like it's their space. I see an opportunity there."
In a world centered on LED lighting, Hetzke is delighted to find there is still a need for fiber optic. "We started the business in fiber, and it's always been near and dear to my heart. When LEDs came out, we've pursued it on both sides of our business (IlluminFX and Unitrac). Lately, though, we've been getting more and more calls from people asking about fiber for the swimming pool and swimming pond market. I think there is opportunity for us to revitalize that part of our business," he remarks.