ChargePoint Partners With NECA to Accelerate EV Charging Infrastructure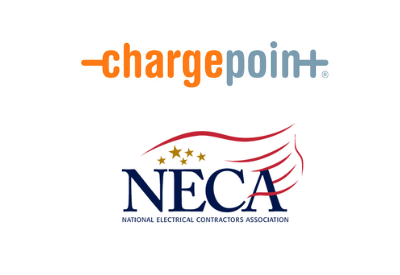 June 9, 2022
California-based ChargePoint, a leading electric vehicle (EV) charging network, announced a new partnership with the National Electrical Contractors Association (NECA) – which represents the $202 billion electrical construction industry with 118 local chapters – to accelerate the deployment of EV charging. Through the partnership, ChargePoint and NECA will develop training programs for its electrical contractor members who install EV charging infrastructure and be a resource in NECA's Industry Alliance Network (IAN), which connects NECA contractors to companies at the forefront of the electrical industry.
This partnership comes as the federal government prepares to invest billions of dollars in EV charging through the Bipartisan Infrastructure Law, including $7.5 billion for highway and community charging and billions more to electrify private and government fleets.
"Through this collaboration, we are connecting our technical experts with NECA's network of thousands of electrical contractors, who are key partners that ensure connected, software-enabled charging solutions are installed proficiently in communities across the country," said Anthony Harrison, Senior Director of North American Policy for ChargePoint. "Together with NECA, ChargePoint is ensuring electrical contractors have the technical expertise needed to further accelerate deployment of EV charging infrastructure and enable charging everywhere drivers live, work, and play."
"At NECA, a key value we provide is connecting our members with the products and services that are leading our industry," said NECA CEO David Long. "The Industry Alliance Network opens new avenues to deepen the conversation between these brands and NECA contractors. It is NECA National's goal to provide solutions with increased access and attention within our industry."
ChargePoint will provide the association's members with the necessary training and education on how to deploy EV charging across the country. ChargePoint believes its partnership with NECA will impact the electrical construction industry by leveraging NECA's network, digital marketing, social media, and communications platform in order to expand EV charging infrastructure farther and wider than ever before.
ChargePoint joins NECA's 18 Ambassadors and nine Affiliates. More companies are expected to join the program in the second quarter of the year. For more on the NECA IAN, click here