Sunny Skies for Weather Trends International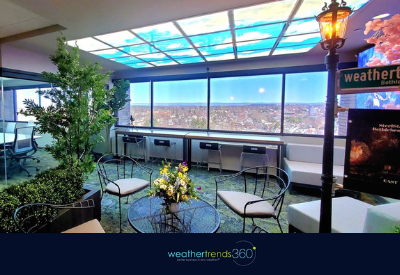 June 12, 2022
Yes, he really is Captain Kirk, and he knows a thing or two about Earth's atmosphere. Unlike the character on Star Trek, however, retired Air Force Captain Bill Kirk of Weather Trends International in Bethlehem, Pa., monitors the skies a lot closer to home than outer space.
Founded by Kirk in 2002, Weather Trends International provides long-range weather forecasting for the new FOX Weather channel as well as guidance for retailers, manufacturers, pharmaceutical companies, agricultural firms, and financial analysts worldwide to help businesses manage the weather risk. And while it's not using space technology per se, Weather Trends' forecasts are generated by a team of highly passionate meteorologists, mathematicians, and programmers utilizing proprietary computer software.
In 2020, Kirk had picked out a new headquarters for his firm at the One Bethlehem Plaza tower in the heart of downtown near the Historic Bethlehem Hotel, which has hosted Mother Teresa, the Dali Lama, and U.S. Presidents as guests.
"I had just signed a 10-year lease one week before COVID hit," Kirk commented. This wasn't an ordinary office space; it was the entire eighth floor, spanning 7,000 square feet with a panoramic view. Cameras on the roof provide even greater visibility of the surrounding area for the weather forecasters. "We've seen thunderstorms from 150 miles away," he noted.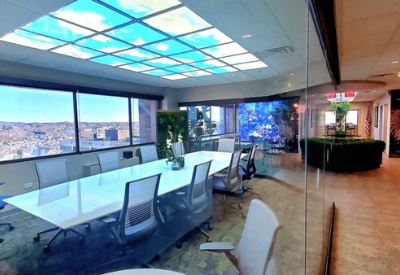 With many companies struggling to entice employees to return to office life after working nearly two years from home, Kirk envisioned a creative environment for Weather Trends' new headquarters that would make coming to the office fun.
"I hate the dingy, dark office look," Kirk stated. "Everyone loves the outdoors, so my idea was to bring the outside inside." That meant recreating a sampling of the downtown street below, complete with a cobblestone walkway, artificial trees and hedges, plus a replica of the city's historic street lights for the casual dining area and lounge.
Most remarkable are the overhead faux skylights that mimic sunny skies in the lounge as well as the adjacent conference room, making it appear as if the office were on the top floor of the 11-story building instead of the eighth. In the TV studio, the ceiling simulates deep space for a Star Trek Enterprise look.
Kirk knew that finding a company that offered a cool ceiling effect able to fit into a tight space would be a challenge. "We literally had two inches of clearance in the ceiling," he explained.
Not knowing where else to turn, Kirk surfed the internet for a source — and that's where he stumbled upon Artificial Sky: LED Skylight & Virtual Sky Ceiling Systems, a service-disabled veteran-owned small business (SDVOSB) in the Detroit area founded by Mark Jenzen.
Artificial Sky is reportedly the leading supplier of the largest ceiling art, LED skylights, virtual sky cloud ceiling panels systems, and modularization panoramic wall murals used in office spaces, healthcare facilities, plus other commercial and residential environments. What makes Jenzen's product line stand out from the competition is the incredibly crisp, life-size imagery. "Using a proprietary imaging process exclusive to Artificial Sky, we are able to capture real photographic images of the sky that are 1,000,000 times larger than competitors with no fuzziness or blurring," he explained.
Jenzen is a big believer in the power of Biophilic Design (the practice of connecting people and nature in the built environment). "There have been hundreds of research reports showing the positive effects of incorporating biophilic-friendly products into healthcare design," Jenzen remarked. "Biophilia – most easily defined as 'the love of nature' – is the idea that people function best in the natural, green environments we evolved in, with other life around and with spaces that are more like natural habitats rather than boxes with dull, lifeless ceilings and walls."
According to wellness experts, biophilic spaces can reduce unnecessary stress and depression, enhance positive social response, speed up recovery times, provide medical patient distractions, increase staff productivity and retail sales, encourage educational growth in students, and make tight, claustrophobic spaces seem open. "Best of all, our products are maintenance-free and will provide years of enjoyment for customers and staff alike," Jenzen added.

"Once Mark showed me what the images would look like backlit, I knew I wanted to have them," Kirk affirmed. Besides the super-slim profile, he liked the brightness and maintenance-free aspect of LED illumination. "You can see the glowing ceiling panels from the street, and it looks gorgeous," he noted. "Our Weather Trends office has become a revolving door of folks from all over who have seen or heard about our cool office and want a first-hand tour."
Another unique distinction is Artificial Sky's use of AI (artificial intelligence) to create virtual movement for a day or night sky. "When you close your eyes, you can feel the light moving on your face, simulating the sun traveling through the sky," Jenzen stated.
According to Kirk, the Artificial Sky imagery looks so realistic that when the Weather Trends crew are on Zoom calls, everyone else assumes they are seeing a green screen backdrop and not the actual Weather Trends studio. Since the Artificial Sky panels are easy to install, Kirk is thinking of adding a few more to the back office area since they've been such a hit with employees, visitors, and viewers.
A contender for the 2022 Coolest Offices in the Lehigh Valley competition, the Weather Trends headquarters was completed last August and continues to inspire other companies wishing to improve the look of their offices by using biophilic design to make returning workers feel more comfortable.
Project Credits: Frank T. Smith Photography, Mission Plant, Corporate Environments, Girl on the Hill, Shields Construction, and Artificial Sky.