Universal Douglas Lighting Americas Appoints New VP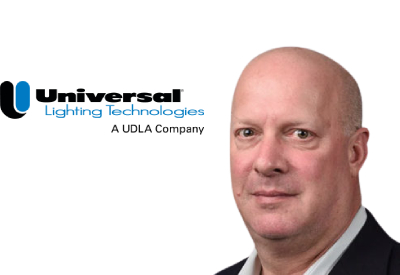 June 9, 2021
Universal Douglas Lighting Americas (UDLA) has appointed Todd Smith as its new Vice President of Sales Projects for North America.
With more than two decades of experience in the intelligent lighting industry, Smith is committed to bringing greater awareness to Universal's next-generation lighting and control solutions, including Bluetooth controls and IoT-enabled LED drivers, luminaires, and retrofit kits. He will also be part of the leadership team that is steering the ongoing integration between Universal Lighting Technologies and Douglas Lighting Control as they continue to form their new entity, Universal Douglas Lighting Americas (UDLA).
"We're pleased to welcome Todd Smith to the UDLA family," said Ty Anderson, President of UDLA. "As we enter our next phase as a fully integrated company, Todd's expertise in the intelligent lighting industry will be invaluable. We look forward to his leadership and guidance as we expand our North American sales and support teams to better service our customers."
Prior to joining the team at UDLA, Smith was the Director of Advanced Engineering at WESCO Energy Solutions, a publicly-traded FORTUNE 500® company headquartered in Pittsburgh, Pennsylvania. In this role, he focused on the development and go-to-market strategy for products and services within WESCO's portfolio of Electrical and Electronic Solutions, Communications and Security Solutions, and Utility and Broadband Solutions. Before that, he served as the Business Development Manager for Lighting Controls and then as Director of Energy Service Company (ESCO) Sales for Sylvania Lighting Solutions. Smith is a former U.S. Army Captain who served in Operation Desert Shield and Desert Storm and holds an Engineering degree from the United States Military Academy at West Point. He is also a Six Sigma Master Blackbelt and Lean Leader Instructor.
"I am thrilled to join the Universal Lighting team and take a role in the integration of two successful companies and product lines," said Smith. "The value our sales team can provide to customers to help them achieve their lighting, energy, and building functionality goals is a phenomenal opportunity. I am grateful for the chance to be part of this dynamic and entrepreneurial organization."