Delta Light Group North America Taps New Talent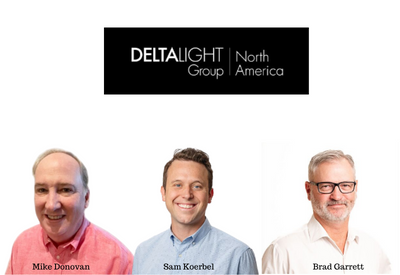 October 5, 2022
Following its acquisition of the Lambent Lighting Group several months ago, Delta Light Group North America (DLGNA), under the leadership of CEO Loren Kessel, has made the following appointments to its team: Brad Garrett, Director/Product Management; Mike Donovan, Regional Sales Manager/Midwest; and Sam Koerbel, VP/Marketing.
"These key individuals continue to reinforce how our organization is committed to building a world-class team to be the best at what we do, sell, tell and inject passion into our products," Kessel stated.
Brad Garrett joins DLGNA after a career of innovating marquee products at Cooper lighting solutions, Zumtobel, and Nulite. "I am extremely excited to be surrounded by so many talented and passionate professionals here at Delta Light Group North America. The combination of technology, manufacturing, and design expertise within this group offers limitless potential for innovation and design leadership across the globe," Garrett noted.
Mike Donovan brings 30+ years of relationships in the market, where he has provided a premium customer experience. "I'm excited to join a group that concentrates on design-focused solutions, enabling our customers to create what they want," Donovan stated.
Sam Koerbel is an entrepreneur and author of a new era of marketing in the industry. "When a once-in-a-lifetime opportunity shows up and gives you a chance to take all your passion and truly move an industry forward through leadership, customer experience, and a dedication to excellence — you have to take it. The Delta Light Group is something I'm honored to be a part of," Koerbel remarked.
"These hires are the next move of many more to come. We are committed to the North American market and hope this reinforces that. Our new team members involved were selected for their merits, passion, and ability to create success across many avenues," added Jan Ameloot, CEO of Delta Light Group, headquartered in Belgium.
In addition to the new team members, two individuals within the organization have been promoted to lead teams with their proven strengths: Logan Gerhard has been promoted to Business Unit President of LF Illumination and Delray; and Tyler Mullane, LC, has been promoted to VP/Sales for Delta Light Group North America.
Delta Light Group North America has offices in Pompano and Miami, Fla., New York City, Los Angeles, and Ontario, Canada. Its brands Delray and LF Illumination are located in California, while VLT & Softform are in Texas.