Tech Trends to Watch in 2022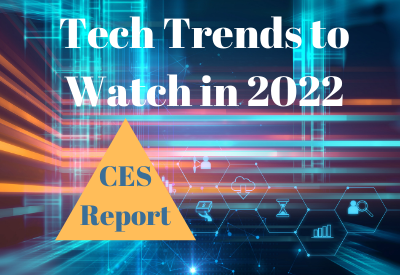 January 10, 2022
The Smart Home category – which includes smart light bulbs – is among the top three areas expected to see continued growth in 2022 and beyond, according to Steve Koenig, VP/Research for the Consumer Technology Association (CTA), which produces the widely recognized Consumer Electronics Show (CES) every January.
When the economy is in a downturn – such as the initial months of the COVID-19 pandemic – innovation often ramps up. "We've witnessed a lot of innovation over the past year," he noted, adding, "We've also seen a lot of tech investment."
Even before the pandemic took hold, there had been historic highs in consumer demand for technology on a global scale. The resulting shutdowns amid stay-at-home orders only increased the need for tech devices to stay connected to the world and to order supplies. "There has been year after year growth in consumer spending on tech," Koenig said. That demand can be distilled to what Koenig referred to as three core fundamentals.
Leveling Up. Consumers have been leveling up their tech to live a more 21st Century lifestyle. "Think along the lines of "work smarter, not harder," Koenig quipped. "During the pandemic, a lot of discretionary dollars were pouring into tech — and that's what fueled these historic sales highs and robust consumer demand."
Among the fastest-growing product categories, the description "smart" dominates the list (i.e. smart doorbells, smart light bulbs, smart appliances, etc.). "Consumers will continue to level up their tech. Our research shows that once they start, they want more. This has certainly been true in the smart home category," Koenig stated. "Research shows that if consumers buy one or two smart products, then they'll want to start adding to it with a sensor here or a doorbell there." The research also indicated that the demand for tech is happening at a similar pace all over the world, from North America to the U.K., Europe, Asia, and so on.
Premium Experiences. The CTA Survey has shown more growth for premium brands versus regular brands. "This is a trend that has been simmering for 10 years," Koenig remarked. "Does anyone really want an 'okay' experience, or do they want a 'great' experience? This [desire] is really coming to a boil this [year] where consumers are looking for that premium experience and willing to pay a little more for it."
Services. "Our lives are increasingly defined by technology, and attached services have become really important to the industry," Koenig noted, pointing out that connected fitness (i.e. Peleton, Hydrow) includes not only the equipment, but access to online classes. "It riffs off of that desire for premium experiences," he said.
Of course, "services" also includes the streaming video channels such as Netflix, DisneyPlus, AppleTV, and Prime Video. "Research shows that the average consumer – globally – subscribes to at least eight different online services, either paid or unpaid," Koenig revealed, adding, "There are a lot of services beyond streaming video."
What is especially noteworthy, according to Koenig, is that this rapid adoption of services has reshaped consumer behavior. "The pandemic caused us to make various pivots in our behavior. What research is showing is that consumers are planning to stick with these shifts they've made during the pandemic, such as food delivery services, online shopping, or wellness/lifestyle changes, and teach has been a bit part of that," he shared. "We're going to lean into tech even further in the year(s) ahead."
Consumers aren't the only ones enamored with technology. "Investment in tech is a global thing; it's not just happening in the U.S.," Koenig remarked. There has been a rapid rise in tech start ups as a result of these investments. "If we dig deeper into where the start ups and investments are headed, it's been in three areas: Retail Tech; Fintech; and Healthcare.
There is still one significant obstacle holding back an explosion of tech growth, and that is the lingering supply chain issues. "Everyone is dealing with supply chain issues, and no one is saying this will be [solved] anytime soon. It will take the better part of 2022 before we start to [see it easing]," Koenig stated.
While there have been pledges and commitments to build semi-conductor and chip factories in the U.S., Koenig cautions, "You can't put them just anywhere. They have certain water and electricity requirements. It's going to take time – perhaps two to three years – to build these facilities."
The emergence of 5G networks will make 2022 an important year for tech. "The real value of 5G is not the consumer sector, but in industrial IOT applications, leading to digital transformation by increasing cloud infrastructure," Koenig explained.
Growth in AI will also play a significant role. "AI is getting better and able to do more things," he noted. "Agriculture has become a high-tech sector, plus all of the innovation in food technology like the impossible burger."
The CTA survey revealed that consumers are open to using AI for help around the house. "We're used to going online [for help] but maybe now we'll pivot to AI. The metaverse is closer than you think," he affirmed.
Where Are We Headed?
There are commercial applications and business opportunities to be aware of going forward. In the Transportation sector, electric vehicles are an obvious focal point. In a category Koenig referred to as "Sustainable Tech," alternative power sources, food teach, smart cities, and smart homes will become more important. Another emerging area is Digital Health, with the growth of wearable technology such as Freestyle Libre (for diabetics), the FDA-approved Withings smart watch, meditation apps, sleep monitoring, stress management, and online counseling. "Many of these products have a therapeutic benefit to them," Koenig pointed out.
In the Smarter Home category, Koenig said there will be an increased focus on design, energy efficiency, and creating a healthy home. When it comes to the Enhanced Home Theater, display innovation in OLED, mini LEDs, and spatial audio will be prevalent. "The Home Health Hub is sort of riffing off of the Smart Home concept, where we can monitor our health at home through virtual [means]," he added.