Research Study Demonstrates Effectiveness of Light Disinfection Technology

November 15, 2021
With the COVID-19 pandemic still on-going, along with the usual concerns over the spread of other airborne viruses, disinfection capabilities are more important than ever. Legrand – which owns lighting brands Finelite®, Focal Point®, Kenall®, OCL®, and Pinnacle® covering commercial, educational, and healthcare facilities – has just published research demonstrating its Indigo‑Clean® light disinfection technology effectively and safely inactivates SARS-CoV-2 and influenza A viruses in a range of real-world clinical settings.
The evidence is published in partnership with the Icahn School of Medicine at Mount Sinai and reinforces the use of Indigo-Clean as an innovative medical technology tool that can continually help hospitals keep frontline workers and patients safe while delivering urgent, high-quality care.
The paper, "The virucidal effects of 405 nm visible light on SARS-CoV-2 and influenza A virus," was published in Scientific Reports on September 30, 2021. The study, funded by Kenall, detailed how researchers evaluated the inactivation rate of the SARS-CoV-2 virus using 405nm visible light under a range of clinical conditions. Kenall then applied those findings to a real-world usage model. The results indicate Indigo-Clean would achieve a SARS-CoV-2 inactivation rate of 94 percent based on 12 hours of occupied/unoccupied room use.
According to Cliff Yahnke, Ph.D., Chief Scientist and Head of Clinical Affairs at Kenall, since Indigo-Clean is not UV (it uses visible light to disinfect), it can safely be run 24/7 in an occupied room. "This is very different from UV, which can't be used while people are [present]," he explained. "When people leave the room, the lights shift to Indigo-only mode for a higher level of disinfection. While not preferable to work under, the indigo mode of operation is still safe for people."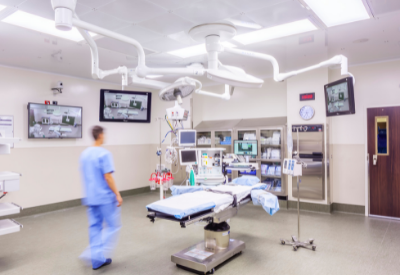 When asked if Indigo-Clean is able to reach areas that are underneath surfaces or in shadow, Yahnke assured that the key is reflectance. "The 405nm visible light is reflected throughout the room, reaching shadowed areas that typically remain contaminated following the use of UV light," he said. "The indirect illumination of overhead lighting also uses reflectance to illuminate the whole room. Our clinical data showing bacterial reduction across both directly and indirectly illuminated surfaces in occupied clinical environments (e.g. operating rooms, emergency departments, and patient rooms) demonstrates 405nm visible light's ability to disinfect in both light and in shadow. Perhaps more importantly is aerosol transmission, which has become critically important in light of the current pandemic. While upper air UV products can reduce airborne organisms, they create a hazardous zone within the room that can be hazardous to room occupants if installed improperly. Indigo-Clean can reduce airborne organisms without these issues, killing up to 90 percent of SARS-CoV-2 within just two hours in this application."
These research findings are particularly important as the pandemic continues and flu season begins, putting a strain on hospital occupancy levels. In addition, Indigo-Clean's ability to reduce the spread of staph and MRSA – two types of deadly bacteria that can affect patients – is an invaluable benefit. "Indigo-Clean can be incorporated into any healthcare system's mitigation strategy to help prevent infections, which leads to better health outcomes for patients and offers a return on investment in as little as 2.2 months," Yahnke estimated.
"Reducing the ability of SARS-CoV-2 and influenza A to spread within healthcare settings is paramount," stated Adolfo Garcia-Sastre, Ph.D., Director of the Global Health & Emerging Pathogens Institute and Professor of Microbiology and Medicine at the Icahn School of Medicine at Mount Sinai and the study's lead investigator. "This research adds important findings to the medical literature. It shows the potential of a simple, non-invasive technological solution to achieve inactivation of these highly disruptive viruses and warrants further evaluation across a range of additional clinical settings to further validate its effectiveness and safety."
Indigo-Clean's patented technology easily installs into overhead lighting to safely, automatically, and continuously disinfect the air as well as hard and soft surfaces. Kenall's visible light engine uses standard LED technology and is warrantied for 5 years. In comparison, UV sources do not last as long, thereby requiring more frequent replacement and becoming more of an ongoing maintenance cost.
Kenall's headquarters in Kenosha, Wisc., showcases the Indigo-Clean technology inside its first floor offices and is noticeable from the exterior. The company's luminaires are designed at this facility and comply with the Buy American Act (requiring designated products be manufactured in the U.S. with more than 50 percent of the component cost of U.S. origin).