New NX Site Manager from Current Empowers Facility Owners with Unrivaled Lighting Control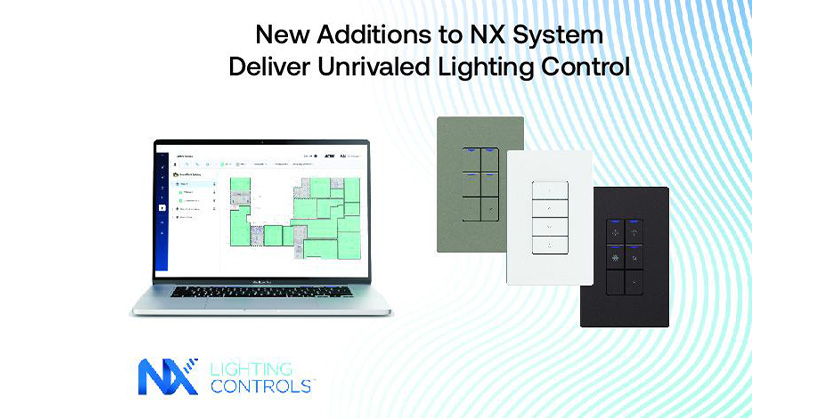 The NX Lighting Controls system from Current unlocks more possibilities to manage buildings efficiently and can now be powered by NX Site Manager, an on-premises enterprise software platform providing real-time programming and management capabilities for NX-connected lighting and smart devices. Additionally, the NX Wall Stations family has been expanded to help lighting pros tackle projects with a host of smart and specialty switches that can add sophistication to any space.
New NX Site Manager
As a networked lighting controls solution, NX Site Manager offers a myriad of benefits to building owners from centralizing lighting control to optimizing schedules to align with occupancy patterns. This can minimize energy waste, support LEED certification and promote an organization's commitment to environmental responsibility. Building occupants can also experience improved comfort and productivity due to the system's adaptive features, with the ability to adjust light levels according to individual preferences and tasks, as well as to integrate daylight harvesting to reduce dependency on artificial lighting, thus fostering a healthier indoor atmosphere.
"Lighting monitoring and maintenance are also improved as facility managers can remotely troubleshoot the system and often bypass the need for on-site interventions," says Andrew Klas, Product Manager for Current. "NX Site Manager allows you to program and administer the NX Lighting Controls system from any location without additional software. Whether you are visualizing different lighting schemes using your imported floorplans or managing user access by permission level, our modern web browser user interface becomes a conductor in these instances to orchestrate facility lighting with precision."

Andrew Klas,
Product Manager for Current
Incorporating multilayer network security and access control including HTTP or HTTPS connections and secure user logins, NX Site Manager offers multiple modes of operation to improve facility, user and device management. Standard features include facility-wide schedule views in calendar format, a BACnet/IP interface (BTL listed) for connecting to third-party building management systems (BMS) as well as exportable zone/device reports. There are also add-on modules allowing users to create, modify and delete zones by floorplan or to access energy dashboards that deliver actionable insights into consumption patterns by building or zone.
NX Network expansion meanwhile is made simple by the NX Site Manager Adapter that supports up to 1,000 additional NX-brand devices per unit. Adapters may be placed at different locations at a site (e.g., on each floor of a building) and communicate securely with the NX Site Manager over an IP network. With the flexibility to adapt to changing needs and the potential for ongoing expansions, NX Site Manager becomes a future-proof investment that organizations can rely on to foster a smarter, more responsive building environment.
New NX Wall Stations
Current has even more in store for buildings with 12 new NXSW2 Wall Stations—a stylish collection of smart and specialty switches offering plug-and-play operation with the NX Communication bus, available in six contemporary color choices including white, gray, black, light almond, ivory and red.
The new NXSW2 Smart Switch is designed to operate as all button types within the NX Wall Station offering and is available in 1-, 2-, 3-, 4-, 5-, 6- and 8-button versions. This customization allows users to create tailored configurations that limit the number of wall stations needed. Additionally, the NXSW2 Digital Key switch is designed to operate as all button types and is available in both Single Throw Maintained and Single Throw Momentary versions.
Also available are new NXSW2 Specialty Wall Stations in On/Off (OO), On/Raise/Lower/Off (ORLO), Scene Switch (SS) and Correlated Color Temperature (CCT) functions. With their unobtrusive design, these stations can be integrated seamlessly with standard decorator wall plates to create a clean, enduring look.
This powerful combination of form and functionality makes NXSW2 Wall Stations ideal for finishing out commercial, institutional and industrial building projects in style. Pros will also appreciate how the wall stations can be easily configured utilizing the NX mobile app or NX Area Controller.
One Seamless Solution
The complete NX Lighting Controls system is a scalable solution for today and tomorrow that can range from standalone fixture control to room applications to fully networked enterprise deployments. There are many options to operate NX controls using wired, wireless and hybrid connectivity with native BACnet support, and many more to boost multitiered control strategies with user-friendly innovations like NX Site Manager and NX Wall Stations.
Visit currentlighting.com/nx-lighting-controls to see a truly intelligent and versatile lighting controls architecture all on one platform.
More information available here
Related Article
Lifeshield® LED lighting from Current – which ensures safety, reliability and compliance in complex environments – now includes Lifeshield Architectural Downlighting to bring consistent visual quality and comfort to healthcare, behavioral, correctional, and cleanroom settings.