Light + Building Reveals Autumn Show Details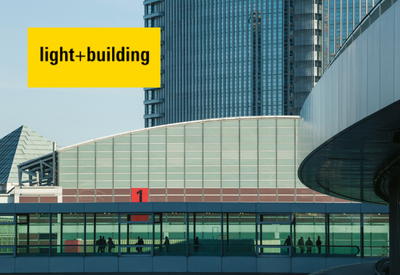 March 2, 2022
Usually held in March every two years – the pandemic interfered with the scheduled March 2020 edition – the international Light + Building fair will be held in the fall this year (October 2-6) instead of its original date in March, presumably out of caution for lingering COVID safety concerns.
As of March 1, more than 1,300 exhibitors from 46 countries have committed to the autumn show, held in its usual Frankfurt am Main venue in Frankfurt, Germany.
"In the last few weeks, we have contacted all exhibitors at Light + Building and talked about the possibilities for the new date. Many important national and international industry players have confirmed their participation," explained Iris Jeglitza-Moshage, Senior VP/Technology, adding, "The Building side is very well-positioned again and leading manufacturers from the safety and security sector complete the range. We had to restructure the exhibitors from the Lighting sector because the availability of halls here is different in autumn than at the original date in March. Despite the unusual timing for innovation presentations, many lighting exhibitors are committed to Light + Building as a meeting place for the sector and ensure an attractive, diverse, and international lighting sector."
The autumn date was mutually agreed upon by manufacturers in both the Lighting and Building technology sector.
"We are currently hearing again and again from exhibitors and visitors that personal meeting is still needed this year. We are confident that the 2022 event will be a good bridge to get back to a much-needed and normal trade fair schedule," Jeglitza-Moshage stated. In 2024, Light + Building will once again take place in its usual slot in March.
At Light + Building Autumn Edition, visitors can expect a broad overview and insight into the industry. In the Lighting and Luminaire Design categories, AEC, Artemide, Bega, Casambi, LEDvance, Linea Light, Molto Luce, Nichia, and Samsung are confirmed.
In the Building segment, the range extends from building automation to electrical installation systems, intelligent energy management, and e-charging infrastructure with confirmed participants such as Busch-Jaeger, Gira, Hager, Jung, Mennekes, OBO Bettermann, Phoenix Contact, Schneider Electric, Siemens, and Wago.
From the field of Connected Security Technology, Abus, Assa Abloy, Axis Communications, Daitem, DOM, Hikvision, and Salto Systems will be exhibiting. Registrations from 46 nations will enable many international contacts and cross-border exchanges. In addition to a large number of Italian exhibitors, the other top exhibitor countries include Turkey, Spain, Poland, the Netherlands, Great Britain, Belgium,Greece, France, and Austria.
The "Light + Building Contactor" search function of the show's website is updated daily as companies confirm participation: light-building.com/contactor. This digital tool offers website visitors the chance to get in touch with participating exhibitors and learn about their new products. With the start of the event, this will be expanded into the Light + Building Digital Extension. Parallel to the physical trade fair in Frankfurt, the digital platform will run from October 2 through the 14th and provide opportunities for networking. In addition, visitors can expand their circle of contacts in a targeted manner via AI-supported match-making. The platform also provides more independence from time and place as exhibitors can hold product presentations via video streaming and get in touch with customers digitally. All participants have the opportunity to find out about the Light + Building scheduled programs plus enjoy on-demand access following the live event.
Integrated Building Technology
Holistic concepts are needed to ensure that buildings meet future requirements for construction and living. Digitalization, connectivity, and artificial intelligence are also changing building technology. Exhibitors will present innovative solutions for the entire spectrum of home and building automation, building system solutions, electrical installations as well as network and building system technology on the West Ground. A promotion area of the "Federal Ministry for Economic Affairs and Climate Action" offers a special place for young, innovative companies from the electrical engineering sector.
Intersec Building and Intersec Forum
Whether for weather, health, or data, the need for security is increasing in society. In the smart home and smart building arena, connected security is an integral component. As a result, Light + Building bundles the range of products and services with Intersec Building, where the themes of video technology and access control are just as present as data and fire protection.
All Aspects of Lighting
Halls 3, 4, 6 and 10 are devoted entirely to lighting, with a unique range of products including designer luminaires in all styles, technical luminaires, outdoor and street lighting, as well as emergency and safety lighting. There will be a promotional area of the "Federal Ministry for Economic Affairs and Climate Action" for young companies in the Decorative Luminaires section.
Design Plaza
The Design Plaza in the Lighting area provides inspiration and orientation. Here, trend lectures provide information on which themes will influence design in the coming season. The winners of the Design Plus Award will focus on innovative and future-oriented design. In thematic proximity to home and building automation as well as electrical engineering, the Building Plaza offers lectures on industry-relevant topics and the opportunity for networking.
For updates on Light + Building, podcasts relevant to the subject, references to online panels, as well as travel information and tickets can be found here.