The Self-Disinfecting Room is Coming to an Office Near You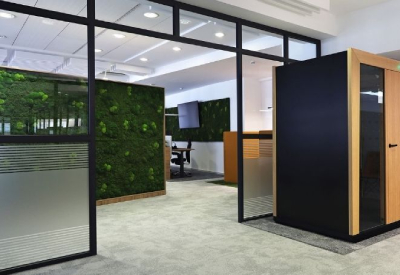 June 21, 2021
Imagine a self-contained office space. One that is smart enough to disinfect itself ahead of anyone using it so that it is virus and bacteria-free. Sounds too good to be true? Well, it actually exists, and it could be coming to an office near you.
Muotolevy is a Finnish company that specializes in designing and installing soundproof wall systems and ceilings inside offices and other buildings. It is also well known for its range of self-contained cube-shaped pods used as focus rooms and small meeting rooms.
Branded 'Module', the pods offer acoustic ambience, ventilation for fresh air and indirect glare-free lighting. Now, the company's new Module Hygiene Collection has something very special up its sleeve. The pods can disinfect themselves in between use thanks to UV-C disinfection lamps from Signify that are incorporated within the Module system.
Kimmo Sundström, Planning Director at Muotolevy, extolled the virtues of the company's latest innovation: "UV-C light helps to disinfect air and exposed surfaces inside the pods within a five-minute disinfection cycle. UV-C light has generally been shown to inactivate every virus and bacteria tested so far in scientific studies,1 and Signify's UV-C lamps have been proven to inactivate the SARS CoV-2 coronavirus."2
The power of UV-C lighting for disinfection is well known with applications widely tested in the 1930s and 1940s. With the COVID-19 pandemic there has been a resurgence of interest in this relatively undersung technology.
The power of light to disinfect
Surfaces exposed to UV-C light can be disinfected in a matter of minutes. Operating at a peak wavelength 254 nanometers (nm), UV-C light is highly effective in breaking down the DNA and RNA of viruses, bacteria and mold. This stops viruses from replicating and renders them harmless. It's so effective that every pathogen tested to-date has been neutralized by UV-C light.1 That includes SAR-CoV-2, the virus causing COVID-19.2
In 2020, the National Emerging Infectious Diseases Laboratories at Boston University, tested the efficacy of Signify UV-C light sources against SAR-CoV-2. Test results revealed that light sources irradiating the surface of a material inoculated with the virus, reduced it to below detectable levels in as little as 9 seconds for the dried virus and 4 seconds for the wet virus.
As UV-C light is a powerful disinfectant, it's important that people, animals, and plants are not directly exposed to the light source as it can harm their skin and eyes, and the leaves of plants. This is not an issue with the pods as the disinfection cycle occurs only when the pod is empty of people and the door closed. On the other hand, the glass walls of the pods contain the UV-C rays within the pod, impeding exposure for people, animals and plants located outside of the pods during the disinfection cycle.
Sundström explained the safety features: "The pod door has a sensor built in and when the door closes, two sensors operate to detect presence in the room. If no presence is detected, after five minutes the air conditioning and lights turn off. The system then waits another half a minute before the UV-C lights switch on. If the door opens or any presence is detected, the UV-C lights turn off. Also, the sensors talk with each other and if one of them fails, the UV-C lights won't switch on."
During the disinfection cycle a faint blue light is visible in the pod. This is because the UV-C lamp also emits a small peak of light at 405 nm, which is in the blue portion of the visible light spectrum.
"Safety was uppermost in our minds and is taken very seriously," said Sundström, "the system was designed by an expert and a risk analyst investigated all possible risks. It's amazing, within minutes the air in the pod and exposed surfaces are disinfected, all without the use of strong chemicals."
"Our self-disinfecting Module pods are mainly targeted at the European market and first projects have been already installed in Germany by one of our resellers, Procom-Bestmann GmbH. We see demand for this kind of hygiene solution for example in workspaces," said Martti Mäyry, Business Director for Module solutions at Muotolevy.
Paula Fagerroos-Hautala, OEM Key Account Manager for Signify in the Nordics, said, "This is a classic marriage of Finnish design and twenty-first century innovation. Module uses our 20W TUV lamps and HF-S lamp control gears. Its Hygiene Collection is designed to promote safety, health, and wellbeing in the workplace. This was a growing trend before the pandemic and is now in the spotlight as companies seek to make workspaces safer and virus-free. At the same time, employees returning to work expect extra safety measures from their employers."