NLB Lighting Transformation Awards Extends Deadline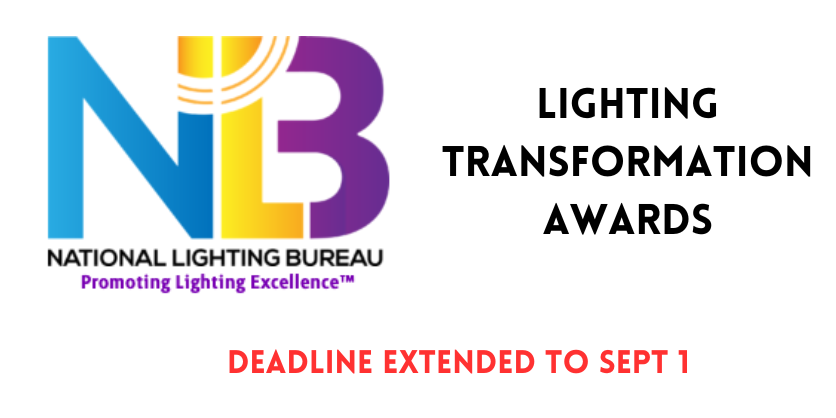 The National Lighting Bureau (NLB) has just extended the submission deadline for its first Annual Lighting Transformation Awards. The new, extended deadline is September 1. These inaugural retrofit awards are geared toward recognizing those lighting design projects that have made a sustainable difference.
The awards will be held during the 2023 NALMCO Annual Convention in Palm Springs, California.
Wondering what qualifies? The program recognizes excellence in lighting retrofit projects – defined as those projects involving minimal alteration of existing building materials. Through the creative use of lighting systems and controls, eligible projects should illustrate the value of lighting, including but not limited to improved visual performance, promotion of health and wellness, environmental impact including reduced light pollution/preservation of nighttime lighting quality, enhanced safety and security, and increased overall occupant satisfaction.
The intent of the program is to promote best practices for a variety of indoor and outdoor lighting Applications, such as office buildings, industrial and warehouse, schools, healthcare facilities, retail, and hospitality.
The program aims to recognize and showcase projects that provide a narrative and "how to" guide for others with similar lighting retrofit challenges.
For example:
• An outdoor area lighting project that is "dark sky" friendly, reduces glare and/or light trespass and enhances customer/tenant sense of safety and security by improving lighting uniformity.
• A retail retrofit that saves energy, improves light levels and visual interest, and increases sales.
• An office/rental space with improved light levels and controls that can increase flexibility for various tenant needs.
• Warehouse or industrial retrofits that improve light distribution on tasks to reduce errors and improve safety.
The key elements of the project submittal are to describe the process of arriving at the final lighting retrofit solution and provide the metrics that demonstrate why the retrofit solution is successful.
Anyone may enter a project for the Lighting Transformation Awards, and there are no fees for entry. Projects should have been completed within the 2021, 2022 and 2023 calendar years. Submissions should be entered via the designated online submittal form and completed no later than September 1.
Judging criteria for the retrofit projects include:
• Thoroughness in determining retrofit design options
• Documented improvement in lighting quality (including but not limited to – before and after light levels/uniformity, glare control, color enhancement, post-installation occupant surveys)
• Energy effectiveness (including controls strategy) – including before and after energy usage
• Universality – how easily does the design apply to similar applications
• Sustainability (ease of maintenance, user interface effectiveness, use of recycled materials for product and packaging or materials that can be recycled)
• Special credit points (up to 20 points) can be awarded at the discretion of the judges for extra challenges and project impact (e.g., budget, timing, location challenges/limitations, and social benefit, community impact, pro bono projects, historic preservation)
• The inclusion of supplemental data beyond images and lighting specs (e.g., planning documents, meeting minutes, social media comments) is encouraged
Winning projects will be recognized during the 2023 NALMCO Annual Convention in Palm Springs.