Solais Claims a Stronger Position in the Architectural Lighting Market
October 17, 2023
US Lighting Trends Editorial Team
Solais®, a Texas-Based LED Lighting Manufacturer highlights a shift in its product focus over the last few years. The company decided to make use of Covid-related downtime to shift strategies in research and development. Its more recent product lines showcase renewed efforts toward a high-end aesthetic and are designed to revolutionize the architectural lighting market with customization and modularity of components at every step. This marks a significant milestone in the company's growth strategy and dedication to innovation and excellence. US Lighting Trends (USLT) talked with Solais.
USLT – How has the product offering changed? Has the sales organization changed (and how do you go to market?) How many lighting agents does Solais go to market through? Are any NEMRA agents?
Solais – Yes, we have shifted direction in our product offering. Our previous approach has always been quality in the way of peak electronic performance, proprietary optics, highest lumen outputs and most efficient power supplies we could build to produce that. This resulted in great specification grade LED lighting products. We reached those performance levels by adding a magnetic levitating fan to the products, actively cooling the LED board to hit peak thermal performance, effectively pushing them harder to perform higher.
We have seen a shift over the years where our clients wanted more than performance. We shifted our R+D strategy to include client feedback and found that aesthetic was a bigger part of the conversation than we were emphasizing originally. To meet those needs, over the last few years we have revamped our entire core product line of track heads, recessed multiples, pendants and downlights while also adding 3 new track systems to our product offerings: Gaia+, a multi-circuits 120-277 V architectural system; Scatto, a 48 V low-voltage architectural system; and Rigid Beam, a versatile and cost-effective trunking system.
USLT – What segments of the architectural lighting market are you pursuing? What end-user markets are your primary targets?
Solais – Our architectural product families are capable of serving all retail segments, restaurant, hospitality, museum and many more. Our target end users are distributors and rep partners, but furthermore, lighting designers and specifiers who are looking for lighting solutions with contemporary and clean aesthetics that outshine the competition on optic quality and performance.
USLT – You say that the company "leads," approximately what is the company's revenues? What % of products, and sales, are made in the US? Do they qualify for "Made in America" status on government projects?
Solais – We say the company "leads" in the sense that we lead the industry in innovation and product quality. We are constantly pushing R+D; our YOY average failure is currently 0.04%, on track to be even lower at 0.01% by next year; where a rate of approx. 1.0-3.0% seems to be industry standard.
We do have some products that are BAA compliant. Interior products include linear solutions, exterior products include site and areas, flood, roadway, and security lights offerings.
USLT – What are your core product categories in order of importance (revenue-wise)?
Solais – Our core products consist of point sources. Hence one of our tag lines: "Harmonize your point source!™." It starts with our Nano, Small and Medium LUCIE Trackheads. (those heads are available in a variety of mounting/adapter options for various styles of installation choices. Newly adding our architectural GAIA+ concealed adapters.) We have taken that same technology and made them into modules that are used across our new pendants, pull-down recessed multiples and downlights.
USLT – What is Solais' value proposition?
Solais – All of our engineering is done in house. Our team puts a lot of energy and time into product design and testing of every component we use before going to production. Make it, break it, fix it, REPEAT until it's perfect! Also, we are nimble! We see that designers want EXACTLY what they want. We are nimble enough to provide it. Our modularity also allows us to act quickly in these customs or "special" situations.
USLT – If we called some of your lighting agents, what 5 words would they use to describe Solais? What would they say differentiates the company and where would they say they've had success with your offering?
Solais – I reached out and asked a couple of principals and this is what they came up with for me: Agile, Hands-on, Quality Driven, Performance, and Honest. I think hand-on and Agile is where we stand apart most. We pride ourselves on the relationships we make, individually and as a company. Our CEO has been in the industry for over 30 years. His passion is infectious, internally and amongst clients!
USLT – Does the company sell in Canada?
Solais – Indeed we do. We currently have 4 rep agency partners in Canada. They are Cascadia Sales Group, Integra Agency, Eclairage HITECH, and S & D Lighting Group.
See also these new products from Solais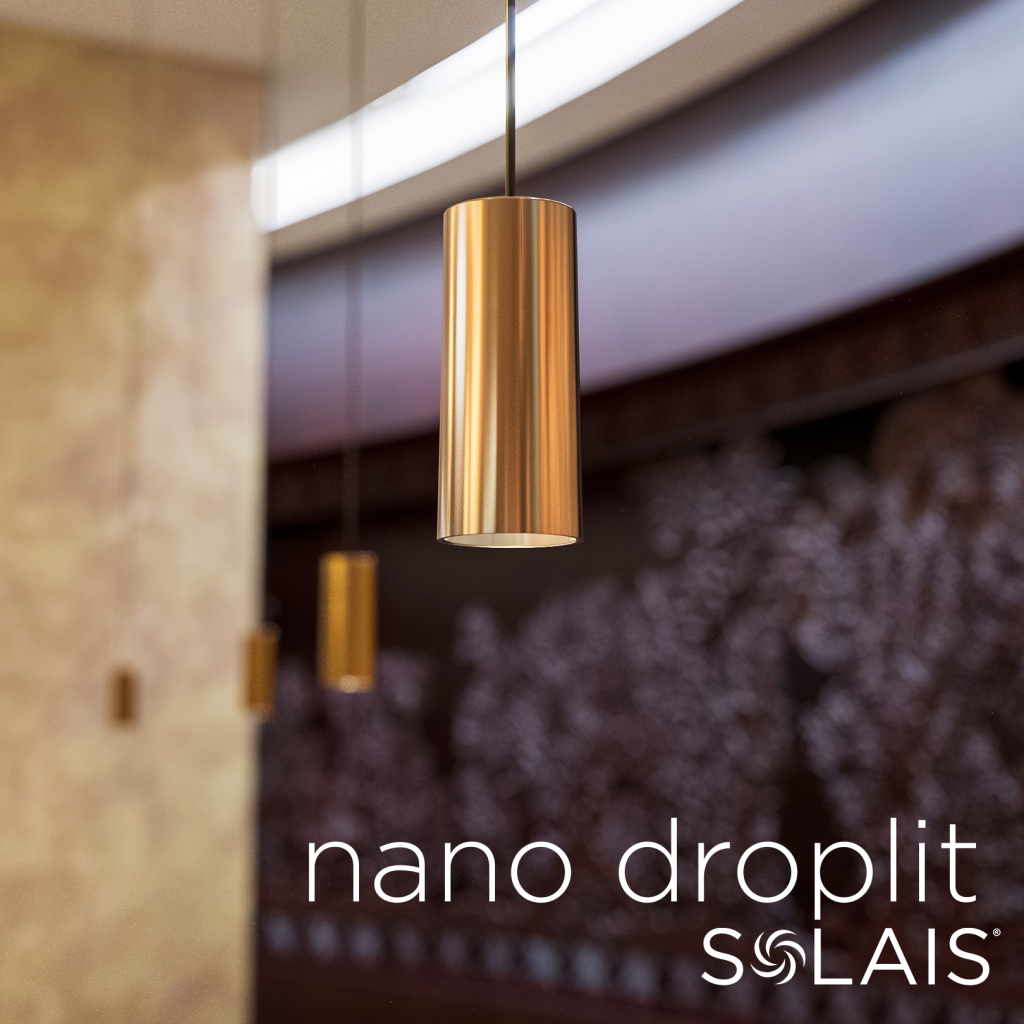 Nano Droplit™ Pendant
The Nano Droplit surface-mount pendant is part of Solais' latest wave of technology innovations in which form and function meet in perfect harmony, ensuring excellent light control and performance.
https://solais.com/product-category/pendants/droplit/
For more information: www.solais.com