Signify "Grows" With ams OSRAM's Horticulture Business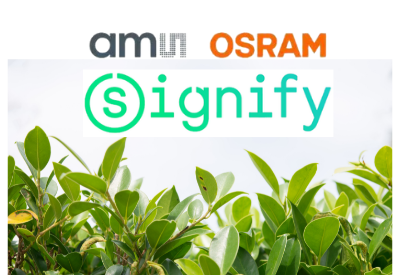 December 21, 2021
Austria-based ams OSRAM, a leader in optical solutions, will sell its Fluence horticulture lighting systems business and brand to Signify for US$272 million on a debt free/cash free basis. The acquisition is expected to close in first half of 2022, subject to standard regulatory approvals and other conditions.
The sale represents another step forward for ams OSRAM, which intends on focusing and re-aligning its business portfolio on its core technology areas in illumination, visualization, and sensing, which continues to include advanced LED solutions for horticulture lighting. ams OSRAM will continue to be a strategic LED supplier to the combined business for horticultural applications.
Fluence is a leading global provider of energy-efficient LED lighting system solutions for the horticultural industry. A pioneer in creating white light that mimics the spectrum of sunlight, the company is headquartered in Austin,Texas and employs 200 people globally. Fluence was acquired by OSRAM in 2018.
"Fluence and Signify are a strong match in complementary lighting expertise for the horticulture market. Signify is an industry leader with over a century of history bringing innovative lighting technology, products, and services to market. We are excited about the future opportunities for the Fluence employees, customers, and business partners that this combination will bring," said Wilhelm Nehring, CEO of the Digital Business Unit.
"ams OSRAM will continue to build on its position as a leader in red, blue, and white LEDs for the horticulture market. We look forward to continue providing Signify, and Fluence as part of Signify, leading technology for their business," explained Frans Scheper, Executive VP/Opto Semiconductor Business.
"Since Fluence's founding, it has been our sole mission to improve the interaction between light and life to yield a healthier and more sustainable world. Adding our lighting solutions to Signify's strong portfolio empowers our combined businesses to deliver the world's most advanced horticulture technology to cultivators on a global scale," added David Cohen, CEO of Fluence. "The combination of our companies will immediately expand our collective footprints and inject valuable expertise into both companies' product innovations. We look forward to uniting with the Signify team."