Robotics Boost Ferguson's Order Fulfillment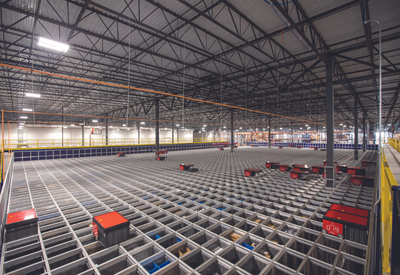 November 2, 2022
In Ferguson's new Market Distribution Centers (MDCs) robots and humans work in tandem to process orders quickly. Assisting the human workforce, "robots" do the sorting and picking of products at two recently opened automated distribution centers.
The new MDCs – one located outside of Denver and another near Phoenix – are the first to use the innovative technology, comprised of a team of "robots" carrying out tasks within a physical grid. One supercomputer manages each robot's action, automating the tracking, gathering, organizing, and pulling of orders from thousands of bins stacked on top of one another within the facility. The capacity is vast; for example, the Colorado facility's 16,000-sq.-ft. system holds 49,000 bins and 26,000 products.
The robot technology not only allows orders to be processed in a shorter amount of time, but using robots also provides energy savings — helping Ferguson achieve its carbon reduction goals. With energy-conserving motors and regenerative power, each robot uses about 100 watts of power, roughly one-tenth of an average toaster.
"The robots work all day and night, saving on traditional warehouse costs and allowing us to fulfill orders quickly for faster same-day product availability," says Senior VP/Supply Chain Michael Jacobs. "The system also decreases manual handling of materials."
In addition to the automation technology, the facilities were built with efficiency at the forefront. Ferguson uses a special machine to make custom boxes based on the dimensions of each product to minimize packaging waste. Each building also utilizes LED motion-sensor lighting systems to conserve electricity.
Introducing robotics in the MDCs is part of Ferguson's overarching supply chain strategy – a combination of leading technology, great sourcing relationships and processes, and the best associates in the industry – to deliver an exceptional customer experience. The extensive network places Ferguson within 60 miles of 95% of the population.
Be rest assured that robots cannot do everything humans can. Better than any robot, Ferguson associates are highly skilled and perform the complex tasks to meet customer needs. In fact, the Arizona facility added 75 new jobs to the area and employs approximately 200 associates. While robots may perform some aspects of the job, there is still a need for associates in distribution centers to run the technology, focus on complex tasks, and deliver quality customer service.