NYC LED Lighting Display Recreates Northern Lights

December 13, 2021
Designed to bolster winter tourism to Canada, a special three-day lighting exhibit recreating the natural phenomenon aurora borealis enchanted visitors to Grand Central Terminal in New York City last week. Organized by the Canadian government's tourism corporation Destination Canada, the digital installation was created by Montreal's Moment Factory, a multimedia studio specializing in the conception and production of immersive environments.
After more than one year of border restrictions that crippled the country's tourism industry, Destination Canada has allocated millions of dollars to remind its southern neighbors that Canada offers some unique winter vacation opportunities for vaccinated travelers, such as spectacular views of northern lights. In addition, Destination Canada is "sending one lucky winner and a guest to Canada for a once-in-a- lifetime trip to experience the northern lights in person."
The interactive exhibit was erected in Vanderbilt Hall, a 6,000-sq.-ft. space adjacent to the main concourse that once served as Grand Central's main waiting room. On average, 200,000 people pass through Vanderbilt Hall daily, making it an ideal venue for public and private events.
From December 9th to 11, the interactive lighting experience – named "Into the Northern Lights: An Immersive Experience" – delighted visitors to Grand Central. The exhibit was free and open to the public without requiring reservations (masks are mandatory inside the terminal).
The exhibit's goal was to simulate being immersed inside the northern lights. To accomplish this, Moment Factory's crew constructed a 9'-high room with a black interior covered in mirrors that reflected the colorful, 3-minute LED light show emanating from the floor onto the walls and ceiling, completely surrounding each visitor. A music soundtrack and 3D sensors further enhanced the "interactive" experience.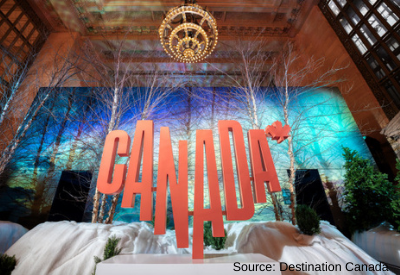 Moment Factory is renowned for creating immersive lighting exhibits all over the world. The company stated, "At Moment Factory, we bring people together. Our shows and destinations pioneer forms of entertainment that offer the world new experiences. Whether at a concert, a flagship store or across an urban square, we aim to inspire a sense of collective wonder and connection."