Spaces And Lighting to Create Great Places to Work
Shared with permission from Designing Lighting magazine
By Vilma Barr
Photo Credit: Heywood Chan, courtesy of Gensler
The post-pandemic era is witness to the most momentous change in office design since open office came on the scene more than a half-century ago. Working from home, which was an option particularly appealing to working mothers and craftspeople, became a national drag on the economy.
With the onset of the pandemic in Spring 2020, entire floors of office buildings around the country went dark. Building owners had to reassess why people want to come to an office to work, and try to create incentives to bring the people back [in] and turn the lights on.
"The ultimate goal from a business perspective will be to provide the right environment to foster the business strategy," said Marco Huber, vice president of workplace strategy for real estate firm Jones Lang Lasalle. "We can also observe how space influences strategy—directly and indirectly. This is something many business leaders became aware of during the pandemic," Huber pointed out. "Prioritize people, the essential component," Huber believes. By listening to individual and organizational needs, designers are ultimately responsible for translating this spatially, he indicates.
A Response Workforce
Gensler, the largest American international architecture and interior design firm, undertook its 2022 Workplace Survey, the current version of a research effort first undertaken in 2008. Data was collected from an anonymous, panel-based online survey of more than 2,000 U.S. office workers in 10 industries, conducted between June 14, 2022 and August 7, 2022.
In a recent podcast, Janet Pogue, Global Director of Workplace Research and a principal at Gensler, discussed survey results about reasons employees are returning to the office, how the workplace can more efficiently support them, and the mix of experiences to help accelerate their return.
"Our data reveals that workers in high-performing workplaces report that they want to come into the office more regularly to maximize their productivity. They say it's a great place to get work done," Pogue reported. "Workplaces that are both effective and offer a great experience present a range of well-lit work settings from quiet zones and focus rooms to innovation hubs and maker spaces. Spaces for creative collaboration and individual work have the most impact of space effectiveness and experience," Pogue explained.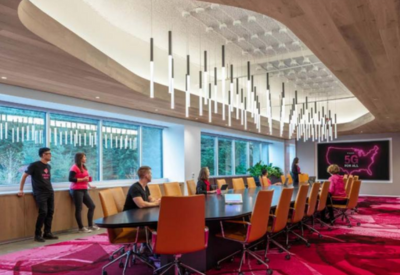 "A significant recalibration of the role of the workplace in attracting people back to the office is undeway. We're noticing an increase in demand for hospitality-like amenities in and around these buildings to make the office feel like a destination rather than an obligation," Pogue stated. "Workers still value the office as a place to focus on their work, but they are looking for a more diverse spectrum of spaces and experiences to create a place where they want to be."