Experts Predict the Future of the Smart Home Category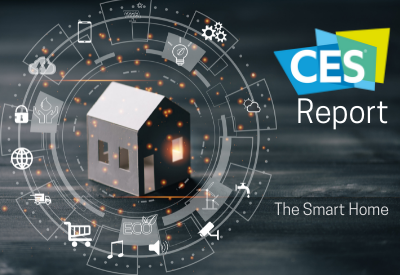 January 31, 2022
At this year's Consumer Electronics Show (CES), some of the brightest minds in smart home technology weighed in on the strides the category has made recently and where it is headed in the immediate future.
At long last, it appears the universal goal of interoperability between a variety of smart products from different brands appears closer than ever. "IoT is finally all getting connected, from the initial use cases of being able to turn on/off your thermostat from your phone to being able to provide useful insights into how you're using that energy," explained Blake Miller, CEO of Homebase.
For property managers of MDUs (multi-dwelling units), this is particularly valuable data. "What we're doing at Homebase is taking one smart home and trying to give control, management, and sharing to basically a fleet of smart homes," he said. Miller noted that the societal effects of COVID created new opportunities for smart technology, particularly in multifamily buildings. "The MDU market is growing significantly. We're seeing things like smart locks enabling a lot more than just getting the right people [tenants/residents] in and out of the building. It has extended into self-touring for potential renters/buyers, where you're able to send someone a virtual key and allow them to tour the building on their own. They can see what it's like to live in that building without having to come in contact with the leasing agent," he noted, adding this is especially helpful at a time of short staffing and concerns of social distancing. "You're able to save people time and be able to keep them safe during this pandemic period," Miller stated. "There are other value-adds that are coming into this kind of fleet management, but what excites us is being able to utilize the IoT to start providing real value."
Samantha Fein, VP/Marketing & Business Development for Samsung SmartThings, pointed out that the vernacular has been changing as consumers get more comfortable with the technology. "We've gone from [calling it] the 'smart home' to the 'connected home' — and now it's just 'home.' This is our rocket ship moment [of going from] early adopters to mass household adoption," she stated.
Aiding that mass adoption is Matter, the open-source standard for IoT devices and ecosystems from member manufacturers of the Connectivity Standards Alliance. According to Fein, Matter – of which Samsung SmartThings is a member – will be key for creating a simplified, interoperable platform that allows every home to be "smart."
From the Samsung SmartThings perspective, Fein sees two prominent trends. "One is obviously in energy, but in a post-COVID world we now understand how to live and work in our home environments very differently. The way we look at energy usage, our responsibility to our planet, and truly understanding how what used to be our 'connected devices' has just become a simplified way for us to work and live."
The second trend Fein has observed is personalization in that hyper-connectivity. "What every single person has in the way in which we interact with our connected devices is unique to us. How we entertain ourselves and our family, how we work, sleep, and raise our children will all become more simplified with things like Matter and the HTA (Home Technology Association) standard," she remarked.
Ann Marie Olivo, Marketing Director/North America for Tuya Smart, added, "In terms of where we're going with the smart home, I feel like we're starting to see – at the product level – expansion into new product categories that we haven't seen before. For example, connected fireplaces and connected photo frames and even pet technology. Consumers are beginning to expect that all of their devices will be connected. They're not going to buy a 'dumb' coffeemaker anymore."
Those expectations are extending outside of the home as well. For example, hotel guests are expecting that some features will be "smart," whether it's with keyless entry or voice-activated controls. Olivio noted, "Besides hotels and multi-family real estate, there are so many opportunities now and I think the world is ready."
As the connected home category grows in popularity, so does the amount of entrants in the field from industries as diverse as fintech, investment banking, energy providers, security companies, insurance companies, and home builders.
And just as the residential side of the lighting industry can be slower than the commercial side to accept technology, the same is true of some builders, property managers, and apartment developers. Demographics – specifically age and the amount of time spent in the industry doing things a certain way – is a big factor in the reluctance to embrace something new.
"Some of these folks aren't too techy and maybe only just started accepting digital payments recently, and now you're asking them to adapt to a smart lock access system or manage an entire community's wifi network or smart thermostats — and really, their job is just to lease the apartments," Miller explained.
Conversely, in today's environment of labor shortages, Miller observed that converting to a smart building allows a manager to service the same number of units with less employees, or for a utility company to save energy across the board in a new high-rise by setting the smart temperature for the east-facing side of the building differently from the west-facing side during morning and afternoon hours to take advantage of natural sunlight. "There are so many things you can do from a fleet management perspective," he affirmed.
Miller noted that Homebase is working with Walmart on a delivery system using smart home technology where the delivery person, wearing a body camera, can open the apartment door using Bluetooth connectivity and literally stock the consumer's fridge while he/she is at work. Similarly, if smart appliances were installed throughout an MDU, a manager could be alerted if a refrigerator or thermostat was malfunctioning and send a maintenance worker up to the unit for repairs without inconveniencing the tenant/homeowner. Furthermore, smart technology could notify the tenant/owner that the worker had arrived and when the work was completed.
Allowing a delivery person to enter the home requires giving up some privacy, something a homeowner may be reluctant to do. And while data privacy remains a significant stumbling block on the path to mass adoption, the other obstacle – price – is no longer a deterrent as competitive pricing has made smart home products more affordable. "You can buy a smart bulb for $3 or for $300, and we need both [in the market] because we want the consumer to have choices, and that includes price," Olivo remarked.
The experts agreed that mass adoption on a global level is within reach, but reducing those pain points over privacy concerns and cloud storage of data remain a hurdle for at least 2022.