Meet the Winners of the 2021 Integrated Home Competition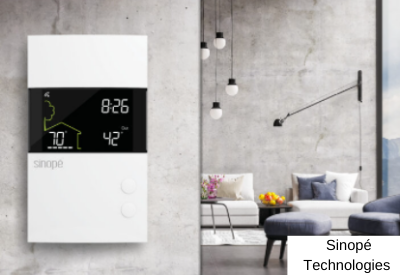 December 13, 2021
The Integrated Home Competition organizers have announced this year's winners. The 17 high-quality and innovative designs selected best exemplify the four tenets of the CEE Integrated Home: Energy Savings, Demand Flexibility, Consumer Amenity, and Security. The Integrated Home Competition is organized by the Air Conditioning, Heating and Refrigeration Institute (AHRI), the American Lighting Association (ALA), the Consortium for Energy Efficiency (CEE) and Underwriters Laboratory (UL).
Overall, there were 39 submissions for the 2021 edition, with entries in Residential Connected Lighting, Lighting Controls, Ceiling Fans, Plug Load Controls, Space Heating and Cooling (HVAC), Thermostats, Water Heaters, Pool Pumps, Window Attachments, and other connected home devices that successfully deliver a positive consumer experience, energy management, and grid benefit.
The Judging Panel included individuals with expertise in usability, interoperability, integrated demand-side management (IDSM) program administration, product installation, specific technology performance, sales, and design. Entries were demonstrated remotely or installed in-person at the UL Lighting Test Laboratory in Pennsylvania. The judges carefully considered the detailed product submission information and paid close attention to each entry's operation and user interface. Winners were selected for their ability to elegantly embody the tenets of the CEE Integrated Home.
The goal of the CEE Integrated Home is a connected, fuel-neutral, interactive grid-and-distribution system and efficient home where devices and systems seamlessly communicate to optimize value for both consumers and the utility grid and distributors. Furthermore, the Integrated Home vision utilizes artificial intelligence and machine learning to enable automation to energy management and an optimized experience.
Grand Prize Winner: Sinopé Technologies' Home Energy Management Ecosystems, which offers consumers a broad range of smart devices to control heating, lighting, plus small and large electric appliances. Among the most popular features are geofencing, scheduling, advanced automations, setting scenes, and detailed energy charts. Users can automatically tie their smart devices to their power utilities' demand-response programs and time-of-use rates. The Sinopé devices are also compatible with the leading home automation platforms and voice assistants such as Apple HomeKit (Wi-Fi devices only), Samsung SmartThings, Hubitat (Zigbee devices only), Neviweb, Amazon Alexa, and Google Home.
From among the Lighting, Lighting Controls, and Connected Ceiling Fans categories, the judges awarded one Winner: Good Earth Lighting's 240-Degree LED Smart Motion-Activated Flood Light, which has an innovative lens that reduces glare and can operate in three modes – default setting, manual mode, or a custom mode where functions such as motion-activated security light, all-night area light, color temperature, brightness, distance range up to 100-ft. with a timer, and set schedules can be selected – all by using a smart phone app.
There were three Honorable Mentions awarded in the competition. Good Earth Lighting received an Honorable Mention for its 24-ft. Indoor/Outdoor LED Smart RGBW Strip Light Kit, which is IP65-rated, water- and dust-proof on the strip light and controller, and able to be used outside. The flexible light strip can navigate tight corners as well as hard-to-reach locations. It operates via the Good Earth Lighting app (no hub required).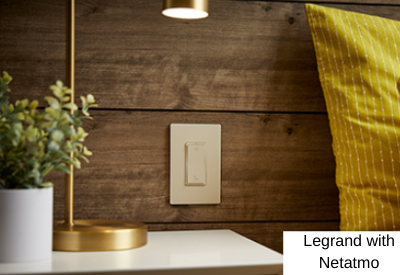 Legrand Smart Lighting with Netatmo Smart Lighting with Netatmo is made for whole-home use to create a robust, dedicated network that can support advanced control of lights and power. Receiving an Honorable Mention in the competition, it is ideal for larger homes and homes where WiFi signals might struggle due to building material or the use of many smart products. It replaces standard switches and outlets and can be set up easily.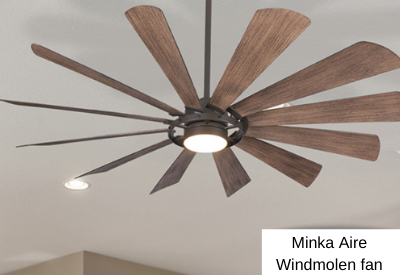 Minka Aire's Windmolen ceiling fan also received an Honorable Mention. The 12-blade fan provides plenty of airflow with a flywheel design that is engineered to be easy to assemble. It comes with an integrated 40-watt LED light for ambient illumination and a wet-rated, energy-efficient DC motor. Windmolen is part of Minka Aire's Smart Fan collection featuring smart home integration with the iOS and Android app. It is WiFi-enabled thanks to Smart by Bond technology, which allows the fan to be connected to a smart home system.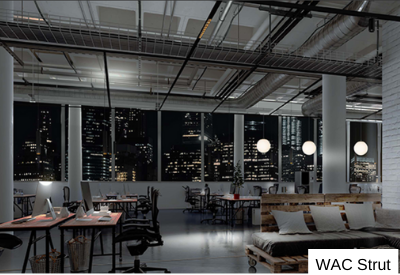 A Special Recognition for Innovation in Design & Engineering was awarded to WAC Lighting's STRUT track lighting. The WAC STRUT System of Architectural Solutions is an innovative lighting, power, and control system complete with lighting elements designed for discriminating technical performance. STRUT incorporates direct and indirect illumination, wall wash, downlighting, accent lighting, and pendants that pop into place via magnets and operate via connected control technology to give a personalized and modular experience.
A Special Recognition for Innovation in Safety was awarded to Modern Forms' ULTRA Smart Fan. Designed for use in residential, hospitality, and commercial settings, the ULTRA Smart Fan uses a patent-pending system that pairs a UV-C LED module that irradiates the air with an efficient ceiling fan that circulates the air from the occupied space to the unoccupied upper reach of an area. This combination can reportedly help reduce the SARS COV-2 virus in the breathable air spaces.
For the heating, cooling, and water heating category, the judges awarded three winners:
Carrier Infinity® 26 Air Conditioner with Greenspeed® Intelligence & Infinity® 24 Heat Pump with Greenspeed® Intelligence,
Emerson Sensi Touch Smart Thermostat, and
Rheem® Proterra™
Honorable Mentions were awarded to the Rheem® Prestige® Series EcoNet® Enabled Variable Speed 20 SEER Heat Pump & Rheem® Prestige® Series EcoNet® Enabled Modulating 98% AFUE Gas Furnace and the Rheem® Maximus™.
A Special Recognition for Innovation in Design & Engineering was awarded to the iFLOW HVAC Inc. iFLOW Hydronic Furnace.
The Variable Speed Pool Pump category awarded Hayward® TriStar® VS 950 Omni® & Hayward® TriStar® VS 900 Omni® Ultra-High Efficiency Pool Pumps (HL32950VSP & HL32900VSP) as the winner.
For Window attachments, the judges awarded a Special Recognition for Innovation in Design & Engineering to the Rollease Acmeda Automate® Motorized Roller Shades Interior.
The judges also designated the Connected Life Labs Smartdry product as a winner and awarded a Special Recognition for Resiliency to the Savant Power inCharge™.
The award-winning products will be recognized and announced at upcoming industry events, including the HARDI Annual Conference and Lightovation: Dallas International Lighting Show. Additional promotion will occur throughout the winter and spring at venues such as the AHR Expo, CEE Winter Program Meeting, RESNET Conference, ACEEE Hot Water Forum, and National Home Performance Conference.
The products will also be showcased on the Integrated Home Competition website, as well as promoted by select CEE member energy efficiency program administrators in local offerings. To access complete details on the Competition, click here or email here.