Ford Motor Co. Reveals Details & Pricing for Its Home Integration System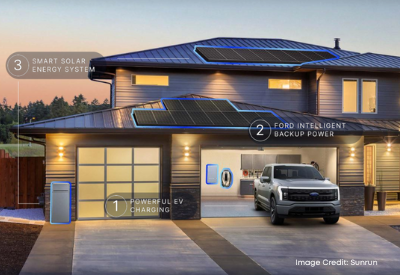 May 6, 2022
Ever since Ford Motor Company announced the capability of its new all-electric F-150® Lightning™ to supply backup power to a home if the power lines go down, there has been speculation about how much of an investment this would cost consumers and how exactly it would operate.
There are a few important aspects to note. First, this is not a drive-and-glow anywhere solution, where you can power any home anywhere your F-150 is parked. In order to have the truck power your home, you'll need to have the Home Integration System installed — and that system is sold exclusively through Sunrun, the largest residential solar, storage, and energy services company in the country. For the recently announced price of $3,895, that Home Integration System includes the inverter, transfer switch, and battery. Installation is extra and must be handled by Sunrun — and that cost will depend on the home. According to the news source Auto Evolution, factors include the amp size of the home, where equipment is located, the distance between the entry panel and the charger, and whether trenching through sidewalks and driveways or breaching foundation walls to run new circuits is needed.
Matthew Stover, Director/Charging & Energy Services for Ford Motor Co., recently posted, "If you want your truck to power your home during an outage, take advantage of Ford Intelligent Backup Power and get the Home Integration System that works with the Charge Station Pro. When the power goes out, the system automatically disconnects from the utility line and switches over to Ford Intelligent Backup Power so that the truck can send power to your house." He added, "Going this route opens even more potential in the future, because this system will be utilized to enable another feature once it becomes available: Ford Intelligent Power. This will allow customers to power their homes with their truck's battery when electricity rates are higher, potentially saving money and easing pressure on the grid."
Technology Writer Steve Handley of Clean Technica, recently dug in to determine whether the Ford F-150 Lightning was comparable in cost to simply installing a whole-house backup generator. He wrote, "If you were thinking your F-150 Lightning was going to power your home at no cost to you, think again. That $3,895 is for openers. Installation could double or triple that price. So is this a good deal or not? I was curious, so I did an internet search for the cost of a whole house backup generator. It turns out, even though the generator itself may be affordable, pouring a concrete pad for it to sit on and installing the same inverters and transfer switches the Ford system requires can cost between $12,000 and $15,000, all done and dusted. [Whether] the Ford Home Integration System is a good deal for you depends on you, your budget, and how much peace of mind is worth to you."
Most intriguing in the immediate future is the idea that Stover put forth about Ford Intelligent Power helping consumers save money by powering their homes with their truck's battery when electricity rates and using it to ease pressure on the grid during peak times or circumstances.