LightSPEC West Announces Keynote Speaker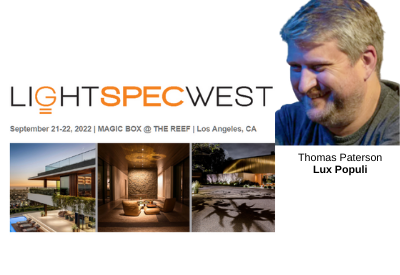 April 11, 2022
The inaugural LightSPEC West event will showcase design and innovation for the built environment. It will be held at September 21-22 at the Magic Box @ The Reef in Los Angeles.
Carefully curated by top industry experts, LightSPEC West is a networking, education, and solutions platform for specifiers and buyers of commercial and residential lighting and controls. With a program covering a wide range of topics vital to building designers, owners, and operators, the two-day conference and expo includes networking events, site tours, product showcases, and CEU-accredited educational material in plenary and individual sessions as well as panel discussions.
The keynote speaker has just been announced: Thomas Paterson, Principal of Lux Populi, which has offices in the U.K. and Mexico. The keynote session will be held Tuesday, September 21 at 10:00am.
Thomas Paterson is an internationally renowned lighting designer, mentor, entrepreneur, and head of Lux Populi, which is performing some of the most innovative and evocative lighting designs on earth. Based in Mexico City and the U.K., with projects in 20+ countries, Lux Populi is a global first-principles design practice, collaborating with design teams to develop custom-crafted solutions for each client and their individual needs. The firm brings a focus on craft to a variety of complex design problems, including aesthetics, impact on wildlife, social change, and risk management through psychological design of light. With a background architectural lighting and engineering, Thomas brings together diverse fields of knowledge in compelling projects