Ideoli Lighting Brings Custom Touch to QT Topanga Complex
March 7, 2022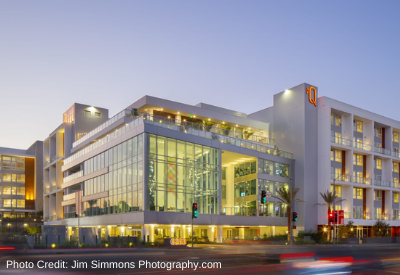 The new Q Topanga apartment complex in the San Fernando Valley features decorative lighting solutions that underscore the luxuriousness of the community.
The Q Topanga is a 347-unit mixed-use, luxury apartment community in Woodland Hills, Calif., a sought-after community in the San Fernando Valley. The project is a collaboration of inspiring architecture, innovative technology, and best-in-class amenities visualized and built by Los Angeles-based California Home Builders (CHB) and curated by a collaborative team including Lighting Design by RL Studio with custom luminaires crafted by Ideoli.
"The Q Topanga is a masterpiece, a vision that became a reality," said Shawn Evenhaim, founder and CEO of California Home Builders. "This vision started six years ago with my desire to change the living experience of apartment residents in the valley and to give them a lifestyle that will exceed their expectations. We created an urban, luxury community for individuals who appreciate a home that
is high-quality and has smart features, and a community where style and design meet function. We created a place that is truly the most sought-after location in the valley."
Lighting designer Jonathan Wehan, LC, of RL Studio in Los Angeles was part of the team responsible for the design, selection, and distribution of the lighting for the newest addition of the Q apartment community: Q Topanga. Wehan worked directly with Evenhaim to bring a balance of sophisticated, connected, and smart living to the luxury apartment complex featuring a variety of select fixtures by Ideoli.
Discussions for the project began in December 2017 with ideas, concepts, and Evenhaim's desire to have a unique statement piece for an expansive part of the commons area. The plans already included a six-story transparent glass structure – called the QUBE – with a unique piece of art filling three stories of that area. Evenhaim felt it was important to make this large gathering area stand out and be visible from the outside.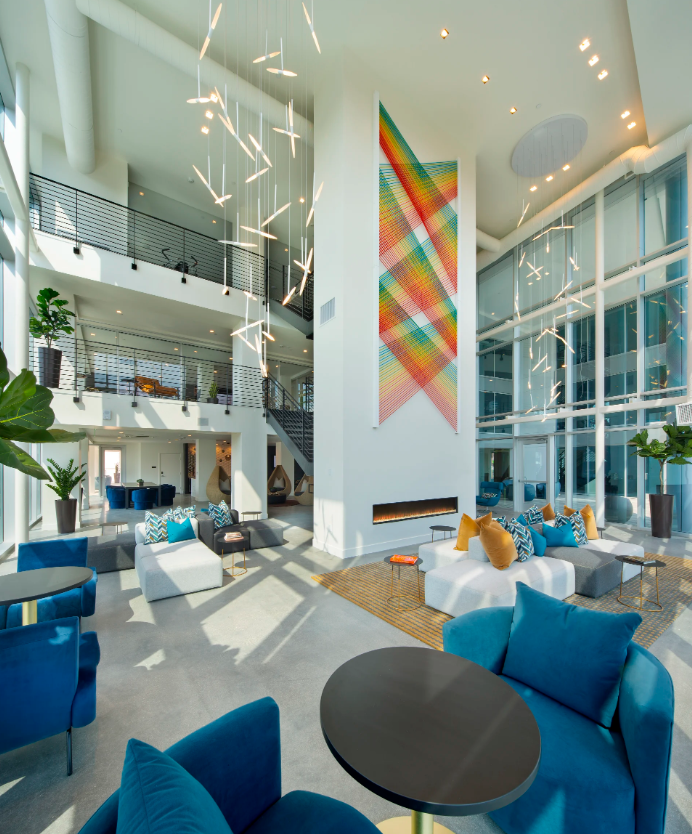 "My client wanted a statement piece that could be seen from the busy street of Topanga and the luxury Village shopping center across the street," Wehan commented. "We looked at a variety of options from different manufacturers, but the certain tweaks or custom specifications they wanted weren't available. I needed someone who could take the customer's vison and make it a reality."
Ideoli, renowned for its custom lighting products, was seen as a natural choice to create this custom piece. Evenhaim provided a rough drawing of what he envisioned as the statement piece and the specifications. From there, Ideoli took to the drawing board to create a product that would be functional art to softly illuminate the space. After the prototype was approved and the fixture fabricated, Evenhaim's vision became reality in April 2021 with a full turnkey installation of the custom FOTIS lobby chandelier.
"We wanted it to be like an art piece because of all the glass in the space," Evenhaim remarked. "We wanted two unique light fixtures in this special space that would also complement the custom-made art piece, but we couldn't find exactly what we were looking for. We worked with the team at Ideoli and sketched out what I wanted, and they took my vision and created a product."
The FOTIS chandelier is comprised of 30+ LED strands hanging from a circular ceiling canopy at varying heights from 60 to 255 inches. The individual LED strands hold an 18-inch linear, spike-shaped LED luminaire with a frosted glass prism mounted on a powder-coated flat white pipe. For ease of maintenance and installation, each LED head has a quick connect to service the luminaire without removing the entire canopy from the ceiling. A remote driver was mounted from the canopy, which can be opened and mounted to an internal square tubular steel frame for easy mounting to drywall.
There were a lot of challenges regarding how to design and install the showpiece. "Working with the team at Ideoli was very easy. They worked with us to customize the design to address and solve any issues during the design phase, as well as during installation," Evenhaim said.
The two 150-watt FOTIS chandeliers supply 12,000 delivered lumens that create an ideal accent to the high ceilings. In addition, Ideoli provided several other luminaires that were adapted to meet the specific parameters for other areas in the residential complex.
"Ideoli works with us when we need to modify or find products to meet our specific project parameters, whether it be dimming, output, or addressing an installation challenge," Wehan commented. "For example, we couldn't use a traditional recessed fixture for the third-floor residential entryways, so we needed a surface-mounted fixture."
Ideoli's compact LED Flush Cube fixtures in a Matte Black finish and Gold interior illuminate the residential hallways. The company's 9-watt, 3000K sconces deliver 950 lumens and fit on a standard 4-inch J-box for easy installation. The 3000K LINEA LED linear fixture in a Matte Black finish lends a modern touch to the co-working spaces, multi-story fitness center, and VIP drop-off area; it is installed throughout the complex in 2-, 4-, and 6-foot lengths. These linear fixtures are suspended via aircraft cables and feature a recessed louver to direct light downward and reduce glare. The 2-foot versions can be found in the smaller co-working office spaces, while the 4- and 6-foot versions are installed in Q Topanga's two story, state-of-the-art wellness center and the VIP drop off area.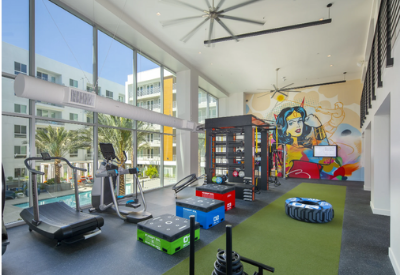 "We used Ideoli for a number of the common products that a lot of manufacturers make; however, what makes them different is that they stock it and it is easily accessible," Wehan remarked. "What really sets them apart is their customer service. A lot of manufacturers don't follow through when there's a problem. Ideoli does – they fall in the exceptional manufacturers category. They are top of the class for me."