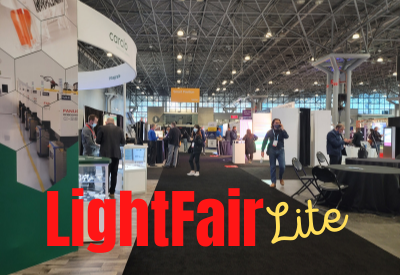 November 28, 2021
LightFair 2021 was held as scheduled in New York City last month, but it was unlike any past rendition. Typically, the annual exhibition and conference would have filled a large portion of the Javits Convention Center; however, lingering pandemic concerns were made worse by a nationwide spike in COVID numbers in August/September and compounded by New York City's tough vaccination rules and mask mandates. All of these factors contributed to a pervasive reticence. As the exhibitor list whittled down, even LightFair die-hards who have never missed a show began to reconsider. Obviously, these complications were beyond the show organizer's control, and considering all of the unexpected obstacles, LightFair organizers did a commendable job in creating an informative event that combined educational sessions with the in-person show experience of seeing products first-hand.
LightFair organizers even forfeited any profit that would have been gained by admission sales to the exhibit floor by announcing in September that the show floor would be free of charge to attendees.
For those in driving distance of New York City, as well as Manhattan's sizable architectural community, attending LightFair was satisfying. All who came were thrilled to see industry friends in person again and to meet new ones. With the show rescheduled from May to October (again, because of pandemic concerns in the spring), there wasn't the draw of seeing new products that LightFair attendees normally enjoy when the show is held earlier in the year. By fall, manufacturers' reps have done a good job of demonstrating the new products of 2021 to potential customers. However, what was unmistakable among those in attendance – including manufacturers, reps, and lighting specifiers/designers – was the positive energy in the air. Let's face it: business is good. Yes, supplies are harder to get and shipping delays are lengthening project deadlines, but the business is there and does not appear to be in danger of slowing down in 2022 and beyond. Therefore, the overall mood of LightFair from all who were there was unanimously positive.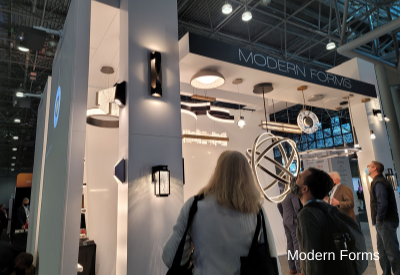 Show Director Dan Darby observed, "Holding LightFair 2021 reengaged and reunited the lighting industry. Despite many challenges of the last 18 months, this year's trade show and conference proved to be imperative and beneficial for the lighting community – you can't beat the power of human connection."
According to LightFair organizers, 230+ established and emerging brands exhibited alongside 35+ educational sessions presented in multiple formats, including a full roster of complimentary CEU-accredited sessions in "The Designery" area of the exhibit floor. LightFair organizers report attendance from 48 states and 65 countries.
In place of the massive booths of LightFairs past, the more modestly sized booths made the show easy to navigate in a short period of time. Jeanne Stark, VP/Marketing of Intermatic, noted, "We are incredibly pleased with our decision to show at LightFair this year, and we can't wait to show in 2022."
Partnerships with hallmark design communities, such as NYCxDesign, as well as New York design schools, flourished this year, opening the door for more enhanced design collaborations at LightFair in the future.
"It was so important to be in and amongst the energy, talking about design and lighting and the intersection of the two," said Elissa Black, Executive Director of NYCxDESIGN. "To be able to wander those fabulous aisles and see all of the different uses and creativity behind the design of lighting right across the spectrum has been wonderful."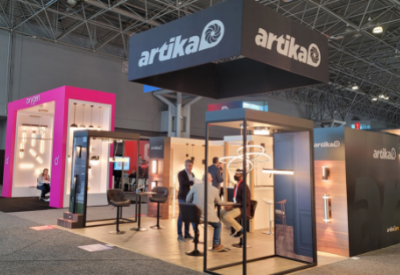 LightFair's lighting industry association owners, International Association of Lighting Designers (IALD) and the Illuminating Engineering Society (IES) reported industry-wide success at the 2021 edition.
"Being back at LightFair in 2021 feels like coming back home," remarked Ashley Robbins, interim CEO of IALD. "It's been great for our community to reconnect, share hugs, and really have that in-person interaction. We are really grateful for this opportunity."
"It's been a crazy year. Most of us in the industry are not introverts but we've had to practice being introverts for the last 20 months, so we were gangbusters excited to be here," added Megan Carroll, president of the IES New York City section and specification sales manager for Illuminations, Inc. "Even though it was a refined show, it was simple, it was artful, and it was important that we were here."
The LightFair Conference portion of the event had similar success. A number of the 35+ conference sessions, with a collective 82.5 CEU credits, were either sold out or near capacity.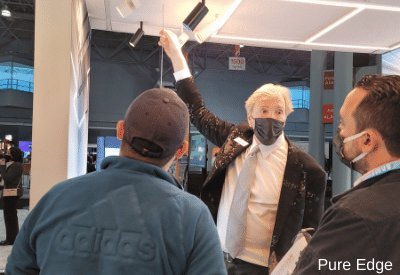 "Conference programming addressing new and updated technology in the lighting industry allowed many participants to further their education and better their business practices," Darby noted. "Our conference attendees brought energy and excitement to the seminar rooms, eager to learn more about the future of lighting."
Those unable to attend this year's Conference will have a second chance to learn from 27 recorded, on-demand conference sessions ranging across the six tracks: Application & Evidence-Based Design; Art + Inspiration; Design Tools + Techniques; Experiencing Light; Professional Development + Practice; and Technology. These sessions will be available as the LightFair Virtual Conference, planned for December 7-8.
For 2022, LightFair moves to Las Vegas, specifically the new West Hall at the Las Vegas Convention Center, with the Conference starting on Sunday, June 19 and the trade show on Tuesday, June 20 through Thursday June 22. Registration updates and LightFair information can be found here.
To reward exhibitors who showed at LightFair 2021, organizers have given them a special "loyalty rate" and first dibs on selecting space for next year's event. Those companies that had reserved space, but were unable to participate, will be in the second round of space selection for next year's show. LightFair 2022 is expecting to showcase 400+ exhibitors; a full list of 2022 exhibitors will be released in mid-December, after rounds one and two of space selection conclude.
There's no doubt that LightFair 2022 will be more robust, and hopefully back to previous years' levels; however, lighting industry members who either exhibit at or attend Lightovation in Dallas will feel a scheduling pinch as two shows are being held very close together (Lightovation runs June 22-25).
With lighting and controls technology continuing to evolve, trade shows such as LightFair fill that desire to have a venue where people can keep up with the latest developments, see products in person, and network with peers.