The success of Lightfair 2023 is a little more complicated to gauge than in years past. For example, the past two editions were softer in attendance (both from manufacturers and visitors) due to repercussions from the pandemic that included travel restrictions and health concerns.
This year, those challenges were no longer in play, but a new one took shape. LEDucation – a steadily growing annual show with a more condensed format than a convention center, a more central location in Manhattan, and an overlap in target audience – was held 12 weeks earlier.
Furthermore, there have been other shifts occurring in the trade show world over the past 15+ years. The giant annual industry shows – for example, the International Builders Show, the Kitchen/Bath Industry Show, the National Hardware Show, the International Hotel/Motel Show, HD Expo, to name a few – have undergone significant changes and, in some cases, consolidation. Add to that, the rising cost of business travel over the years, the steady increase in business and projects in the construction and remodeling market that have kept distributors incredibly busy, challenges in workplace staffing, and an aging population of those used to making an annual pilgrimage to a trade show to see new products before the internet era.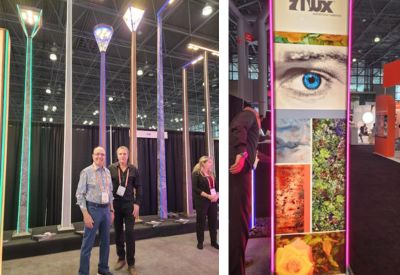 Taking all of that into account, many trade shows today are not as robust as they once were. When it comes to lighting technology, Lightfair was the must-see trade show for previewing where the commercial lighting industry was headed. The mid 1990s-early 2000s were all about developing technologies such as CFLs, fiber optics, and eventually LEDs for mainstream use. The giant leaps in research and development that we saw back then and that created palpable excitement on the show floor have leveled off. Technology continues to evolve, of course, but in smaller increments. And just as lighting technology was evolving, so was the internet and the digital platforms available for manufacturers to unveil their latest product developments whenever they wanted to, without waiting for a trade show.
So that brings us to this year's Lightfair. I think the majority of attendees who came to Lightfair last week were not disappointed due to two factors: either they came primarily for the educational sessions and walking the trade floor was a secondary benefit, or their expectations were lower since it was widely known that many of the large-scale lighting draws (Signify, Acuity, Current, to name just a few) that had booths at LEDucation in March were not exhibiting at Lightfair in May.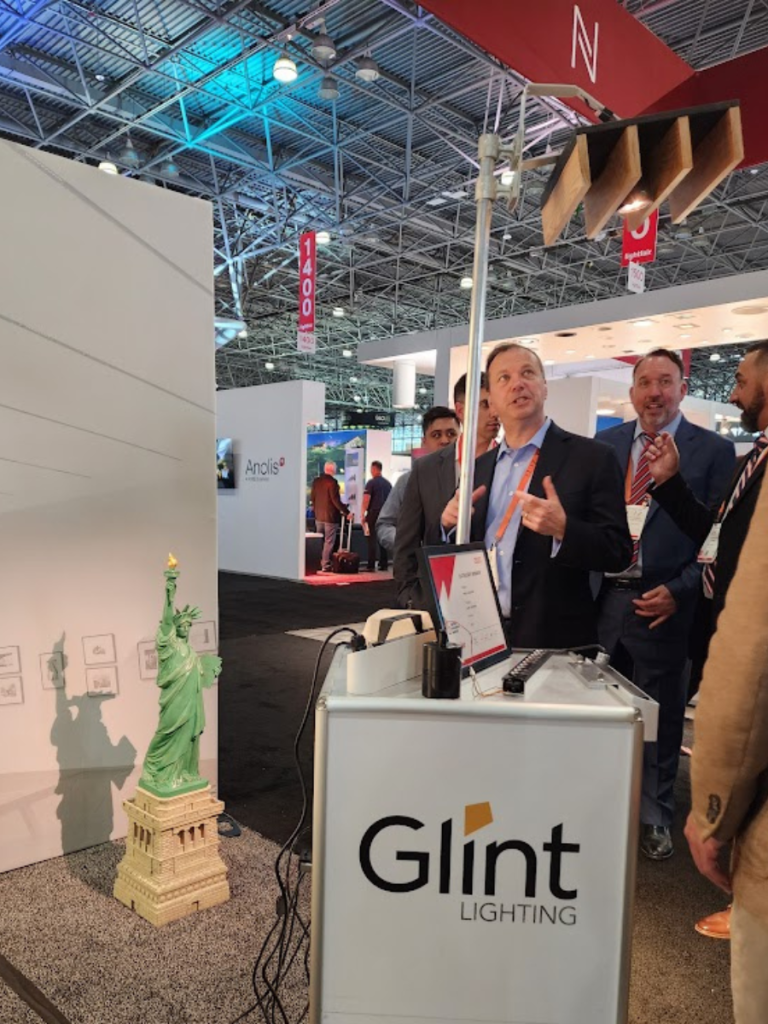 While the absence of some major brands made for a different kind of Lightfair experience, it also paved the way for smaller companies to receive attention they might not have gotten at previous Lightfairs.
For example, it was the first time that Quebec-based outdoor lighting manufacturer ZiLux exhibited. This new company combines company president Michel Gaudreau's 40 years of lighting knowledge with his son Louis Andre Gaudreau's aluminum siding expertise. Together, the two have created a unique collection of decorative light posts, bollards, and columns utilizing inkjet printing equipment and a weatherproof finish that's as durable as aluminum siding. The illumination design is innovative in that it is accomplished by reflecting the LED light upward from the bottom; a convenient door on the base of the fixture provides easy access with no need for a ladder to access the driver or light source.
Vermont-based ProLume highlighted its partnership with PERFEKTLight™ to provide a tunable LED technology that corrects hue error, improves CRI, and can synchronize color and spectra to match sunlight.
California-based Glint Lighting received accolades in the past for its Hero LightShift® linear luminaire, which is adjusted via joystick to change the direction of the light using its patented LightShift optical system while the luminaire remains in a fixed position. This year, Glint Lighting introduced its Solo product family, which received an Innovation Award at Lightfair. The Solo product brings the LightShift optics to a compact single emitter.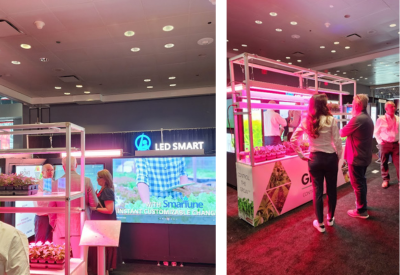 Canadian manufacturer LED Smart showcased its GROW3 horticulture lighting line with proprietary SmarTune™ control system, which uses Bluetooth™ Mesh, Wi-Fi, and PLC technology to control the color ratio and intensity of the light from anywhere. The system comes with pre-set growth phase light recipes or users can design their own spectrum/color ratio and intensity settings. Add-on features, such as DLI sensors, leaf health cameras, and PPFD monitoring can be integrated to the Grow3 system as well. The company manufactures all of its products in British Columbia.
There were many long-time Lightfair exhibitors at this year's show. While Legrand US is no stranger to Lightfair, it was the first time that its Wisconsin-based company Kenall Lighting had a booth. The company provides durable lighting solutions for the healthcare, cleanroom, correctional, transportation and high-abuse lighting markets. Designed and manufactured in Kenosha, Kenall products also comply with the Buy American Act.
Also part of the Legrand US booth was OCL, which manufactures its architectural lighting products in St. Louis. The company highlighted its acoustic lighting capabilities as well as pendants made from recycled materials.
Upstate New York-based domestic manufacturer 2nd Avenue Lighting, part of Meyda Custom Lighting, showcased its custom manufacturing abilities and reasonable lead times. A custom-made crystal chandelier with a color-changing system that was developed from scratch by the company's technical team got a lot of attention. On hand at the booth was company founder Bob Cohen and his sons Max and Chet, who are instrumental in the factory's operations.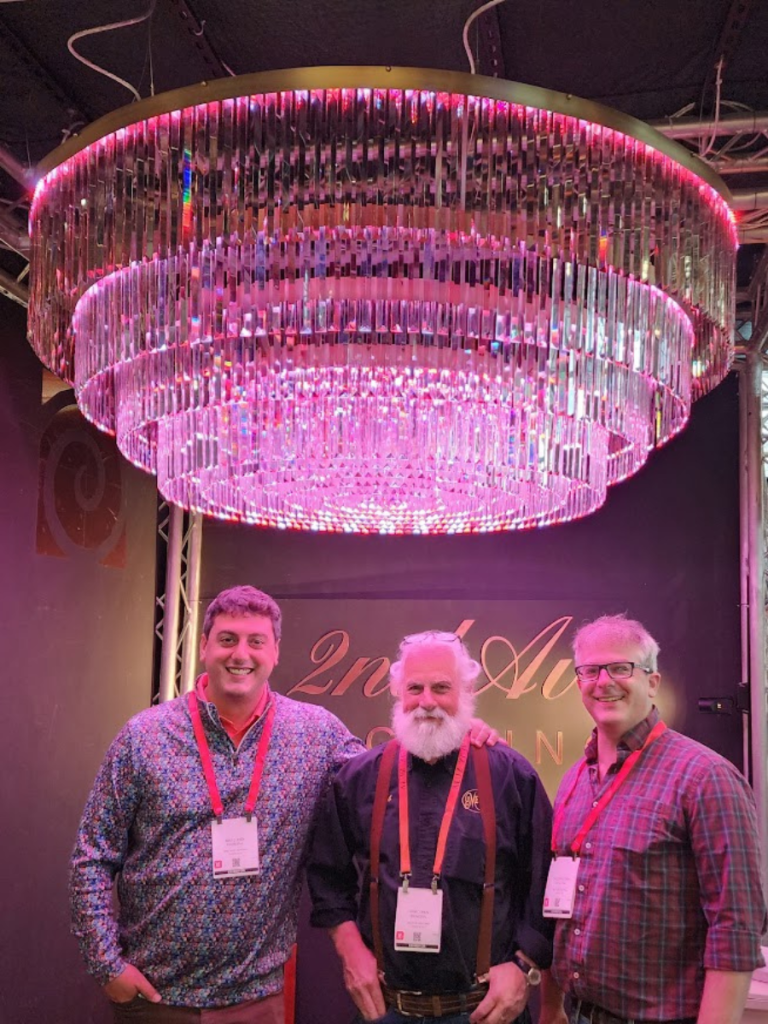 At Illinois-based AFX, a veteran Lightfair exhibitor, Eastern Regional Sales Manager Lizzette Winters notes that attendees were interested in a variety of products for their projects. "Adjustable color temperature was asked about a lot," she states, adding that AFX offers many 5-in-1 color-selectable fixtures that allow users to choose from among five color choices before installation. "People also asked for decorative, clean contemporary products for their budget-driven projects. I was pleasantly surprised by the number of contractors who stopped by our booth."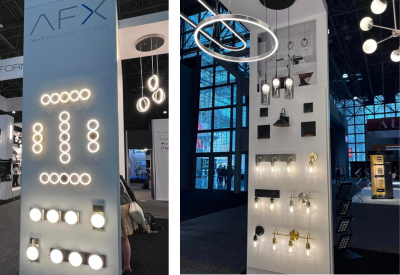 Denver-based American Lighting, a regular exhibitor at Lightfair, prominently featured its Prizm Lighting division's highly flexible NeoFlux 360 series.
Headquartered on Long Island, WAC Lighting – which occupied a large booth near its sister company Modern Forms – constructed an immersive Experience Center for attendees, complete with guided tours of its new Aether Atomic series and WAC-STRUT Framing Projector. Rewarding that effort, WAC received the Best Booth Award for spaces more than 600 square feet.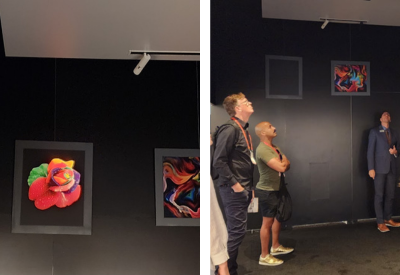 What makes the WAC-STRUT Framing Projector unique is its ability to highlight artwork, objects, or architectural elements with adjustable lenses and shims that can zoom in and out for precise aiming or can utilize a custom-cut gobo to shape the light in complex designs. It installs magnetically into the WAC-STRUT system and can be mounted on the ceiling or wall vertically or horizontally.
Lightfair has always been about showcasing emerging technology and to that end, there were two educational sessions devoted to the fast-growing category of laser lighting: Brighter, Smaller, Further, Faster –> how LaserLight is changing the lighting industry; and Laser lighting – a new way to generate light with new lighting design opportunities.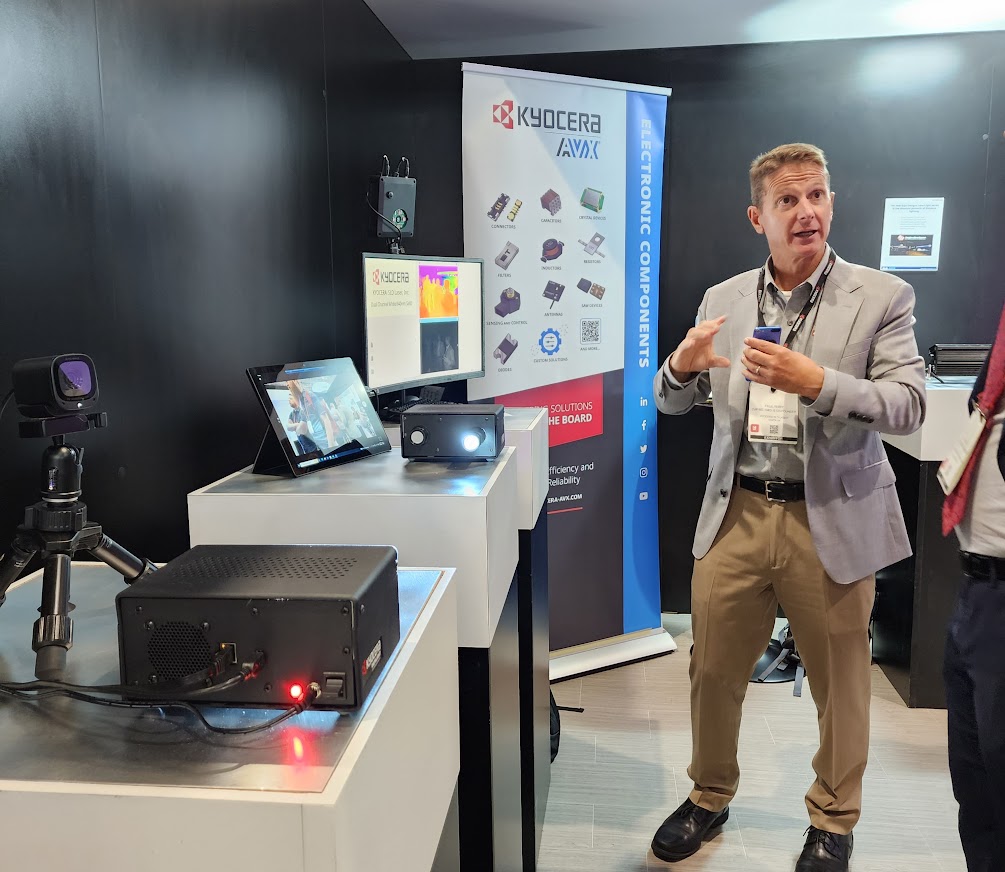 Since these two sessions were among the most-talked-about topics at the show, KYOCERA SLD Laser Inc's booth was continually busy. This wholly owned subsidiary of KYOCERA Corp. operates facilities in Santa Barbara and Fremont, California. Of particular interest to Lightfair attendees was the company's LaserLight™ LiFi series for high-speed sharing of LiDAR data as well as the latest edition of its FiberLight™ series, which can deliver 400 lumens of light remotely, ideal for pole lights, bridges, tunnels, and high tower applications.
The next edition of Lightfair is slated for the year 2025 at a location that is yet to be announced.