Rebate Update: New in 2022

March 21, 2022
T
he uncertainty stemming from the COVID pandemic kept utility rebates in a holding pattern the last two years, however, 2022 is showing movement in many areas as some programs reset and others launch.
Pittsburgh-based service provider turned technology company Encentiv Energy keeps track of the incentives and rebates available from each utility to help customers save both energy and money — plus offers its Encentivizer software tool to simplify the process for electricians, electrical contractors, electrical distributors, and lighting showrooms. Experts from the company shared their observations of current and expected rebate/incentive conditions during a recent webinar.
Downstream Programs
According to Mike Cham, Chief Technology Officer, downstream programs – rebates/incentives where paperwork is submitted on behalf of an end-customer – showed very little fluctuation over the past two years.
"The LED programs that have been in downstream have been around for a long time, and from what we can tell, they will continue for a while longer," Cham stated. "When you look at the downstream LED rebate programs overall, they're basically flat."
While no major changes are expected, there will be tweaks. "We're still seeing code advances in different areas," Cham reported. "California is the most affected by code changes. We're also seeing the sunsetting of some programs, and a focus on just the most highly energy-efficient products in those categories."
Noting that many programs run on two- to five-year cycles, Cham observed, "We're starting to see that those who restarted their cycle came out with larger rebates than they had at the end of the previous cycle, which is a pattern that you want to see."
Cham announced that the federal TVA utility company has relaunched a rebate program for lighting. "They had ended it two or three years ago, but under the Biden Administration, it's apparently back. From a political perspective, we should continue to see pressure on energy efficiency coming from the federal government as well as certain states that are continuing to drive energy-efficient policy to deal with power rates," he said.
Midstream Programs
Steve Bolibruck, Director/Utility Solutions, explained that midstream programs have been – and will remain – very strong. Since midstream incentives are paid at the distributor level, the discounts are typically passed along to a contractor or a customer by the distributor at point of purchase.
"We're seeing a little bit of an increase in midstream incentives getting up to 55 percent, with Connecticut being the highest. Pennsylvania is also up there, at 35 percent, and both of those states have started their term programs over again. Pennsylvania, for example, is running on a new five-year cycle that started up last June," Bolibruck reported.
"Overall, we're seeing a trend with the midstream programs being strong, with more than 50 percent of states showing either stability or an increase — and that's different from what we saw last year," Bolibruck commented, adding, "We are seeing increases in the lighting incentives with the new midstream programs."
Product Categories
"There was a lot of stability in the downstream product categories," noted Jeremy Struhar, Product Manager. "The highest change we saw was for linear ambient and indirect both going up by seven percent; the biggest decrease was on troffers, going down by about three percent. A few years ago, when we looked at this, we saw as high as 20 percent both ways [increase/decrease] where their average change was fluctuating a lot, but now downstream has stabilized."
For Midstream, it's a different story. "There are a lot of increases across midstream," Stuhar said. "Last year when we looked at it, 80 percent of categories were within +/- 10 percent, and that's not the case this year. We're seeing a lot of increases in midstream, which goes with the shift we're seeing overall in LEDs. Now that they're so baked into these programs, it's easier to offer as midstream, and that's the first thing people are doing."
HVAC
While HVAC is a category Encentiv Energy has been tracking for years, the growing focus on electrification and utility programs expanding their offering within this category has elevated its importance.
"Downstream programs are doing really well," Bolibruck remarked. "Over 70 percent of those programs are stable or growing with almost 20 percent showing an increase in 2022 regarding the incentives they're offering in these categories for HVAC equipment. Some of the bigger increases we're seeing on the downstream side are with Mass Save [Massachusetts] and PECO [Pennsylvania], both of which have started new program cycles. These new programs are giving utilities the opportunity, and they're raising incentive levels at the downstream level."
When it comes to midstream, "we weren't seeing the same kinds of changes there," Bolibruck said. "The programs that have midstream level offerings for HVAC rebates were pretty level, but what's interesting to note is that there are a lot of new programs being introduced for 2022 — and we expect that trend to continue in the same way that we've seen with lighting technology, where it moves through programs from custom to downstream to midstream. We expect to see midstream to grow here."
With the focus on electrification, Bolibruck predicted incentives and programs will continue to grow and expand in this area. "I think heat pumps are going to get more attention, and I think we'll see efficiency in this equipment continue to improve as well as some advances in technology," he explained. "Certainly HVAC has been progressing, although it hasn't seen quite the same shift that lighting has over the last 10 to 15 years. Manufacturers are really improving the efficiency of the equipment, and codes and standards keep going up so we're seeing those changes carry over into the rebate offerings," he stated.
VFD
Regarding Variable Frequency Drive rebates, "we've found that it is widely rebated throughout the U.S. and Canada," Cham observed, adding, "We're seeing slight increases when we look at it year over year." Because of the savings that could be realized, the grids – which sit over the utilities – "are taking notice" and looking at these devices as a way to save during peak operating hours on the grid.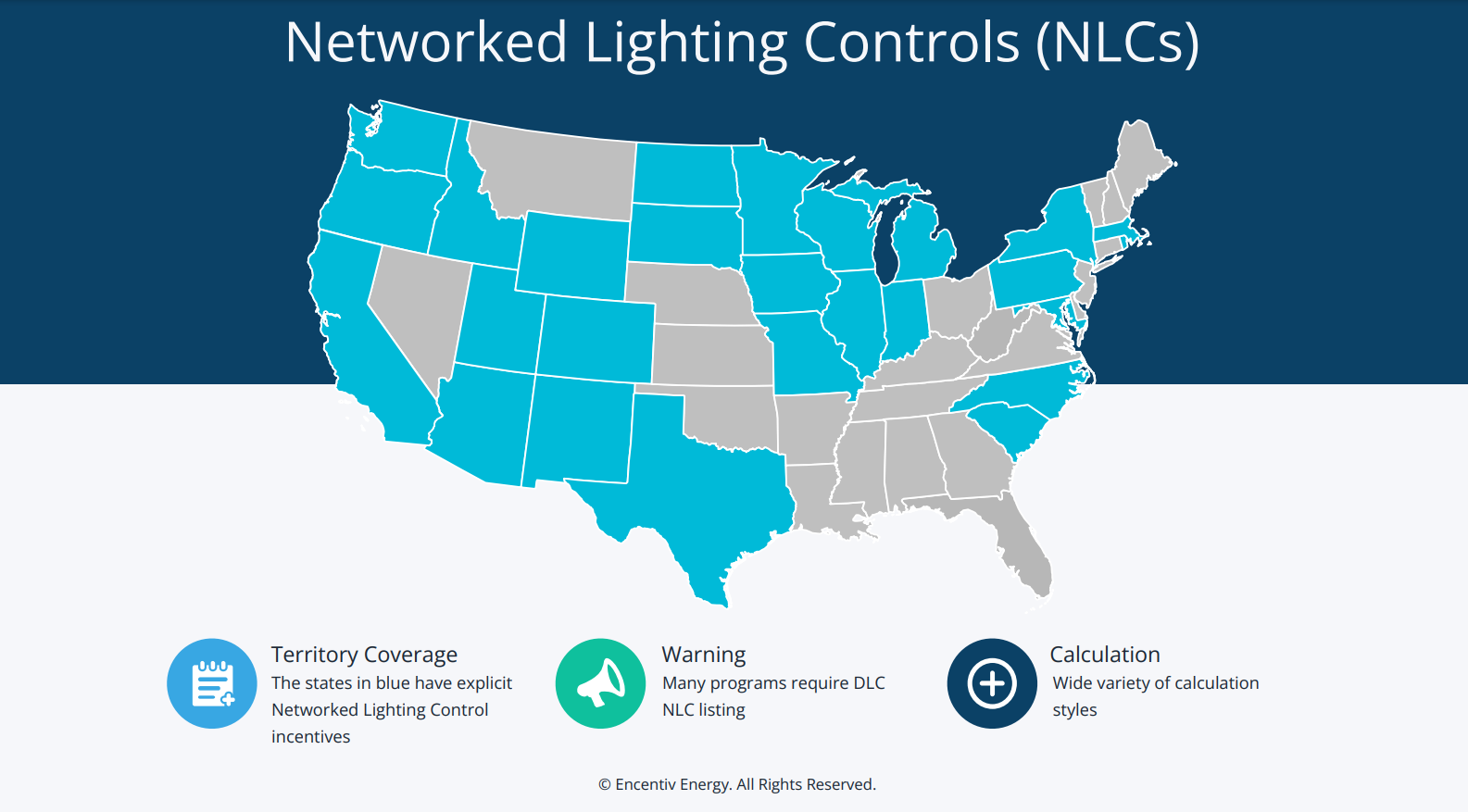 NLC
"When it comes to Networked Lighting Controls, LED adoption over the past few years has really spiked up — and that is putting more pressure on utilities to find other ways to generate savings for their customers," Struhar said. One of the main ways to save involves the controllability of lighting. "You can capture more savings by controlling when the lights are running. This is a similar map to what we saw last year regarding the coverage of territories that have explicit programs specifically for NLCs." The category is growing, along with increasing incentives throughout the country.
Horticulture Lighting
Horticulture lighting programs are beginning to shift from custom calculations to fixed prescriptive incentives, according to Struhar. "They're becoming more entrenched in the program and there is enough data to prove these incentives are worthwhile," he said.
Bonus Tips
"Include rebates in your marketing when trying to sell overstocked products, high-margin products, or if you're launching a new product; this can increase click-through rates and conversions," said Amanda Marchione, Marketing Specialist.
For greater success, launch a multi-channel marketing campaign around the rebates and incentives by writing a blog post, creating a sales flyer, posting to social media, or promoting through direct mail. "This has a big impact on keeping you top of mind and getting buyers warmed up to make a purchase," Marchione added.
Include any rebates and energy savings available in your proposals and quotes. "This can help off-set project costs and get your client to say 'Yes' faster because they will see the ROI in upgrading to more energy-efficient equipment plus the value you provided by including rebates in their quote," she remarked.