Optec LED Brings Production Home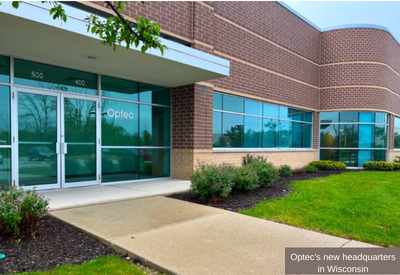 November 22, 2022
The pandemic was a pivotal year for many companies dependent on overseas factories and container ships. For Optec LED Lighting, whose parent company is Optec Displays, Inc., the migration away from dependence on Chinese factories was already in the works. By 2019, Optec had secured a facility in the Milwaukee, Wisconsin area with the mission of moving its lighting operations headquarters from Ontario, California to a more centralized distribution point along with the goal of performing some of its own manufacturing.
"Wisconsin has been a hub for the industrial world," notes Bob Tortorello, Vice President. "There are major companies here with people who do casting work and powdercoating." Some of the country's largest domestic manufacturers – Kohler, Harley Davidson, Oshkosh Truck, Johnson Controls, Snap On Tools, Rockwell Automation, Briggs + Stratton, and Milwaukee Tool, among others – are based in Wisconsin.
Adds Jerry Luan, Owner & CEO, "During the height of the pandemic, we recognized the advantages of moving operations to Wisconsin. In 2021, we reincorporated [there] and have dramatically stepped up our efforts in the preparation of manufacturing — including tooling, prototyping, obtaining ETL certification, getting DLC listings, and setting up production lines and stations. We are committed to investing heavily in R&D, new product development, and local manufacturing. Our goal is to build a people-oriented company that is able to deliver high-quality products and services."
Those efforts have paid off. "I'd say 99.99% of the components used are sourced locally. Our products are designed here, engineered here, and tooled and cast here — even the heat sinks are from local suppliers," Luan remarks. "We're in the process of building an eco-system that will shorten lead times. This is a great move from our company standpoint."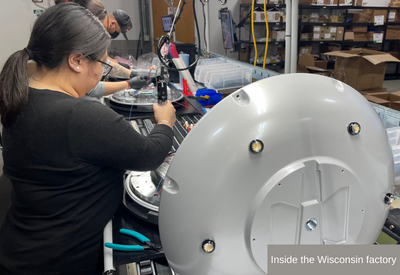 Not that the transition was without challenges. "It was not an easy move, but this strategy – especially with the geo-political issues we're seeing across the globe – will benefit us longer-term," Luan states.
Being a domestic manufacturer eliminates the threat of backlog at the ports, which affects lead time. "Because of those logistics issues, we've heard [from customers] that other companies have a 12-week lead time on average, and some take up to four-and-a-half months," Luan says, adding, "But for us, it's six weeks."
There is another obvious benefit of the Wisconsin factory that goes beyond speed of delivery and getting products to market: customization. "Customers love us first, because of our lead time and second, since we do the design work here, our engineers can customize almost anything," Luan comments. "The third reason is because we are price-competitive. We are not pricing ourselves out of the game."
For custom pieces, lead time typically ranges from 4 to 8 weeks, depending on size. "In this case, size does matter," Luan states. "A few hundred pieces is no problem, but if the order is for more than 1,000 pieces, it will take longer."
Currently Optec LED is occupying two-and-a-half buildings and a garage. One building is devoted to manufacturing area lights and flood light luminaires. "We are looking to potentially be at three buildings soon, but that will depend on availability," Luan says. "We want it to be close by for logistics." The need for more space hasn't slowed production, however. "We're looking at running two shifts instead of one and may add more production lines," Luan remarks.
The first quarter of 2022 was Optec's first full production of its new OLPG1 parking garage fixture, and since then the pipeline has continued to grow. "OLPG1 has been very well-received in the market. Customers are really happy about the performance and the delivery," Luan says.
"We showed the OLPG1 at the IPMI (parking mobility) show, which targets the garage business as well as the RFMA (restaurant association) show, and to national accounts for big restaurant brands," Tortorello remarks. "It's a high-grade spec product that we offer a lot in color temperature, wattage, lens distribution, uplight option, DLC premium, Title 24, etc. Designers have many choices. OLPG1 puts us in the class of an elite league of domestic companies. Customers feel the quality."
Another advantage to manufacturing domestically has to do with the warranty and service department.
"Because we build these products ourselves, we can offer a five-year warranty — and we can get components to the warranty/service department faster," Luan explains. "If it takes four-and-a-half months to get a fixture delivered [from another company], imagine how long it would take to get a spare part? We can send parts out right away, sometimes even the same day."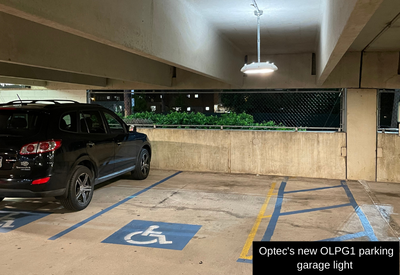 The reaction among existing and new customers has been encouraging. "A lot of local customers have welcomed us and reached out directly to have a close collaboration with us," Tortorello notes. "People are excited by our ability and capacity, and local customers are super-energized. They feel good about supporting the local economy."
Even with the amount of skilled labor in the Wisconsin area, the national labor shortage remains a factor. The company's goal is to have 30 employees at the manufacturing facility, but that might take some time yet.
"Despite all of the difficulties, we've made the right decision as a team," Luan affirms. "The response from reps and customers has been incredible. They are excited by what we're planning to do."