New Sales Director at Sunshine Lighting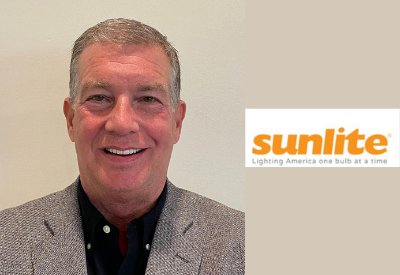 December 1, 2021
Sunshine Lighting Company, a Brooklyn-based manufacturer of high-quality and affordable LED lamps and fixtures marketed under the major brands of Sunlite® and MKS Advanced LED®, has appointed Gray Sessoms as Director of Sales/North America. In this new role, he will be responsible for managing the company's sales team, including its nationwide network of independent manufacturers' sales representatives, and for supporting the company's specifications activities, distributor relationships, and C&I sales efforts.
Sessoms has more than 30 years of executive-level sales management, specification, channel, and strategic planning experience in the industry with companies such as Sonneman, Troy Lighting, Elliptipar, and Philips/Lightolier.
"We're delighted to welcome Gray to our leadership team in this important role and view his appointment as another strategic step in the acceleration of Sunshine Lighting's growth," said Tim Hill, President of MKS Advanced LED. "Gray's extensive experience in the lighting industry overall as well as in such specialty niches as controls, IoT, and AV integration will be instrumental to driving Sunshine's continued transformation as a leading supplier of innovative lighting technology to the professional lighting market's broad array of users."
Sunshine Lighting is a provider of stock-and-flow LED lamps and select white goods, including high bays, strips, wraps, retrofit downlights, and decorative residential lighting. The company also serves the commercial and architectural market and is a value-engineered supplier of downlights, ambient, and select outdoor lighting in segments suchc as multifamily, hospitality, healthcare, commercial office, and education.
"Sunshine Lighting is at the forefront of innovation and sustainability and it's an exciting time in the company's evolution," Sessoms commented. "I'm extremely proud to join the Sunshine Lighting team and am excited to help contribute to the company's strategic direction, long-term growth, and industry leadership."