NEMA's Karen Willis Receives ANSI Award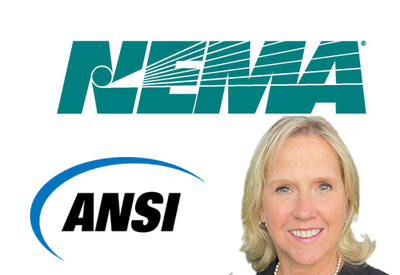 October 14, 2022
Karen Willis, Industry Director/Lighting Systems for the National Electrical Manufacturers Association (NEMA) was recognized with the 2022 ANSI Meritorious Service Award. This award is presented to individuals with a record of significant contribution to voluntary standardization who have demonstrated outstanding service in enabling ANSI to attain the objectives for which it was founded.
Karen Willis has led numerous ANSI and NEMA technical committees over the course of her career, including at one time simultaneously managing five major ANSI consensus bodies. She is heavily involved in domestic and international standards development as NEMA's representative on the U.S. National Committee (USNC) Council and on additional multiple committees.
"Karen exemplifies the characteristics of the ANSI Meritorious Service Award, and I cannot think of a more deserving awardee," said Patrick Hughes, NEMA VP/Strategy, Technical, and Industry Affairs. "She not only has a deep understanding of the strategic value of standards, but she serves as a mentor and role model developing the next generation of standards leaders."
Two former NEMA members were also recognized by ANSI: Kevin Lippert, formerly of Eaton, was awarded the Elihu Thomson Electrotechnical Medal and Elisabeth George, formerly of Philips, was recognized with the George S. Wham Leadership Medal.