Under One Sky Global Conference
October 16, 2023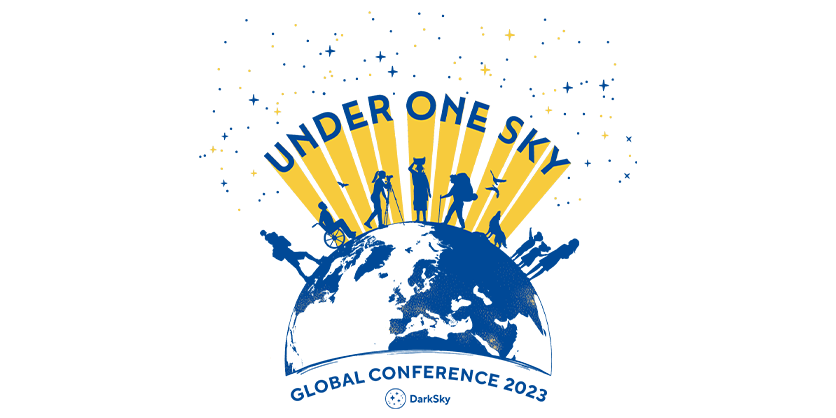 Under One Sky: A Virtual, Worldwide Event
Nov 3–4, 2023 · #UnderOneSky2023
Join the global community of advocates protecting the night sky for Under One Sky 2023 — a 24-hour virtual event that will leave you feeling inspired and empowered to combat light pollution in your region.
You'll hear from experts and storytellers in the dark sky movement, connect with passionate individuals from DarkSky's global network, and learn about hands-on activities and tools that you can use to protect the night. Register now! Registration closes October 27th.
Under One Sky: 2023 Speakers
More speakers to be announced!
NEW YORK TIMES BESTSELLING AUTHOR
Jo Marchant UK
Global Conference Opening Keynote
Jo Marchant is an award-winning science journalist and author of popular books including Decoding the Heavens and The Human Cosmos. Her writing explores the nature of humanity and our universe, from the mind-body connection to the mysteries of past civilizations and the awesome power of the night sky. This talk will explore the cultural importance of the sky – telling a story of how the Sun, Moon and stars have inspired and guided humanity since Palaeolithic times – and trace how our relationship with the stars has changed as we've built a scientific understanding of our universe and become more reliant on technologies from central heating to GPS.
Jo will argue that alongside the elegant and powerful explanations of science, our physical, spiritual and ecological wellbeing depend on rediscovering a more personal connection with the cosmos in which we live.
NAT GEO PHOTOGRAPHER,EXPLORER, AND SPEAKER
Babak TafreshiU.S./Iran
Global Conference Closing Keynote
Babak Tafreshi is an Iranian-American science photographer, cinematographer, and National Geographic explorer based in Boston area. Since 2007, Tafreshi has directed The World at Night program with a team of photographers in 20 countries. The program's mission to reveal the value of natural dark skies and impact of light pollution was captured through The World at Night, a book authored by Tafreshi and published in multiple languages.
Tafreshi uses visual stories, timelapse motion, and virtual reality to create an understandable portal to wonders of Earth and sky. His work is recognized by the 2022 National Geographic Wayfinder Award, the Royal Photography Society Award for Scientific Imaging, and the 2009 Lennart Nilsson Award. In addition, the International Astronomical Union named the 2-km minor planet 276163 after Tafreshi.
DARKSKY CEO & EXECUTIVE DIRECTOR
Ruskin Hartley U.S.
Global Conference Opening
Ruskin Hartley joined DarkSky International as its executive director in 2019. Ruskin brings more than 20 years of conservation experience to guide DarkSky's work to protect the night sky. Ruskin has spent his career directing and managing conservation programs that protect the nation's land, water, and ocean resources–from primeval forests to the iconic beaches of Southern California.
PRESIDENT, DARKSKY BOARD OF DIRECTORS
Tom Reinert U.S.
Global Conference Opening
Tom is a retired Washington, D.C., lawyer who spent most of his career representing airlines and railroads in labor and employment matters, including extensive experience translating scientific experts for lay decision-makers. He is a graduate of Harvard College and the Harvard Law School.
His environmental activism included a decade fighting water pollution with local riverkeeper organizations on the Chesapeake Bay in Maryland. In 2013, seeing the Andromeda Galaxy for the first time with his naked eyes from atop Kitt Peak rekindled an interest in astronomy and a desire to eliminate light pollution.
Currently residing in Northern Virginia, he and his wife Chris travel extensively in the Western United States seeking dark sky locations. For several years he has assisted DarkSky as a volunteer on legal and public policy issues at the national level.
DARKSKY BOARD OF DIRECTORS
Samyukta Manikumar Slovenia/Kenya
Global Conference MC
Samyukta is an astrotourism consultant and the director of Noctia Institute, a nonprofit organization dedicated to the protection of natural dark skies. With a background in science communication, outreach, astrotourism, and experience design, Samyukta is interested in an interdisciplinary approach to dark sky conservation that integrates science with cultural and environmental preservation.
She received the Dark Sky Defender award from DarkSky in 2022, and is currently involved in the establishment of the Kenyan chapter of DarkSky.
More information about Under One Sky available here
Related Article
Nebraska Tourism, Nebraska Game and Parks Commission, and the International Dark-Sky Association (IDA) have jointly announced Merritt Reservoir State Recreation Area (SRA) as the newest certified International Dark Sky Park.