LMPG Adds 9th Lighting Brand, Acquires Vode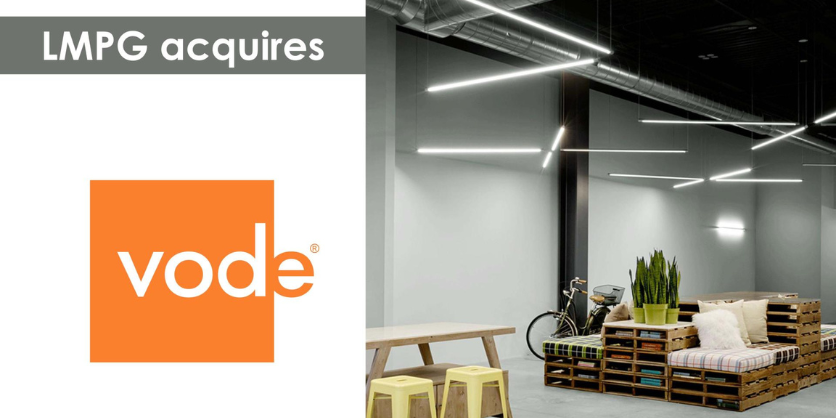 Montreal-based LMPG Inc. (formerly known as Lumenpulse Group), a leading specification-grade LED lighting solutions group, has acquired a majority stake in privately held, U.S.-based Vode Lighting, LLC, an LED lighting solution provider focused on interior architectural lighting.
Headquartered in Sonoma, Calif., Vode is renowned for its adaptive architectural lighting systems that are easily scaled to all types of projects in the commercial, institutional, corporate, and healthcare environments.
"Vode truly inspires the lighting community and offers innovative solutions that embody the core values of LMPG. We are welcoming to the LMPG family 100 incredibly talented team members who are true brand ambassadors. LMPG is very much looking forward to continued success at Vode and supporting the Vode team to expand its reach globally," said François-Xavier Souvay, Founder, President & CEO of LMPG Inc.
Vode will remain an independent brand while leveraging LMPG's operational capabilities, supply chain synergies, and innovative technologies. The three founders will remain active in the company: Tom Warton as Brand Ambassador, Scott Yu as Chief Creative Officer, and George Mieling as Business Development Advisor. Industry veteran Ann Schiffers has been appointed CEO of Vode, effective immediately. Schiffers brings more than 30 years of experience in various leadership positions, including lighting design and manufacturing firms.
"I am thrilled and humbled to join such an amazing organization as its new CEO. Vode has built a remarkable reputation over the years, and I am glad to be part of the next chapter. With an already strong team in place, our brand's achievement potential is limitless," Schiffers said.
Vode's co-founders will support Ann Schiffers in her role as CEO in various strategic advisory roles.
"Scott, George, and I started Vode 20 years ago with a vision, not just for the company, but for the planet," said Tom Warton, Co-Founder and Brand Ambassador. "We are very proud of all we have accomplished together and proud of the culture we've built to support that vision. That's why Vode and LMPG are such a good fit; we share the same values and vision. And now, with the amazing Ann Schiffers at the helm, the Vodarians will have a leader who can take them, and Vode, to the next level. My partners and I look forward to supporting her and LMPG in any way we can."
With the addition of Vode, LMPG now consists of nine brands: Lumenpulse, Fluxwerx, Sternberg, Exenia, Pa-Co Lighting, Lumca, BrightLife, ALW, and Vode.