Lighting Projects Honored at IESNYC Lumen Awards
The New York City Section of the Illuminating Engineering Society (IESNYC) has announced the recipients of the 2023 Lumen Awards, which were presented at the 55th Lumen Gala held on June 15 at Pier 60 in Chelsea Piers. The Lumen Awards and Gala, a distinguished program of the IESNYC, is a platform that highlights and celebrates excellence in lighting design.
"The Lumen Awards once again acknowledge talented individuals who, across generations, bring inspired projects to life," said Lumen Committee Co-Chairs Clara Powell (Cooledge Lighting) and Adrienne Shulman (ERCO Lighting). "Lumen-winning projects drive the state of the art in lighting design excellence. They consistently demonstrate the best of what lighting design can do for architecture and placemaking, while raising the profile of the lighting industry as a whole."
This year, 14 lighting design firms were recognized with Lumen Awards for their exceptional projects. The award-winning projects were evaluated in three distinct categories: The Lumen Award of Excellence, the highest level of recognition for permanent architectural application; the Lumen Award of Merit, which honors meritorious permanent architectural applications; and the Lumen Citation, bestowed upon exceptional art installations, technical details, portions of single projects, temporary installations, or other works.
The recipients of the 2023 Lumen Awards are as follows: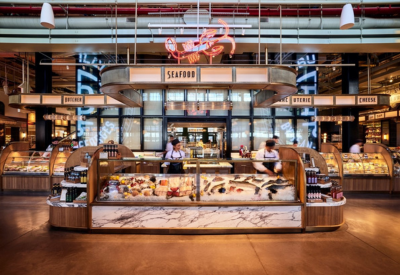 Category: Awards of Excellence
•              Linnaea Tillett Lighting Design Associates for the Morgan Library & Museum Garden
•              One Lux Studio for 320 South Canal
•              L'Observatoire International for the Tin Building by Jean-Georges
Category: Merit Awards
•              LOOP Lighting for the Bus Terminal Tokyo Yaesu
•              Focus Lighting for Chasing Rabbits
•              Lighting Workshop for PENN 1
•              Dot Dash for the POST Houston
•              Melanie Freundlich Lighting Design for the Trinity Church Wall Street
Category: Citation Awards
•              Renfro Design Group for the Museum of Contemporary Art San Diego
•              Flux Studio Ltd for the Signal Station North
•              BOLD LLC for the Journey to Edge/Peak
•              Jen Lewin Studio for the Last Ocean
•              Anita Jorgensen Lighting Design for the Silver Vault Gallery, Wadsworth Atheneum Museum of Art
•              Kugler Ning Lighting for the Willis Tower Repositioning
The 2023 Lumen Award Jury, composed of esteemed professionals in the lighting industry, reviewed 75+ submissions. The jury members were Darina Zlateva (Director at KPF), Brian Smith (Director of Lighting at Icrave), Ashley Moench (Principal at Kugler Ning), Joshua Spitzig (Associate at Atelier Ten), Nathalie Rozot (Founder PhoScope), Gabe Guilliams (Principal at Buro Happold), and Al Uszynski (Editor and Publisher at Inside Lighting).
"The Lumen Awards program is a spirited, competitive, and challenging endeavor, culminating in the energetic and joyful Lumen Gala. Congratulations to the Lumen Award recipients honored for their outstanding achievements in lighting design," said President of the IESNYC Megan Carroll (Lighting Services Inc). "The Lumens celebrate the entire community of lighting professionals. Architects, lighting designers, sales representatives, optical wizards, custom fabricators, distributors, and manufacturers come together, as one project team — bringing a vision of light to life."