Landscape Forms Hosts Roundtable on Women in Landscape Architecture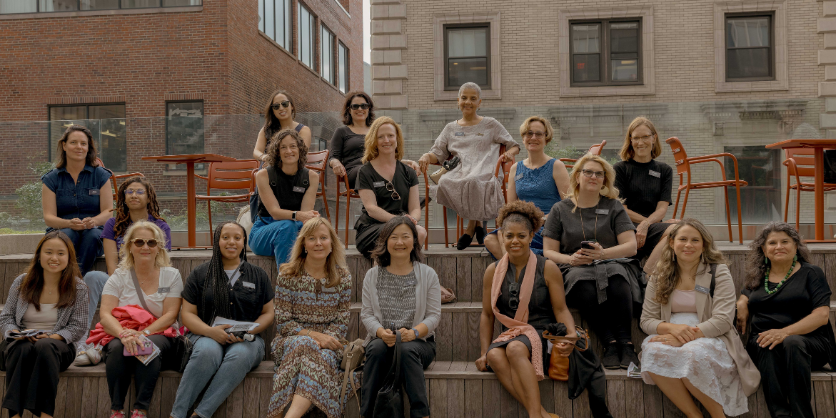 Kalamazoo, Mich.-based lighting manufacturer Landscape Forms brought together 14 female leaders and three female students in landscape architecture on June 27 and 28 to discuss critical issues and future prospects for women in the profession. Women in Landscape Architecture: Amplifying Our Voices was held at the Harvard Graduate School of Design, hosted by Landscape Forms CEO Margie Simmons and moderated by Allyson Mendenhall, FASLA, PLA, Director/Strategic Initiatives at Sasaki.
Roundtable participants included women who lead design practices, divisions of large firms, and non-profit organizations, as well as serve in prominent roles in the public sector and academia. The discussion focused on structural and cultural issues facing women in landscape architecture with the goal of identifying ways in which they can be supported and empowered to utilize their knowledge, skills, and passions; gain recognition for their contributions; have a full voice in defining the goals and ethos of the profession; and promote equitable and rewarding opportunities for the women landscape architects of the future.
Margie Simmons welcomed the group, saying, "Thank you all for taking the time to participate in this Roundtable. As many of you know, Landscape Forms has a long-term organizational commitment to the landscape architecture profession. Our founder, John Chipman, was a landscape architect; our former President and current Chairman, Bill Main, is a landscape architect and past president of the Landscape Architecture Foundation; landscape architects are well represented on our Board of Directors; and many of our product solutions are designed by landscape architects. This is a deeply personal issue for me, and I have wanted to host an event like this ever since I became CEO of Landscape Forms. Many women have had an impact on my career, and I want to pay it forward."
According to the VELA Project, while women earn 55% of the degrees in landscape architecture, just 27% of licensed landscape architects are women and only 12% rise to leadership positions in the profession. Through the career ladder, there is a large, observable loss of women in practice and leadership. "That is why we are here today — to talk about that, and what we can do individually and collectively to solve the issue," Simmons declared. "I believe in the power of many. When we gather and work together, we can have a real impact for all women in the profession."
Moderator Allyson Mendenhall offered her observations on the discussion: "Landscape architects shape the world in which we live and many of them are women. We represent an incredible amount of potential and positive impact on our cities, community spaces, ecosystems and society. That is why this issue of women in landscape architecture is so important. I was thrilled by the diversity of perspectives and the level of engagement at the Roundtable, including that of the students. The discussion revealed the motivation and the innovation of women working to craft professional paths that are influential and fulfilling. We saw how women are creating meaningful opportunities for themselves and others. This event engendered a call to action to assert our value and to seek out and raise awareness of the many roles and sectors of the economy, beyond narrow choices, where women landscape architects can inspire change by crafting individual careers that integrate well with their lives."
The Roundtable had an ambitious agenda and goals. Participants reached deep into their own learning and experiences and engaged in spirited, purposeful exchange to address critical issues and concrete directions forward for women in the profession. A whitepaper documenting the discussion will be published by Landscape Forms and made available online.
Additional participants in the Roundtable included: Aan Coleman, ASLA, LEED, AP, President & Founder, Coleman & Associates; and Barbara Deutsch, FASLA, CEO, Landscape Architecture Foundation (LAF)