Kugler Ning Lighting wins two 2021 IESNYC Lumen Awards: A Lumen Award of Excellence and a Lumen Award of Merit by the IESNYC on June 17th, 2021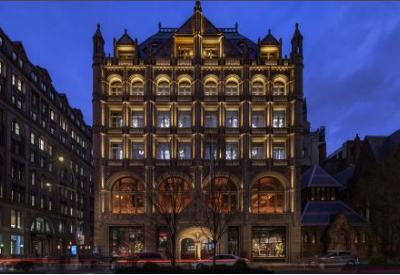 June 22, 2021
Located on a prominent corner of the Flatiron District, this 1894 Renaissance Revival church house is the new home for Fotografiska, a progressive museum of photography. The goal was to illuminate the architectural details and bring attention to this historically landmarked building. The museum operates until late at night and houses a first-floor bookshop-café, a second-floor restaurant, three levels of galleries, and a top-floor event space.
To gain approval from the NYC Landmarks Preservation Commission, the team chose low-profile light fixtures, and the installation was detailed to prevent damage to the building. Custom finishes for fixtures and valances blend imperceptibly with the limestone façade.
LED sources were reviewed onsite. A blend of 2700K and 3000K fixtures with controlled beams highlight columns, deep-set sills, and balustrades. Sculpting with light unifies the stone exterior and captures the depth and dimension of the façade.
The gallery windows are blocked off with walls to maximize exhibition space. The recess behind the walls is filled with projectors, creating video display windows used to complement the exhibitions and activity in the museum. Lighting controls allow for presets for daily timeclock operation, as well as ongoing adjustment of the façade lighting to balance with the video projections.
Go HERE for more information.