Hallmark Lighting & Luminance File Chapter 11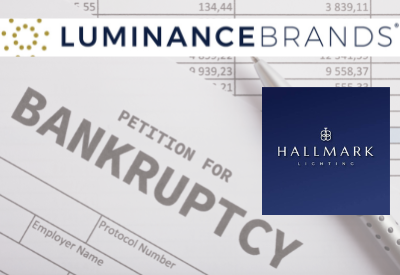 June 12, 2022
On June 8, Cuyahoga Falls, Ohio-based Hallmark Lighting, LLC, and sister company Luminance Brands separately filed voluntary petitions for relief under Chapter 11 of the United States Bankruptcy Code. Both cases are pending before the honorable Judge Alan M. Koschik in the U.S. Bankruptcy Court Ohio Northern District Akron division office.
Hallmark Lighting and Luminance Brands are being represented by the law firm Brouse McDowell, LPA in Akron, Ohio.
Founded in 1978 by Brad Senet, who is no longer in the industry, Hallmark Lighting made the hospitality industry – particularly hotel guest room, corridor, and public area lighting – its niche. Based in California for several decades, the manufacturers operated a 65,000-sq.-ft. facility in the Los Angeles area.
Both Hallmark Lighting and its sister company, Luminance – which had grown to include brands such as ADL™, Concord Fans, Kathy Ireland Home (formerly Emerson Fans), and Sunset Lighting – were acquired in October 2016 by Resilience Capital Partners, a private equity firm in Cleveland.
In May 2019, Luminance surprised the lighting and ceiling fan industry with the announcement that it had acquired the Emerson Fan division from Emerson Air Comfort Products/Emerson Electric Company in St. Louis. One year later, Luminance announced the renaming of the Emerson business as Kathy Ireland Home™ by Luminance Brands in partnership with the celebrity-owned lifestyle brand. That same year (2020) both Luminance and Hallmark Lighting relocated their respective headquarters from California to Ohio.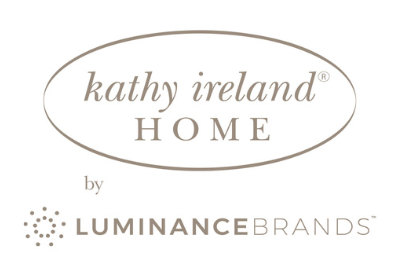 The move was explained in a press release, "As a result of rapidly increasing demand for its lighting and ceiling fan products serving the residential, multi-family and commercial markets in the Midwest and Southeast, LUMINANCE BRANDS™ has determined Northeast Ohio to be a very compelling location to expand its distribution operations."
It continued, "The market for our industry-leading products has been growing steadily for many years and now, with the pandemic behind us, we are looking to increase the size of the LUMINANCE BRANDS team in Northeast Ohio," said Mike Giorgi, CEO. "When we relocated to Cuyahoga Falls, Ohio in 2020 the plan was to grow our employment in the area. We have always believed Cleveland to be a great place to be headquartered and believe we will be the recipient of many talented people looking for a new home in this high growth industry. In addition, we are very excited to maintain our prominent role in the lighting industry by keeping our showroom at the Dallas Market Center, which signals our commitment to supporting our longstanding partners in the lighting showroom and distribution space."
As of this writing, Luminance is still listed as having two permanent showrooms in the Dallas Market Center.