Energy Conservation & Supply Inc. Partners With Espen Technology for EV Charging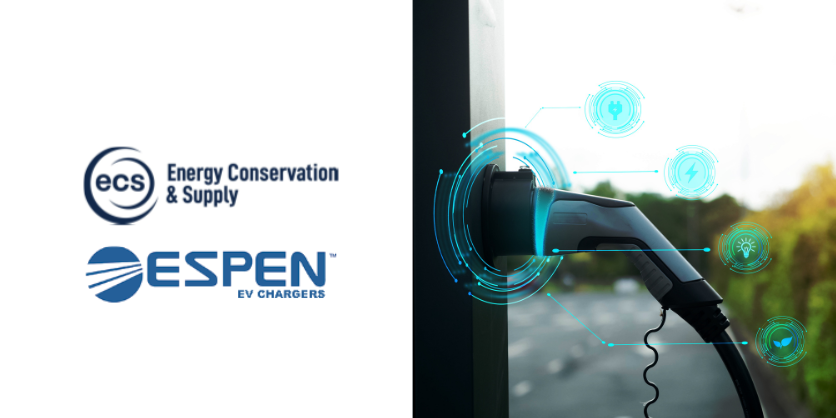 Santa Fe Springs, Calif.-based Espen Technology, a manufacturer of EV chargers and indoor LED lighting solutions, has partnered with Energy Conservation & Supply Inc. (ECS), a distributor and installer of EV chargers, LED lighting, and controls solutions. The two companies recently completed two EV charger installation projects: one for Brooklyn-based PACE Companies and another for Long Island-based Delta Sheet Metal.
PACE Companies, a plumbing, fire protection, and mechanical contracting firm, had ECS install eight Level 2 EV chargers supplied by Espen Technology. The EV chargers were installed in the PACE Companies' parking lot to enable both employee EV charging as well as charging electric fleet vehicles recently acquired by PACE Companies.
For construction, HVAC, and service specialist Delta Sheet Metal, ECS installed two Espen Level 2 EV chargers in Delta's parking lot to both serve employees and to enable Delta to begin acquiring its own EV fleet.
"We are excited to bring electric vehicle charging station infrastructure and maintenance to our clients," said Ricky Dweck, President of ECS. "Reducing vehicle emissions is a key part of slowing climate change. By incorporating electric vehicle infrastructure in their environmental strategies, both PACE Companies and Delta Sheet Metal can reap a range of benefits, including retaining and attracting young, environmentally conscious talent as well as a reputation for leadership on one of the most important issues of our time."
ECS, PACE Companies, and Delta Sheet Metal are all affiliate companies of the holding company Eaglestone, LLC.
"Espen Technology is proud to partner with ECS to supply the best in EV chargers, LED lighting, and control solutions," stated Flemming Jensen, SVP/Sales & Marketing for Espen Technology. "We see enormous potential in bringing EV charging infrastructure to the New York City area in partnership with ECS."
For more information about Espen's extensive line of EV charging solutions, email Info@EspenEV.com or click here.