PureEdge Lighting Launches Pure Smart™ Architectural Lighting & Controls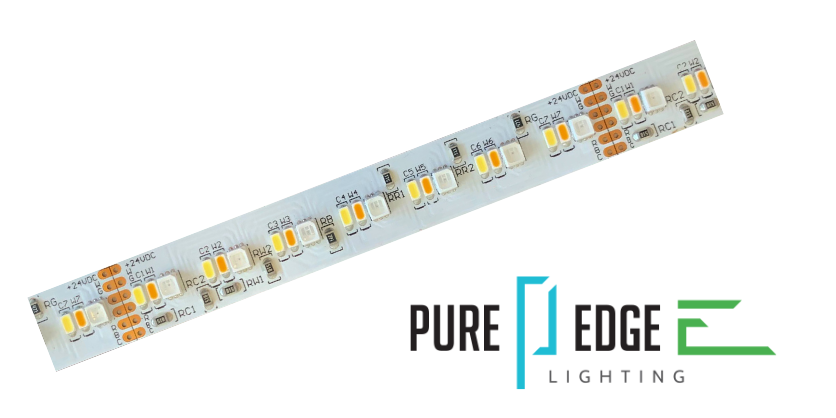 PureEdge Lighting has launched Pure Smart™ architectural lighting and smart controls connected by WiZ Pro, a global brand of Signify. Pure Smart features TruColor™ RGBTW, the company's premier 5-channel light engine, which offers over 16+ million colors, 85,000 tunable white tones, and is optimized for use with the WiZ Pro wireless control ecosystem.
Pure Smart encompasses hundreds of PureEdge Lighting architectural products now available with WiZ Pro wireless controls, an assortment of TruColor RGBTW smart lamps, and Wi-Fi enabled wall controls. Pure Smart lighting offers easy-to-use, feature rich, intuitive controls with the use of the WiZ Pro software suite. WiZ Pro and Pure Smart form a comprehensive wireless controls solution with the WiZ app on your mobile device, the WiZ Pro Dashboard on your desktop, the Pure Smart wireless wall controls, and voice control through integration with all of the main virtual assistants.
Pure Smart lighting features proprietary 5-channel TruColor RGBTW technology in both the company's LED strip and new line of smart retrofit bulbs bringing color tuning to an unprecedented level of color quality and consistency throughout its wide spectrum (1500K-6500K). Consisting of RGB + Tunable White, TruColor technology combines RGB with the warm white and cool white LEDs, allowing tunable white to be within .0037 Duv of the black body curve with an average CRI of 95 and R9 of 91.
Pure Smart is WiZ Pro-enabled smart lighting and controls solution to create a one-of-a-kind ambiance in residential or commercial spaces with easy setup, no hub required, and limitless control with the WiZ Pro Software Suite and Pure Smart Wi-Fi Wall Controls. Designers can utilize the full-color features as another tool in their design portfolio providing a near-infinite color palette as well as giving homeowners the ability to change the emotion or feeling of their space with a simple swipe of the app. Beyond the decorative flexibility and overall ease of use, the TruColor light engine and Pure Smart controls foster an overall theme of wellness and good health by making it easy for end-users to dial in a healthy circadian rhythm.
"By combining architectural lighting and controls, TruColor RGBTW and WiZ Pro allows you to create and illuminate the perfect environment for morning, noon, and night…all at your fingertips" said Gregory Kay, owner, and CEO of PureEdge Lighting.