New Cree Lighting Area and Flood Portfolio Delivers Unmatched Performance, Control + Comfort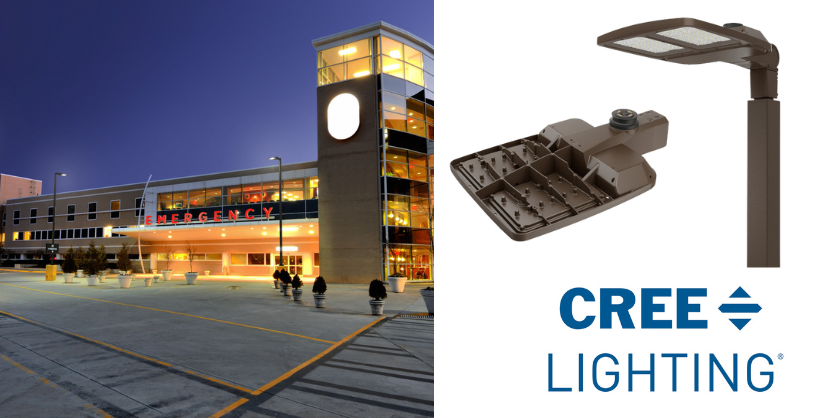 Cree Lighting has launched its OSQ Series C Area and Flood luminaires featuring NanoComfort™ Technology, redefining what is possible in area and flood lighting by simultaneously delivering exceptional efficacy, precise control, extraordinary visual comfort, reduced wind load requirements and easy installation.
The previous OSQ Series Area/Flood portfolio offered precise optical control, advanced thermal management and modern, clean aesthetics; however, in the new OSQ Series C, Cree Lighting has engineered a solution that resets industry expectations for how outdoor area and flood lighting should perform.
The new OSQ Series C employs a significantly streamlined, ultra-efficient light source, combined with Cree Lighting's new NanoComfort™ Technology to achieve an outdoor lighting target that had previously eluded the industry: maximized lumens per watt of precisely targeted illumination with significantly reduced glare that remarkably improves visual comfort, as well as a lower profile and lighter weight design for reduced wind load and easier installation.
"In our pursuit of better lighting for all, we developed a new technology platform that ends the inverse relationships between efficacy, control and visual comfort," says Erik Milz, Cree Lighting's VP/Product Strategy & Management. "The introduction of our NanoComfort™ Technology signals a new standard in how outdoor lighting should perform."
NanoComfort™ Technology distills ground-breaking optical engineering into a modular system with near-universal applicability. Like Cree Lighting's NanoOptic® Technology that preceded it, NanoComfort™ Technology also delivers excellent efficiency, but adds unsurpassed glare control and visual comfort to the high-efficiency, precisely controlled illumination that made NanoOptic® Technology an industry benchmark. NanoComfort™ Technology utilizes standardized modules to ensure uniform lighting across a full range of luminaire sizes and designs, and luminaires with this new technology are built in at Cree Lighting's Racine, Wisconsin facility.
To achieve softer, more diffuse light without reducing illumination or control, each new OSQ Series C LED is in direct contact with its own sculpted acrylic lens. This increases the optical surface area by more than 50% for a more diffused, comfortable light while ensuring light is tightly controlled to prevent spillover. The light engine is sealed in an IP66-rated enclosure via an IK07 impact-rated flat glass lens that minimizes dirt and debris accumulation. This highly durable lens system also dramatically reduces potential points of failure.
"We've applied 10 years of customer feedback and technology advances to create this new generation of OSQ luminaires," said Milz. "The result is an unmatched combination of dramatically improved visual comfort, performance, profile, and weight while preserving the overall look and feel of the family. Our Product and Engineering teams are rightfully proud of this achievement."
With new lower profiles and dramatic weight reductions, every OSQ Series C luminaire minimizes wind load requirements and maximizes ease of handling and installation. By building the C Series around mid-power LEDs, our engineers were able to achieve several significant upgrades:
Up to 30% weight reduction
DLC Premium-level efficacy: Up to 16% higher, maxing out at 171 LPW
Significantly reduced glare
Sleeker look that reduces the prominence of cooling fins
The OSQ Series C Area and Flood luminaires are available to order now through Cree Lighting sales channels in the United States and Canada. Click here to learn more