Alloy LED Introduces Flexible LED Sheet for Backlighting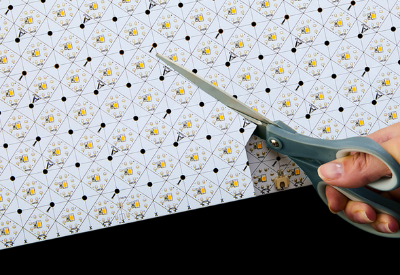 October 13, 2021
Alloy LED has introduced the PrimaPanel Flexible LED Sheet, a fully modular and field-cuttable LED panel providing even, hotspot-free illumination for indoor backlighting applications. The versatile sheet features vertical, horizontal, and angle cutting lines for unlimited custom installations.
"We designed the PrimaPanel to be flexible and field-cuttable for quick and simple installation on straight or curved surfaces," said Max Darling, founder & CEO of Alloy LED. "The ability to cut on a 45-degree angle allows installers the freedom to easily adapt to backlighting applications beyond simple squares and rectangles."
The PrimaPanel sheet is an ideal backlighting solution for displays, walls, and counters and is a popular solution to illuminate translucent materials common in commercial buildings such as hotels, casinos, retail stores, and corporate offices.
PrimaPanel is 18.9" long x 9.45" wide and is less than 1-inch thick. The sheet features a high density of LED chips, contributing to a smooth distribution of light. The sheet is available in 3000K, 4000K, 5000K, and 6500K correlated color temperatures (CCT) with a 95+ color rendering index (CRI). The panel is dimmable down to 0.1%, depending on the compatible controller.
The product can be mounted with its super-strong back adhesive tape or with nails or screws through the indicated areas between the cuttable sections. It is shipped with two interconnector cables, two adaptor splice connectors, and installation screws. The product is UL 2108-listed and up to seven sheets can be daisy-chained.
For additional information on the PrimaPanel Flexible LED Sheet, click here