Albeo ABV3 and Daintree WHS20 High Bay Lighting with Daintree Wireless Controls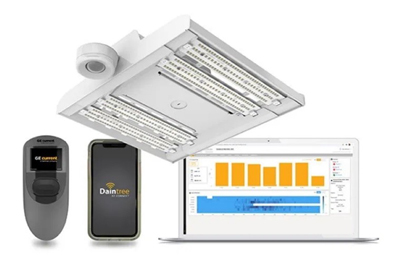 June 7, 2021
Albeo® ABV3 luminaires can be ordered with an integrated Daintree Wireless WHS20 sensor for a range of energy-saving functions that can reduce lighting costs up to 70%. Illumination levels can be automatically managed based on occupancy or daylight contributions with smooth 0-10V dimming for improved occupant comfort and productivity.
Commission the devices with the WHR1 for stand-alone control with Daintree ONE, zone fixtures with our Daintree EZ Connect, app-based platform or upgrade to advanced Daintree Networked. The Daintree Wireless Controls enables control of one fixture or entire buildings on one expandable platform.
• Daintree® Wireless Controls options for code compliance and additional energy savings
• Up to 90,000 lumens for lighting applications with extremely high ceilings
• Industry-leading efficiency up to 200 Lumens Per Watt saves big on energy bills
• Various optical distributions (Aisle, Narrow, General or Wide) get you the vertical and horizontal footcandles you need in any space
• Multiple mounting configurations (including inverted) to allow for easy and customized installation
• Optimized bulk pack packaging for up to 3500 fixtures on a full truckload simplifies projects and speeds up installation
Go HERE for more information.