Axis Lighting Launches ELLE™ Pendant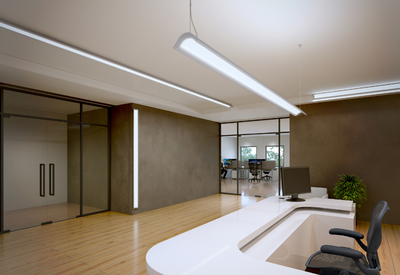 The ELLE Pendant combines form and function, complementing architectural features while providing a soft, even glow across surfaces. The lens is the light — delivering uniform direct light through the patent-pending Curved Luminous Surface (CLS Optic™) and wide indirect light via the discreet central groove on top, which allows for independently controllable widespread batwing uplight.
"We are excited to launch ELLE Pendant and provide designers with an innovative, visually interesting luminaire to complement architectural projects and interior designs," said Michele Bartolini, Senior Director at Axis Lighting. "Designers will also appreciate the game-changing single screw joining system that allows for easily mounting long runs."
ELLE Pendant comes with an optional remote canopy box that houses the drivers that control the power supply for the luminaire's LEDs. It's simple to locate which drivers are attached to specific fixtures because they're mounted in place above the section they power, making any future maintenance easy. The remote canopy box has space for enough drivers to power an eight-foot section of fixture, the maximum stand-alone length.
The decorative curve of the visible canopy plate is a nod to ELLE Pendant's curved profile, offering a similar aesthetic to the box as the fixture it powers. The standard remote driver option for drywall and grid ceilings can be discreetly tucked away. With efficacies of up to 115 lm/W, ELLE Pendant can light spaces cleanly and efficiently, providing a simple line of soft glowing light.
Additional features include: a single screw joining system that allows for easily mounting long runs; continuous runs in lengths of 2 to 8 feet in 6-inch increments; a choice of 2700K, 3000K, 3500K, and 4000K color temperature; choice of tunable white 2750: 2700-5000K; tunable white 2765: 2700-6500K; dry and damp-rated in operating ambient temperatures of 0-400C (32-104F); a choice of remote drivers: standard format or canopy-shaped for solid ceilings (e.g. concrete); and a control-agnostic system.
For more information, visit axislighting.com or view the spec sheet here