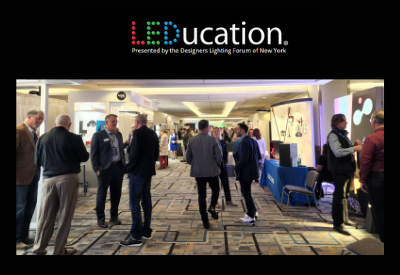 March 22, 2022
Although official numbers have not yet been released by the show's organizers, you'd be hard-pressed to find an exhibitor or visitor who would not consider the 2022 edition of LEDucation a success.
There are a variety of factors responsible for the stellar turn-out.
First, the timing was ideal. COVID positivity numbers overall in the country have dropped to their lowest numbers in more than one year — and mid-March was far enough away from the COVID spike that threatened many events in early January. This helped bolster participation from exhibitors, regional rep firms, and attendees who traveled from far beyond the New York City area.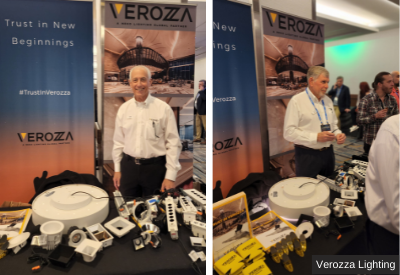 Second, with last year's LEDucation being all virtual and Lightfair's in-person fall event occurring at a time when masks and proof of vaccination were mandatory, COVID numbers were still elevated, and much of Manhattan's prime attractions were closed or severely restricted, the enticement for out-of-town visitors was practically nil. New York City was not yet "back." Therefore, LEDucation 2022 was the first opportunity this year for New York City's architectural community – arguably the largest in the country in density – to see a wide variety of new lighting products in person and all at one time.
The crowded aisles and enthusiastic conversations that took place last week at LEDucation underscored the desire for lighting industry members to meet face-to-face like in the past. In addition to the convivial atmosphere that almost felt like a family reunion, there was serious business to conduct.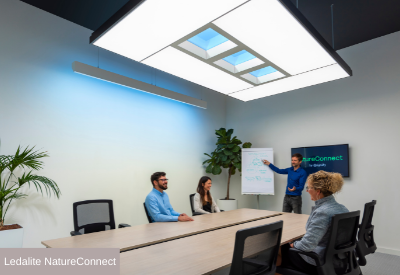 One of the dominant themes at LEDucation was health and wellness, which had been an emerging topic at previous LEDucations, but obviously took on greater importance this year because of the pandemic. In particular, there was an emphasis on enhancing circadian rhythms, whether by light bulb technology – such as BIOS, among others – or by a lighting system approach, such as the NatureConnect luminaire system from Ledalite (part of Signify) that simulates natural daylight coming through skylights in a commercial setting to promote occupants' feeling of well-being.
Acoustic lighting was another theme that was pervasive at LEDucation. While lighting pendants and fixtures with sound-absorbing characteristics have been on the market for at least four or more years, it was more of a niche application. At this year's LEDucation, however, there was a proliferation of manufacturers offering acoustic lighting in a variety of shapes and configurations as well as a multitude of custom and standard colors. As renowned Manhattan-based interior designer Mary Knackstedt told me, "After working from home during the pandemic, many of us have become more sensitive to noise. Compared to the solitude of a home office, even having a dozen or so people talking in an open office area now can be a noise distraction that we'd rather be without." Since open floor plans and flex spaces for a hybrid work environment are the new normal, acoustic lighting is in demand.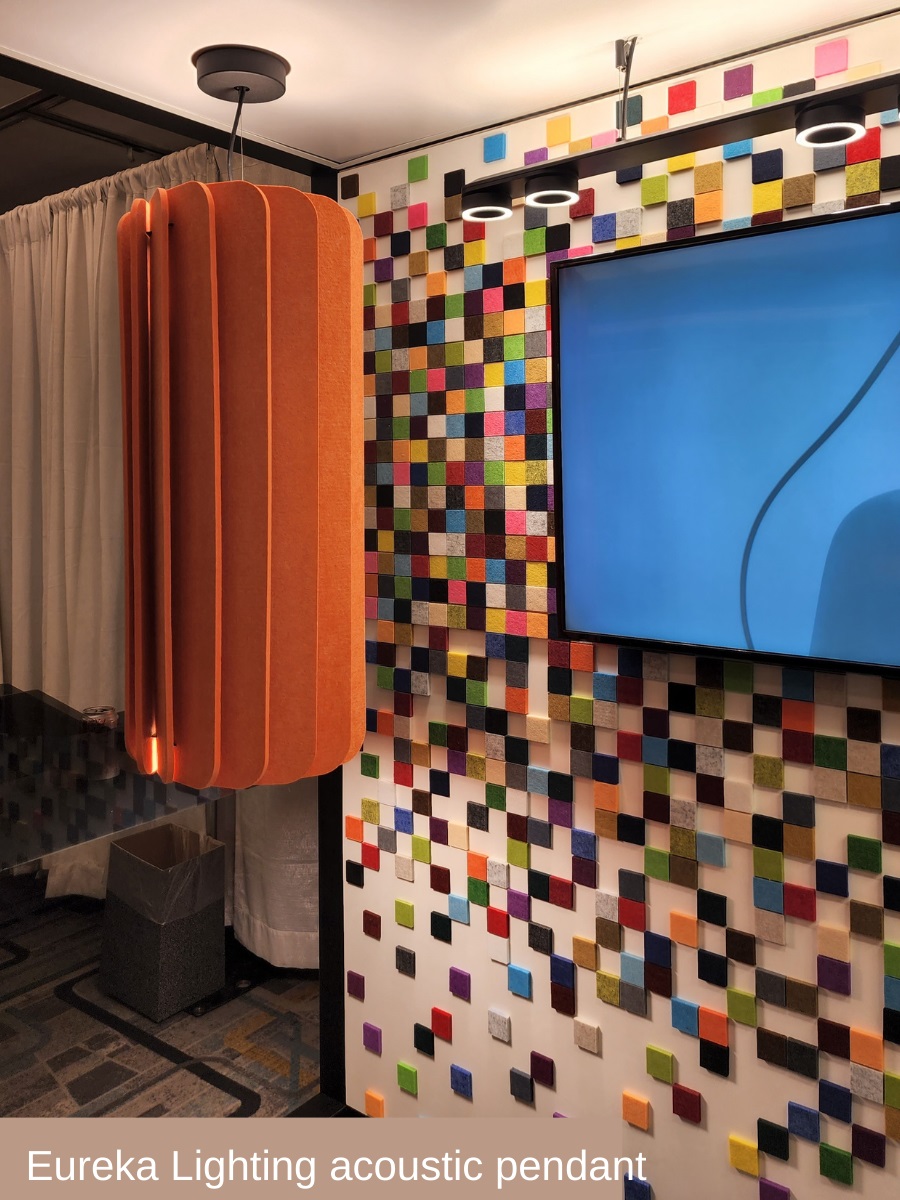 Exhibitors whose products are made in America were also quite popular at LEDucation as recent factory shutdowns in China over a new COVID outbreak has further slowed production that hasn't yet recovered from the initial work stoppage over materials shortages, astronomic freight costs, and the back up at American ports.
Signify's Lightolier booth showcased its 3D printing capability for producing even mass quantities of pendants that could be customized for commercial jobs in less than one week. Best of all, they are made with recycled materials. Signify also found its 3D printers in demand for producing component parts for customers who would be facing incredible delays when waiting for the same parts overseas.
Coronet is another New Jersey-based manufacturer that was showcasing its domestic manufacturing capabilities at LEDucation. In 2019, the company completed the process of becoming a certified CarbonNeutral® company in accordance with The CarbonNeutral Protocol. Now, in 2022 its emissions are offset to net zero (validated and verified by independent, third-party standards). The company pledges to ship products from its New Jersey factory in 10 days or less.
Finally, another draw that makes LEDucation a destination is the opportunity to see manufacturers who do not exhibit at larger events, preferring instead to meet with customers and potential clients at smaller, regional venues.
LEDucation 2022 was, by all accounts, well-attended and well-received by the commercial lighting community. There is a clearly a thirst to see new products and technology first-hand and the plenty of projects in the pipeline to support it.