Lighting Technology Adds Health Benefit to Fire Station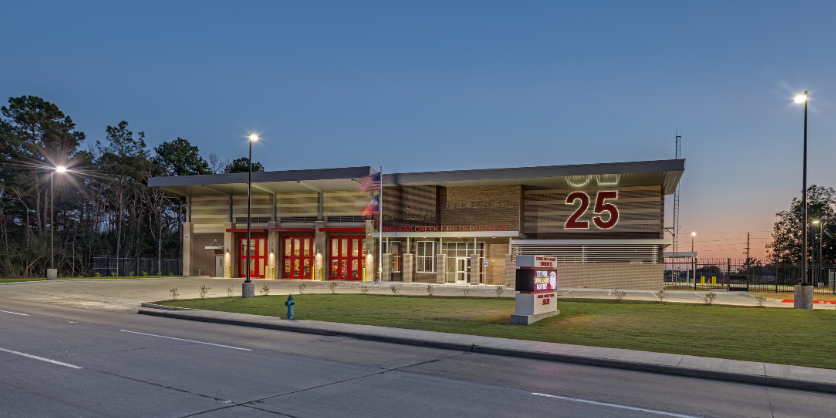 The fifth fire station built in Cypress Creek, Texas, is different from the others. Opened in 2022, this post-pandemic project is the result of five years of planning and more than one year of construction. A key attribute of Station #25 in Harris County is that it is outfitted with 405nm lighting technology to reduce the chance of infection from harmful viruses and bacteria, including SARS-CoV-2, Influenza-A, and strains of staph such as MRSA.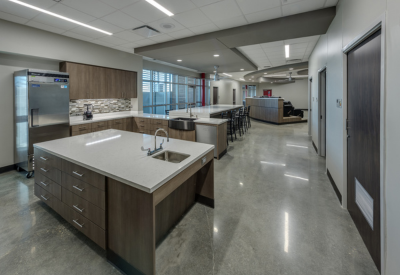 The 16,245-sq.-ft. facility includes three bays to house one fire engine, one ambulance, and room for a third vehicle to be added as demand increases. Cypress Creek Fire Department officials even sought out the newest tools and technologies for its latest station, which also includes a positive-pressure gear storage room that helps prevent the inhalation of engine exhaust.
To augment cleaning protocols and reduce possible contamination from dangerous pathogens in this extremely busy 24/7 fire house, 405nm lighting was implemented. The project's engineering firm, DBR Engineering, ensured that the 405nm disinfection lights would provide comfortable ambient light, while also disinfecting the air as well as hard and soft surfaces. Unlike UV disinfection, 405nm technology is safe to use in occupied spaces. Additionally, because the lighting is LED, the fixtures provide ease of maintenance and significant energy savings.
This was the first project that DBR Senior Project Manager Brent Moe, PE, has worked on in where 405nm lighting was specified — and he was intrigued by the technology. The fire department had already been using 405nm lighting in its ambulances, but for this new facility, officials wanted to apply it to common areas such as the day room, kitchen, and restrooms.
Cliff Yahnke, Ph.D. , Chief Scientist & Head of Clinical Affairs at Kenall, explains some of the details of the technology. Dr. Yahnke – who has 25 years of photonics and healthcare experience in a range of fields from defense, telecommunications, radiation oncology and medical imaging to analytical instruments and surgical lighting – is one of the inventors of Kenall's patented Indigo-Clean™ lighting. Widely regarded as an industry expert on visible light disinfection, he has authored numerous articles on the subject and led numerous studies demonstrating Indigo-Clean's ability to reduce bacteria and infections in clinical settings.
According to Dr. Yahnke, applications for 405nm lighting outside of the medical environment are becoming increasingly popular. "We've seen adoption of Indigo-Clean in some very interesting applications, such as Hamilton Wentworth Detention Center, a correctional facility in Ontario, Canada, where the lights are installed in various cells and nurses stations. Part of the interest here was due to the efficacy of IC versus SARS-CoV-2, the low maintenance requirements of the technology, safety to the people in the space, and the rugged, sealed enclosure of the fixture itself to prevent unauthorized access," he notes. Another application was at a Battle Creek, Mich.-based commercial snack manufacturer called SnackWerks. "They are using a dual-mode version of Indigo-Clean to reduce bacteria in occupied spaces. As a commercial manufacturer, they frequently run multiple shifts, limiting the time in which additional disinfection can be applied. Again, safety to the people in the space and the low maintenance of the fixture were critical requirements."
One of the most attractive attributes of the technology is its low maintenance — which is especially important in a busy fire station that is occupied day and night. "Indigo-Clean is designed to last for 10-years without the need for replacement, similar to other LED lighting technologies," Dr. Yahnke comments, adding, "This is a critical benefit for areas which have limited access (such as correctional facilities), or where maintenance can trigger the need for re-certification, such as cleanrooms and commercial kitchens. By comparison, UV sources can require frequent lamp changes (3 to 12 months), depending upon usage and output. The costs associated with this technology go far beyond the source itself. Taking a room out of service or requiring re-certification can be costly and may trigger additional investigations if re-certification fails. Those concerns factor into the decision-making process of selecting a technology by facilities with critical operations."
Naturally, enhancing the safety of first responders who tirelessly serve their local communities is vital. Lighting technology that can provide the dual purpose of illumination as well as disinfection properties will become more prevalent in installations for a wide variety of facilities in the months and years to come.
Related Articles
The Science Behind Properly Lighting an Operating Room